A breakfast that is quick and easy can still be healthy — and keep you full until lunch. While the barriers to eating a nutrient-rich breakfast are real, including lack of time and convenience, or a lack of appetite first thing in the morning, it's a good idea to fight that urge to skip it altogether.
While studies show you don't need a large home-cooked breakfast in the early morning to be healthy, a morning meal is important for two big reasons: 1) you don't get "over-hungry" for lunch, making you more likely to overeat; and 2) you're set up for mindful eating all day long. That's good news for those who believe they need to wake up bleary-eyed and prepare a vegetable omelet before leaving the house, thinking it's the best way to support a healthy weight.
RELATED: 30 easy breakfast recipes to start off every day deliciously
The best quick and easy breakfasts — to eat at home, or take along for later — provide around 150 to 300 calories, with a balance of protein, fat, and fiber, to help keep you satisfied until lunch. And this calorie range depends on your morning hunger, and when you plan to eat lunch. When it comes to eating breakfast, there is no "perfect" meal, and one size definitely does not fit all when it comes to food. And while any of these options can be enjoyed by adults and children alike, we've included some tasty kid-friendly options. While a bowl of oatmeal or plain Greek yogurt and fruit are always go-to options, here are some updates to boost protein, nutrients, and overall taste.
If you like to drink your breakfast:
A ready-to-drink protein shake, containing animal or plant protein, is a definite plus. Loaded with protein — usually 25-35 grams for no more than 200 calories — you'll likely stay full until lunch. That's about one-third your protein need for the day. And many drinks have the equivalent of a daily vitamin added. You can prepare your own shakes with protein powders, purchased in a single serve pouch or large tub.
Another option is to make your own smoothie, using frozen fruits and vegetables, or your own frozen produce, put into resealable plastic bags and frozen. Both eliminate waste, and add convenience.While a smoothie is a rich source of fiber and water, adding a scoop or two of protein powder boosts fullness.
And if morning coffee is your idea of breakfast, try adding a protein bar. Look for the same nutrients as the shake — high protein, and low sugar. Most bars have about 15 to 20 grams of protein for about 200 calories, and moderate amounts of heart-healthy fats.
If you like to eat your breakfast: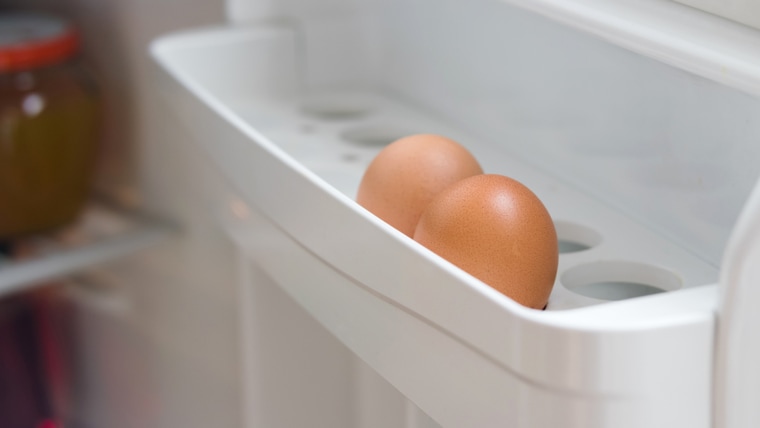 One of the best sources of low-cost protein is a hard-boiled egg. Two eggs provide a protein rich 16 grams of protein, moderate fat, along with vitamins and minerals.
A single-serve container of plain yogurt with your choice of added fruit is always a go-to option. Greek yogurt has double the protein of regular yogurt.
If a breakfast sandwich is really want you want, and you don't have the time or interest to make it yourself — enjoy a ready-to eat frozen version that's calorie controlled. Jimmy Dean Delights at 210 calories and 14 grams of protein heat up in your toaster oven or microwave for a tasty treat. And you can find similar "lightened up" versions weighing in at around 200 calories at Dunkin Donuts and similar restaurants. With more nutrients that a doughnut, muffin or bagel, these can be a smart grab and go choice, either in your home or out.
Kid-friendly breakfasts:
Tubes of low-sugar yogurt are great take-along options. Both Siggis and Annie's offer strawberry and blueberry versions. Freeze the tubes, for a tasty frozen treat for your kids — or you.
Pop a whole wheat frozen waffle in the toasted, spread it with one or two tablespoons of peanut butter (or your choice of nut or seed butter) and top with the sliced fresh (or frozen) fruit of your choice. It's a different breakfast every day by varying the fruit. To take along, cut the waffle in half, and make into a sandwich for easy eating later. And a great new option for those with peanut allergies; Annie's makes a "pea" B & J pockets, a soft crust-less sandwich, with a tasty, creamy spread based on pea protein.
And remember that adding 75 to 100 calories with any whole fruit, or a cheese stick (reduced fat or regular) can always round out your breakfast, or for a mid-morning snack to support fullness until lunch.