This post was created with our sponsor Ritz.
Lifestyle expert and food blogger Alejandra Ramos of Always Order Dessert joins the TODAY Food team to share her favorite ways to turn crisp, buttery Ritz crackers into quick, easy and tasty snacks.
She shows us how to make mini taco bites, bite-sized ice cream sandwiches, marshmallow treats and more.
Mini Ritz Taco Bites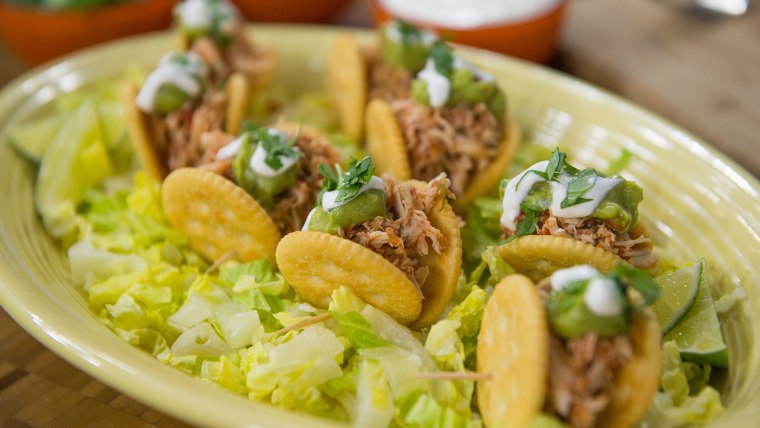 Ingredients
2 cups shredded chicken (homemade or from store-bought rotisserie chicken)
1½ cups salsa
48 Ritz crackers
1/2 cup sour cream
1/2 cup guacamole
24 thin skewers or toothpicks
Cilantro leaves, chopped
Limes wedges
Preparation
Combine shredded chicken and salsa in saucepan over medium heat, stirring occasionally until heated through, about 5 minutes.
Thread a skewer through one of the outermost holes of a Ritz cracker. Add a second cracker to the skewer, also through one of the outermost holes. Place on serving platter, fanning the crackers out slightly to form a V shape. Repeat with rest of crackers.
Scoop a few teaspoons of the hot chicken filling into each cracker. Garnish with small dollops of sour cream, guacamole and cilantro. Serve with lime wedges on the side.
Ritz Marshmallow Treats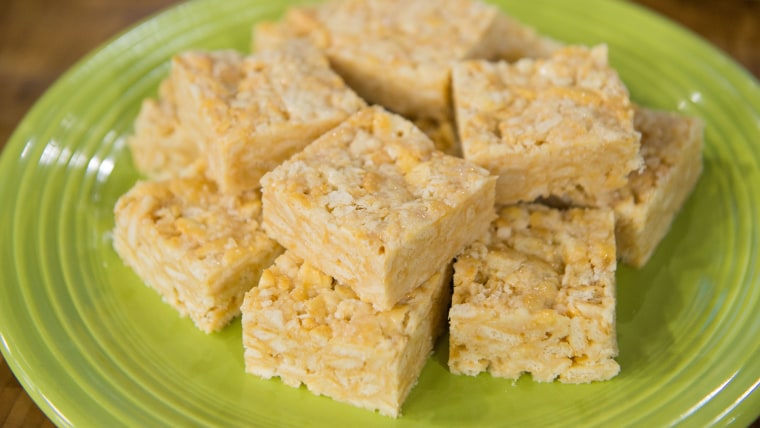 Ingredients
3 sleeves Ritz crackers
6 tablespoons butter
10 ounces marshmallows
Preparation
Grease a 9- by 13-inch baking pan.
Place the Ritz crackers in a gallon-sized zip-close bag and use a rolling pin (or other heavy object) to gently crush the crackers (you're looking for about 1/2-inch sized pieces, not small crumbs). You may need to do this in batches. Set crushed crackers aside.
Melt butter in a large pot over medium heat, add marshmallows and stir until melted. Remove from heat and add crushed crackers, stirring until combined. Pour mixture into the prepared baking dish and spread it out to the edges using the back of a spoon or fingertips to press down slightly. Let cool, then cut into squares.
Ritz Ice Cream Sandwiches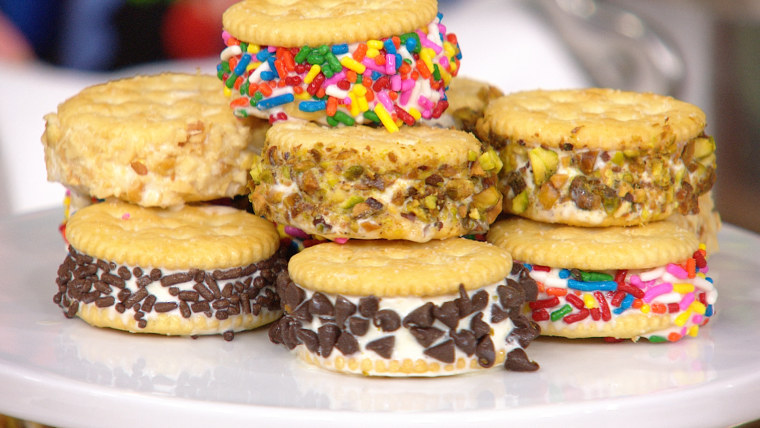 Ingredients
24 Ritz crackers
1 pint ice cream (any flavor)
Sprinkles, mini chocolate chips, crushed nuts or other toppings
Preparation
Place 12 crackers on a small baking sheet, bottom side up.
Pour your toppings into shallow bowls.
Use a small cookie dough scoop or ice cream scoop to add a small scoop of ice cream onto the center of each cracker. Top with remaining crackers, pressing down gently to push the ice cream out to the edges.
Working one at a time, roll each ice cream sandwich in the toppings until all the edges are coated. Place back on the tray and freeze at least 4 hours before serving.
Ritz Cracker Strawberry Ricotta Bites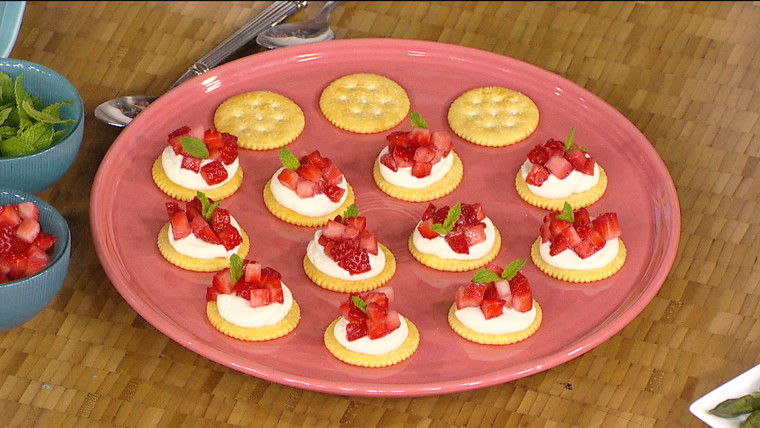 Ingredients
1 cup whole milk ricotta or mascarpone cheese
1 tablespoon heavy whipping cream
1 tablespoon honey
1/2 teaspoon pure vanilla extract
12 small fresh mint leaves
24 large strawberries, leaves and hull removed
24 Ritz crackers
Preparation
Combine the ricotta, whipping cream, honey and vanilla in the bowl of a stand mixer fitted with whisk attachment (or use a handheld mixer). Start beating at low speed until combined, then increase to high. Beat until thick and smooth.
Dice the strawberries into small 1/2-inch cubes.
Place 12 Ritz crackers on a serving platter. Spoon or pipe a teaspoon or two of the ricotta filling on each cracker. Add a small spoonful of the strawberries and top with another cracker. Spoon or top with another small spoonful of ricotta filling and finish off with a few diced strawberries and 1 small mint leaf per shortcake. Serve immediately.
Veggie Dippers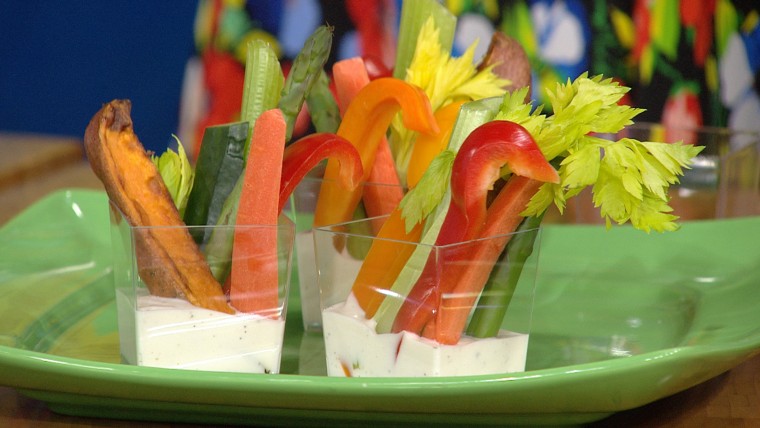 Ingredients
1½ cups creamy dressing (such as blue cheese, ranch or Caesar salad dressing)
2 pounds of assorted vegetables cut into 3-inch sticks (such as bell peppers, carrots, cucumber, zucchini, celery, blanched asparagus, etc.)
Equipment
Method
Spoon about 1½ tablespoons into the base of each cup.
Place the veggie sticks in each cup (use more or less depending on the width of your cup). Serve immediately, or cover loosely with plastic wrap and chill until serving time (up to 4 hours).
Caprese Salsa (Mozzarella, Tomato & Basil Dip) on Grilled Zucchini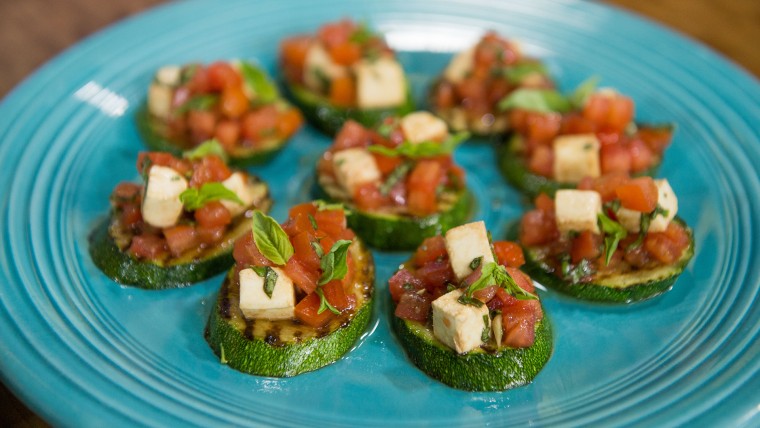 Ingredients
One 1-pound ball salted fresh mozzarella cheese
4 medium tomatoes, seeded and diced
1 large clove garlic, finely minced
12 large fresh basil leaves, finely minced
1 tablespoon olive oil
2 teaspoons balsamic vinegar
Kosher salt and black pepper
Grilled zucchini slices
Preparation
Cut the fresh mozzarella into 1/2-inch cubes.
In a medium bowl, combine the mozzarella, diced tomatoes, minced garlic, basil, olive oil and balsamic, and toss until all ingredients are evenly distributed. Season with salt and pepper to taste, toss again.
Spoon the mozzarella mixture onto the grilled zucchini slices and serve.