If you're Pyrex baking dish enthusiast, the luck of the Irish is coming your way this spring. One of the most popular vintage designs, the limited-edition "Lucky in Love" pattern from 1959, is returning this March — with a more reasonable price tag than the bakeware currently available online.
The new Lucky in Love line boasts the same classic design as its predecessor: shamrocks and hearts appear to be growing out of a green grass base. The original collection was made from opal glass and has been hailed as "the holy grail" of bakeware by Pyrex collectors and auctioneers for its unique pattern, limited availability and, according to the Pyrex brand, no record of exactly how many were sold.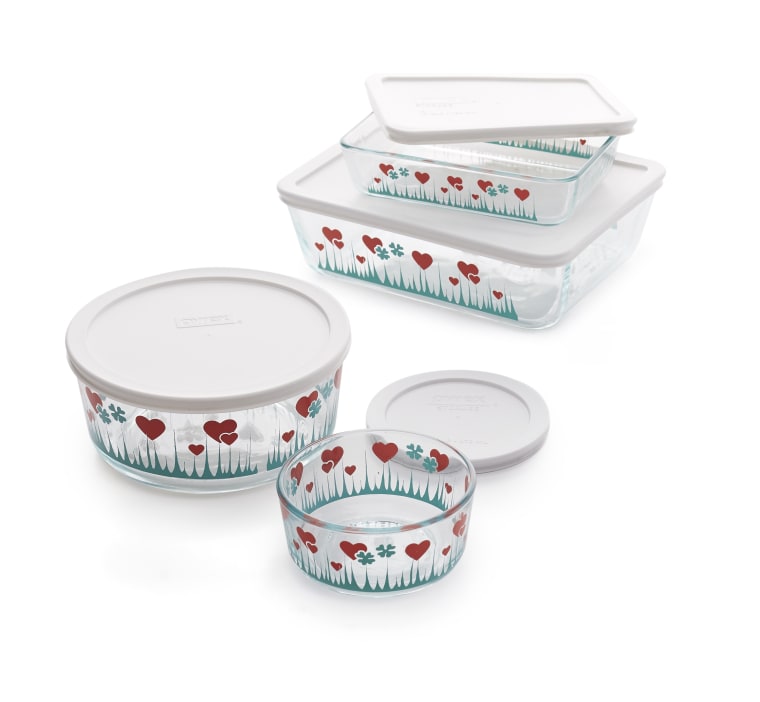 "The most distinct feature of the pattern has been its rarity and uplifting, fresh design — the classic hearts-and-shamrocks pattern is the same, but now relaunched to reach a new generation of home cooks through a variety of food storage dish sizes with lids," a representative from Pyrex told TODAY Food.
The new product line is made of transparent glass with a BPA-free plastic lid and will be available in 2-cup to 11-cup rectangular or round storage containers, ranging from from $3.99 to $11.99. The sets will be sold at Macy's and via Pyrex's website.
While the new design will certainly tug at the heartstrings of vintage dish lovers, if a pot of gold at the end of the rainbow is what you're after, hold onto your vintage Pyrex dishes.
Those opaque, bright-colored pieces with floral and geometric patterns have been going for a pretty penny, and can be worth anywhere from $700 to the low thousands.
In August 2015, one Instagrammer posted that an original Lucky in Love Pyrex opal casserole dish went for $4,000.99 on Ebay.
The coveted pattern has also made it onto other items, such as handmade kitchen dish towels like these available on Amazon.