Move over, Pumpkin Spice Latte (just for a second, we'll get right back to you).
Just when we thought pumpkin spice fever couldn't get any hotter, Kellogg's is rolling out a brand new version of a classic, crunchy snack. Ladies and gentleman, we bring you Pumpkin Pie Rice Krispies Treats to up the ante this fall.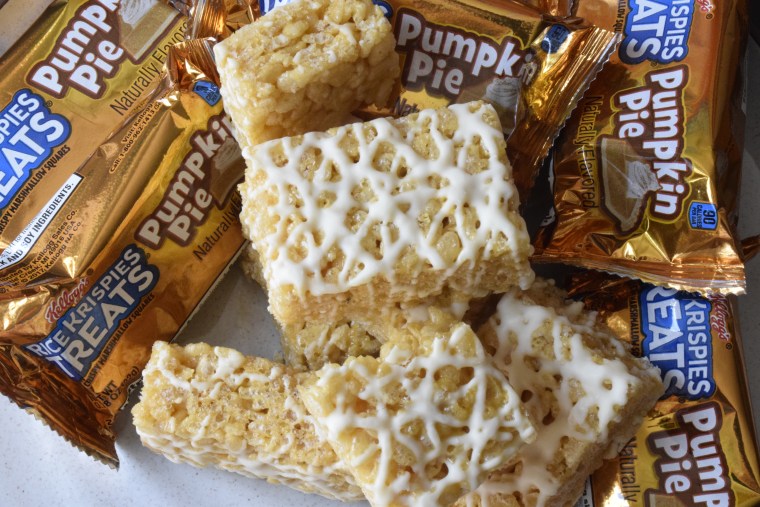 Now that the nightmare of living without Starbucks' pumpkin spice latte is finally over, we can all overcompensate by pairing it with a pumpkin flavored version of the classic cereal-and-marshmallow snack.
But note that the flavor of these treats is not for the casual pumpkin spice enthusiast. It's heavy on the taste of nutmeg on the forefront, so much so that it kind of covers up the taste of pumpkin itself. Kudos to Kellogg's, though, because there actually is dried pumpkin in the ingredient list.
As a longtime lover of Rice Krispies Treats, I'm always partial to the original, but the super sweet Pumpkin Pie version is perfectly satisfying and really took my regular black coffee up a notch when eaten together.
Of course, if you prefer your pumpkin spiced-treats a little softer, Krispy Kreme is bringing back their Pumpkin Spice Original Glazed Doughnut for one day only — Friday, Sept. 8.
Thankfully, you have a bit more time to enjoy Kellogg's latest craveworthy treat. But like the PSL, they are a limited edition, so get your hands on them while you can. They're currently only available at Walmart and come in a box of 40, so they're perfect for back-to-school sharing ... or you can just hoard them for yourself throughout the season, if you're able to exercise self-control.
Good luck, my friend.