Scroll through any foodie's Instagram feed these days and you're likely to see it: a towering heap of ice cream tricked out with colorful toppings and sauces, all snuggled securely into a pillowy cone that looks like bubble wrap made out of dough.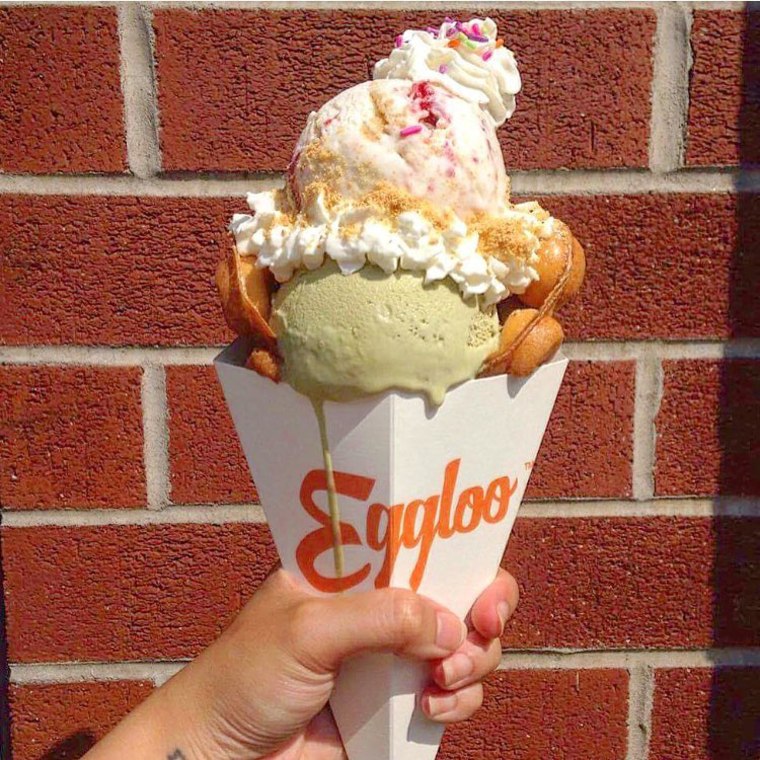 These over-the-top cones go by a variety of names—puffles, egg waffles, eggettes, and Hong Kong waffles, among others—and they are the latest food sensation threatening to break the Internet.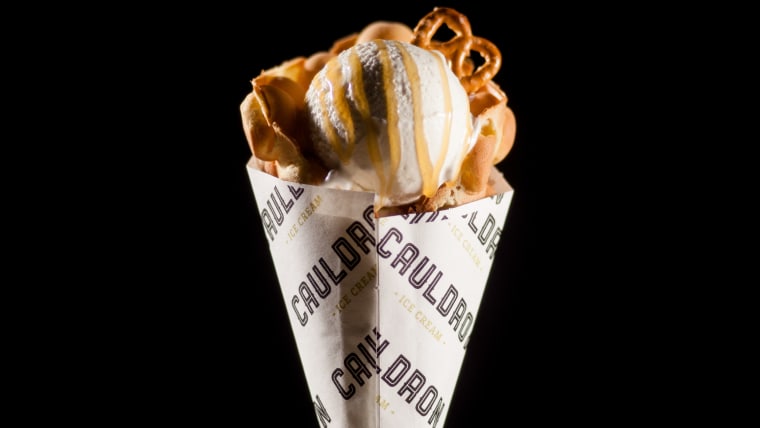 It all started with the Hong Kong egg cake (gai daan jai in Cantonese), a sweet street snack commonly found in Hong Kong and Chinatowns in the U.S. and Canada. Traditionally, the simple egg-based batter is poured into a special bubble waffle mold, quickly cooked, then removed from the pan and separated into individual little cakes. Best eaten hot, puffles are light and airy—slightly crisp on the outside, soft and chewy on the inside. Innovative ice cream shops are now turning them into ice cream cones, simply by cooking the waffle and rolling it into a cone shape. Ice cream goes in the cone, then an assortment of toppings, many of which you won't spot at your typical ice cream parlor: think mochi (sweet rice cakes), Pocky sticks, corn flakes, Fruity Pebble dust and condensed milk.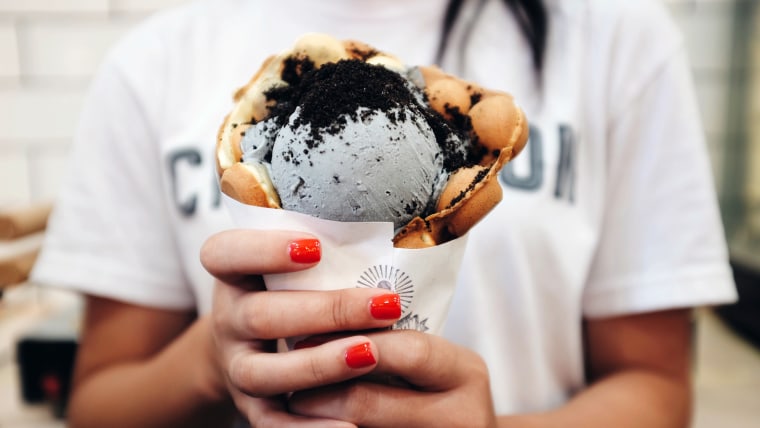 Cauldron Ice Cream in Santa Ana, California, is widely credited with inventing the puffle cone. Opened in May 2015, the shop began selling ice cream made with liquid nitrogen and introduced the puffle cone—so named because it's a "puffy waffle"—a couple months later. "We wanted a vessel to hold our ice cream that wasn't just a traditional waffle cone," said Cauldron co-owner Desiree Le. Her partner, Terence Lioe, grew up in Asia eating Hong Kong egg cakes, and after much experimentation, the puffle was born.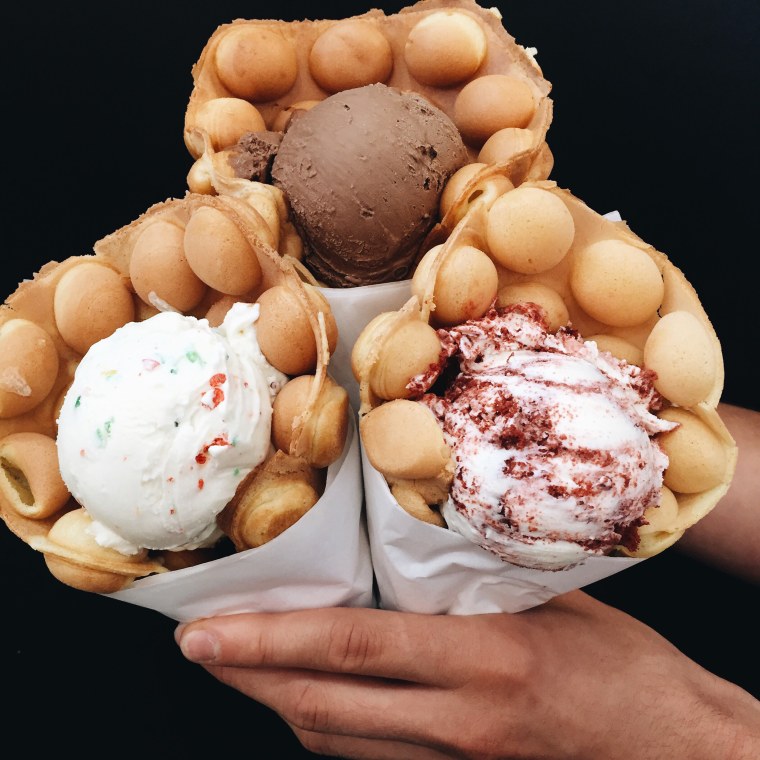 Cosmopolitan.com wrote a feature on the puffle cone shortly after it debuted on Cauldron's menu, and it instantly blew up. "The response was unexpected," Le said. "We just opened so we weren't used to lines…and then all of a sudden people are lining out the door, down the plaza, into the street. It was craziness."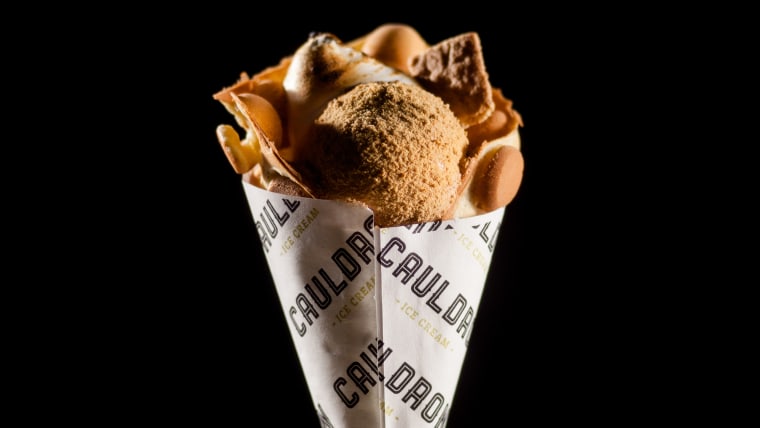 Since then, shops selling puffle cones have popped up across the country, and even internationally, including in Toronto, London and Melbourne. There are even businesses that specialize solely in egg waffles.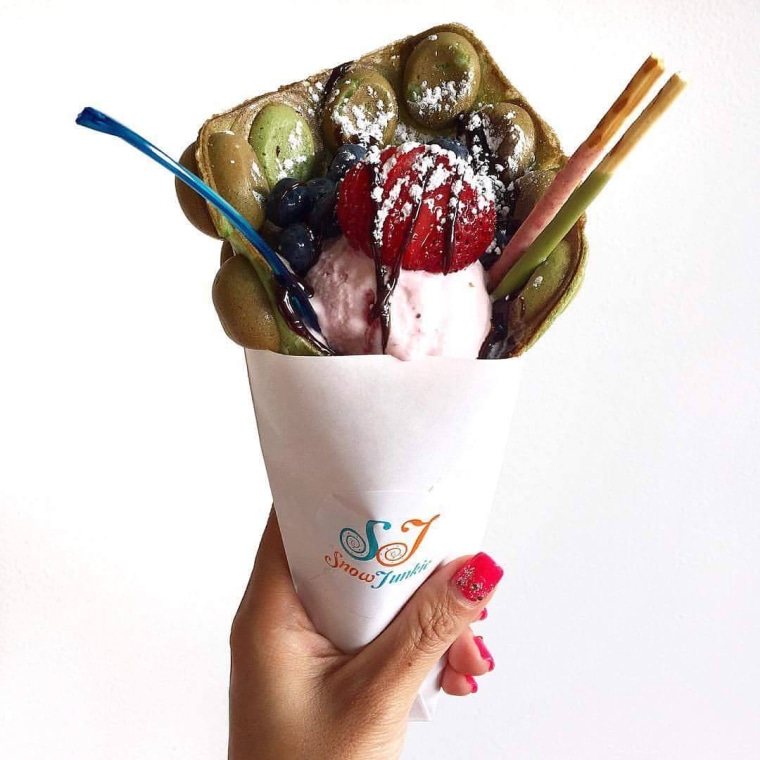 Oanh Ngo, owner of Snow Junkie in Chicago, said she wanted to introduce the puffle cone—called "eggettes" in her shop—to a new audience. "We wanted to start something that wasn't that prevalent here in Chicago," she explained.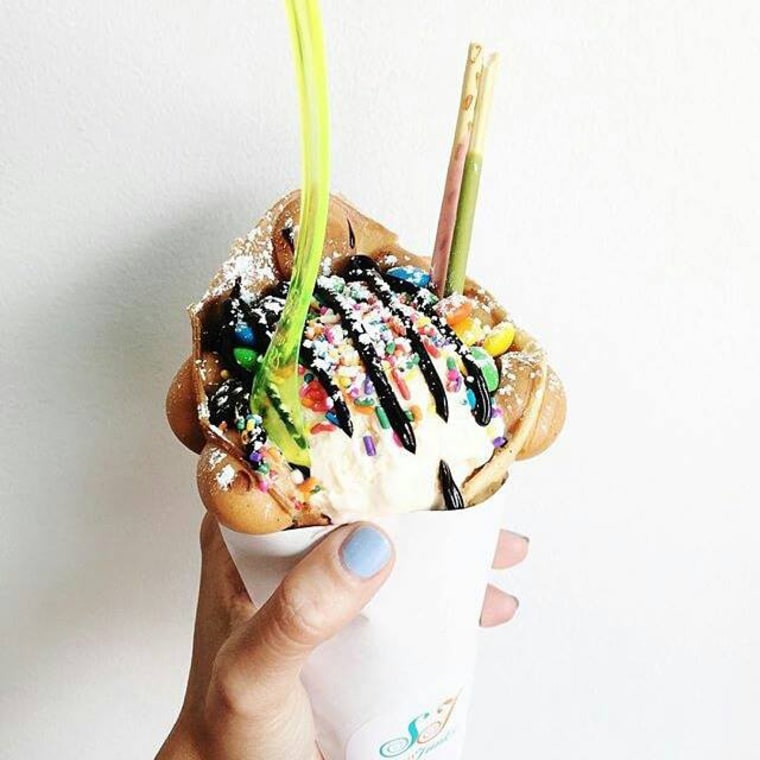 Ngo estimates that about 60 percent of her customers come into Snow Junkie, which also sells Taiwanese-style shaved ice, solely for the eggettes. "I think it's different and everybody's curious about it," she said.
There's also the fact that puffle cones are just plain tasty. "It's crispy on the outside and chewy on the inside," said Le. "The waffle comes out warm so it's really good with the cold ice cream, that contrast." At Cauldron, some of the most popular flavors include Sea Salted Caramel Crunch, served with caramel drizzle, sea salt flakes, and a pretzel; and S'mores, topped with graham cracker dust and torched marshmallow fluff.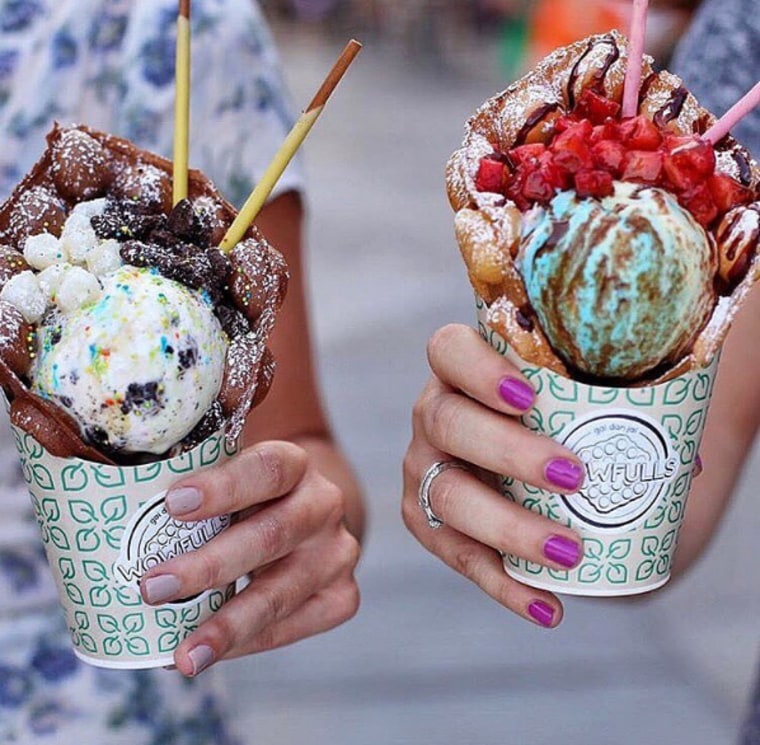 Aside from their novelty and undeniable deliciousness, puffle cones have become celebrities in the food world due to—what else?—Instagram. "They're very photogenic," said Wowfulls co-owner David Chan, noting that the majority of his customers are taking photos to post on Instagram. Wowfulls, an egg waffle business that launched in October 2015 as a weekend-only stand in New York City's popular food market Smorgasburg, is scheduled to open a brick-and-mortar spot later this year.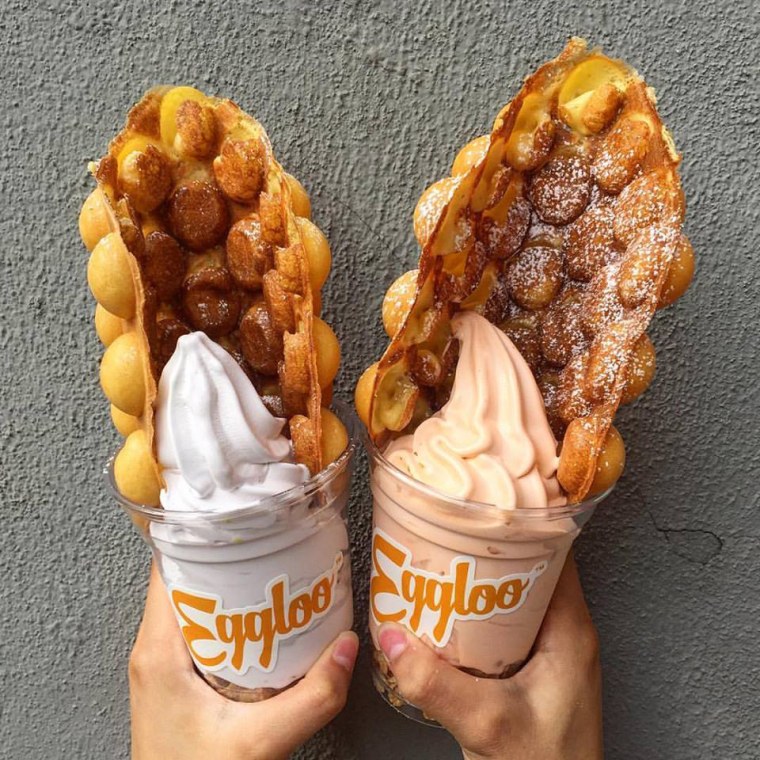 "It's very Instagrammable," agreed Mike Tan, co-owner of New York City's Eggloo, a shop specializing in Hong Kong egg waffles. "People just want to be able to show off what they're eating, where they're eating it, and there has to be a certain level of presentation that sparks the imagination and makes people want to try it themselves."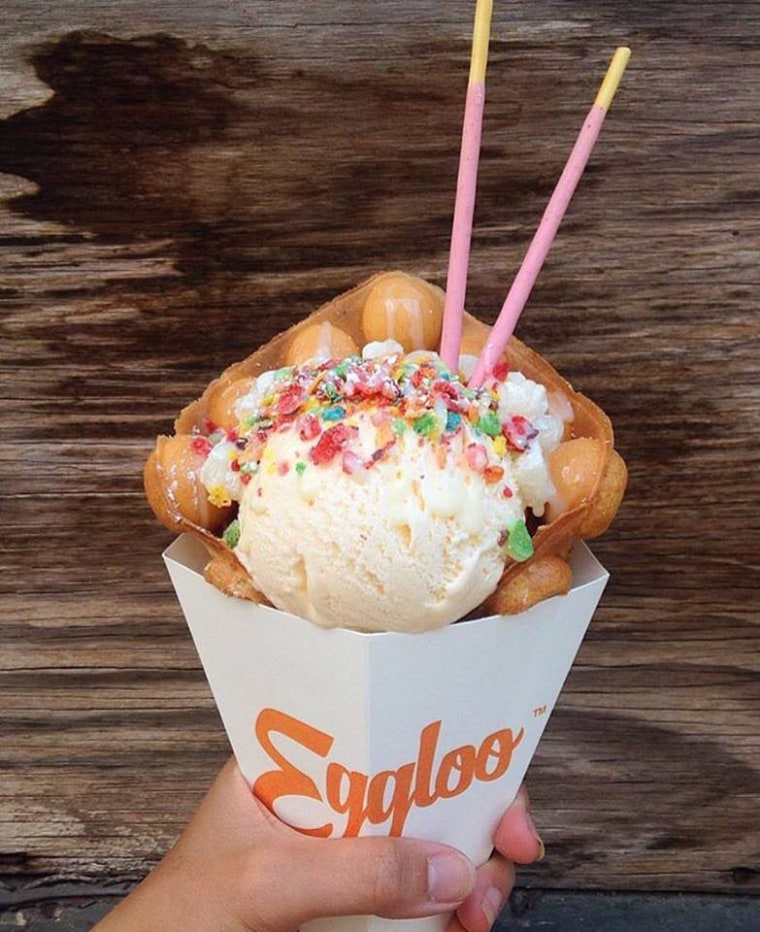 It seems that the puffle—with more than 25,000 and counting #puffle and #eggwaffle posts combined—was practically invented for Instagram. Take a look at the drool-worthy photos we've gathered here and see for yourself.