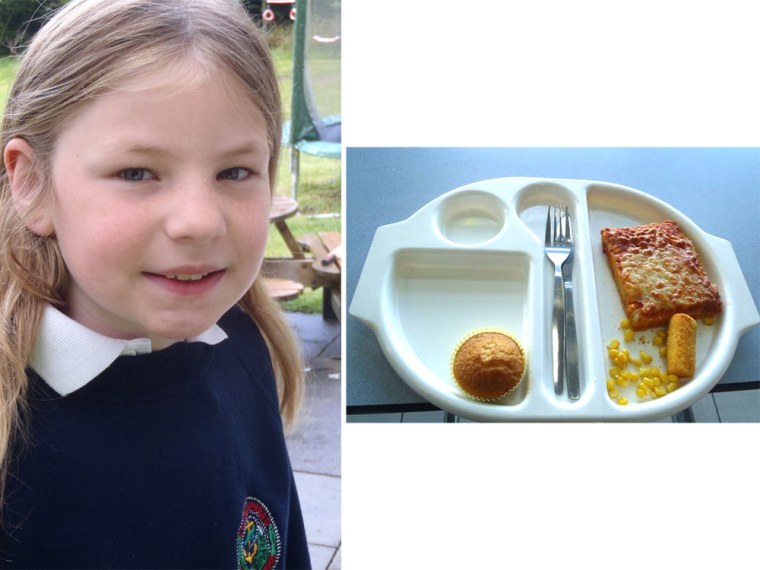 A ban on a popular food blog documenting school lunches run by a 9-year-old girl in West Scotland was reversed Friday after a firestorm on social media.
Martha Payne, who goes by "VEG,'' on her blog, NeverSeconds, posted on Thursday that she was told she was no longer allowed to take photos of the food in the cafeteria of her school, Lochgilphead Primary in Argyll. The blog had spurred discussion over the quality of school food offerings and received more than two million page views while grabbing the attention of British celebrity chef Jamie Oliver.
Story: Food blogger, 9, crusades for better school lunches
Oliver initially helped catapult the blog to success by linking to it in a tweet to his 2 million of followers, saying, "Shocking but inspirational blog. Keep going. Big love from Jamie x." After hearing of the ban, Oliver again expressed his support via Twitter Friday, urging Martha to "stay strong."

After the ensuing outcry over the ban on Twitter and other social media, Roddy McCuish, the leader of the Argyll and Bute Council, made the decision to allow her to continue posting photos on her blog, deeming the ban a form of censorship.
"There's no place for censorship in the Argyll and Bute council and never has been and there never will be,'' McCuish told BBC radio. "I've just instructed senior officials to immediately withdraw the ban on pictures from the school dining hall. It's a good thing to do, to change your mind, and I've certainly done that."
Martha's father, David, told TODAY.com via email that "Martha is very pleased the ban has been lifted and she's looking forward to continuing to blog," adding, "She is more pleased at the incredible response to Mary's Meals and is beaming." Mary's Meals is a charity that brings food to hungry children and Martha has been helping raise money for the organization through her blog. 
The council's main ire came from a headline in a Scottish newspaper saying "Time to Fire the School Dinner Ladies,'' in reaction to Payne's depiction of the food offerings.
McCuish's reversal came only hours after the council had issued a statement saying "Argyll and Bute Council wholly refutes the unwarranted attacks on its schools catering service which culminated in national press headlines which have led catering staff to fear for their jobs."
The council went on to say that the blog "misrepresented the options" in the cafeteria, and that the ban was needed to "protect staff from the distress and harm [the blog] was causing."
McCuish said he will be getting to the bottom of how the ban was enacted and who was responsible.
"I will be dealing with that in due course,'' he said. "I don't know what went wrong, but I will do my best to find out."
He added that there have been no complaints regarding the catering in the school up to now and that he is "comfortable'' with the catering in the school. He also said that the cafeteria women who came under fire in the newspaper articles have "100 percent backing'' from him.
In a previous interview, Martha told TODAY.com that since she started blogging about her lunches, "The sizes have improved but it's not still the nicest food."
More from TODAY Food: