Many chefs, ironically, know this predicament all too well: When I caught up with Sharon Richardson, she had been up working for hours, but not yet had a chance to eat.
"I work all day, seven days a week," she told me. "After prison, I hit the ground running and I haven't stopped since."
"People say, you did 20 years inside, Sharon, didn't you wanna just come home and chill out? That didn't work for me," she said, laughing. "I came home as a driven person, as a passionate person. I have this journey and I'm bringing people along with me. Anyone who wants to jump on board: Let's do this."
Richardson talks a mile a minute and her journey, as she tells it, is enough to leave your head spinning. Today, she is the warm, smiling founder of a nonprofit called Reentry Rocks, which helps formerly incarcerated women integrate back into society, as well as the founder of Just Soul Catering, a food business that provides jobs to many of those women.
I think about my story as a gift to give to the world.
Thirty years ago, as a young mother in Brooklyn, New York, she was a victim of domestic violence. According to Richardson, her boyfriend also molested her daughter, and then he was killed by some young men in her apartment and one of them testified that she had arranged the murder. Richardson was convicted and sentenced to 20 years to life.
"Am I responsible for the fact that someone died in my apartment and I lied to the police and said it didn't happen? Yes. My charge was murder in the second degree and I was charged with killing my abuser," Richardson said. "I think about my story as a gift to give to the world — how someone like myself who grew up with a West Indian background and a wonderful family in Bed-Stuy ended up in prison."
Growing up in the '70s and '80s, Richardson said she was "exposed to everything you could possibly be exposed to. "My family wanted the best for me by sending me to private school and making sure I went to church," she recalled. "All the love and care that could go on for an individual, I was fortunate to have that inside my home. But the neighborhood that I grew up in wasn't a pretty picture. We were told, 'Don't leave the house,' but of course we left the house. I was exposed to my own surroundings."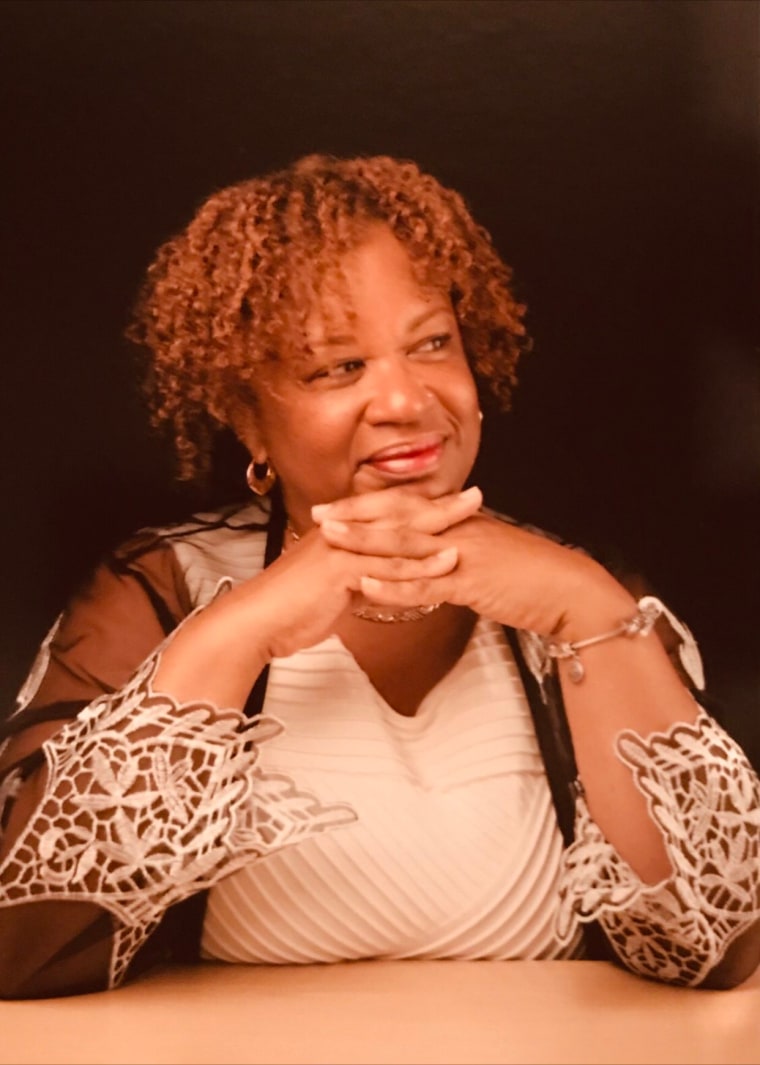 She speaks with no bitterness even when talking about her prison time. "Going to prison for 20 years for a domestic violence charge, so much was wrong with that. I left my 8-year-old daughter and 2-year-old son at home. So when I got out, I had to make a difference. I got my bachelor's and associate and master's degree while I was inside and came home in 2010 needing to make a difference in the world, who I was and in my family's life, with my children and grandchildren."
Richardson was connected with an organization that helped formerly incarcerated people get a business going. "I thought it was a scam. You need money and good credit to be an entrepreneur and I have none of that. I'm like, 'Wait a minute, this can't be true. Is this real?' When I did the interview, they were like, 'You are exceptional. What's your business?' And I thought, 'What's my business?!" she laughed. "I thought, 'Sharon, you are a lover of people and you are a lover of food. So when you put those two together what do you think you get?'" It wasn't long before Richardson said she was overwhelmed with ideas, filling up scraps of paper "all over the place."
Not all of our stories are pretty stories, and they're not meant to be.
One powerful memory set the wheels in motion for everything that would follow. "I was thinking about when I was incarcerated and my mom was dying, they took me out in shackles and handcuffs to go say goodbye to my mama on her deathbed. I lived on the honor floor that had certain privileges; the officer allowed the women to cook and make food. But I'm thinking I'll come back, cry into my pillow and turn the lights out. But when I came in, my friends scooped me up and they had a whole spread laid out. And what did we do? Storytell. I told them about my mommy, how she was leaving this world, we cried, we ate, then we cried some more, then we ate some more. Before we knew it, it was late. And it was a moment.
"That moment is why I tell people food is so important, people are so important. And why we need our own kitchen, stories that come from other women. Not all of our stories are pretty stories, and they're not meant to be. They're inspiring stories of what we overcame. And now we need a job. A place where we won't be judged to get back to this New York City that we love. So here we go, a catering company, soul food, connect it to justice, hiring incarcerated women, and not just the food — we gotta do the storytelling!"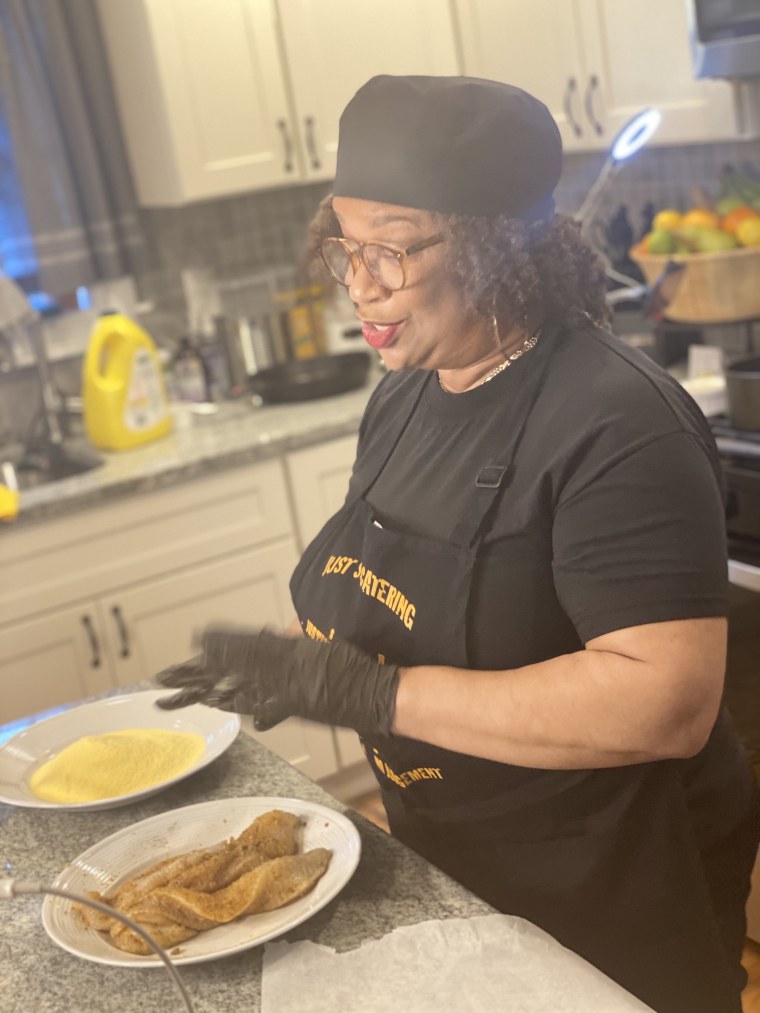 Richardson has been home for 11 years now and calls Reentry Rocks and Just Soul Catering her "babies." But they have a lot of growing up to do, and her dreams for them inspire her to continue pushing, growing, fighting.
"They are both justice-involved entities. They work together jointly. With Reentry Rocks, we have clients we put through our paid internship program a few times a year. But the women that have graduated from our internship program, they're kind of, like, in waiting."
She wants to do more, help more, but she needs the resources. "I rent an office, I rent a kitchen to run these things. What I am longing to do is find my own space, helping formerly incarcerated people make a life for themselves. You have these big dreams and these big ideas and you're creating them, but you can't do it unless you have what you need in funding to get there. But whether the money comes or not, we are still going to have our mission to help formerly incarcerated women (come) home.
"Once you realize you have a purpose in life, hopefully you can go on and live it out and then we die, right? And we either leave a legacy behind, people that fell in love with us, were inspired by us or touched by who we are, or we leave behind bitterness and people that resented our relationships."
These days, Richardson is surrounded by love — and, of course, good food.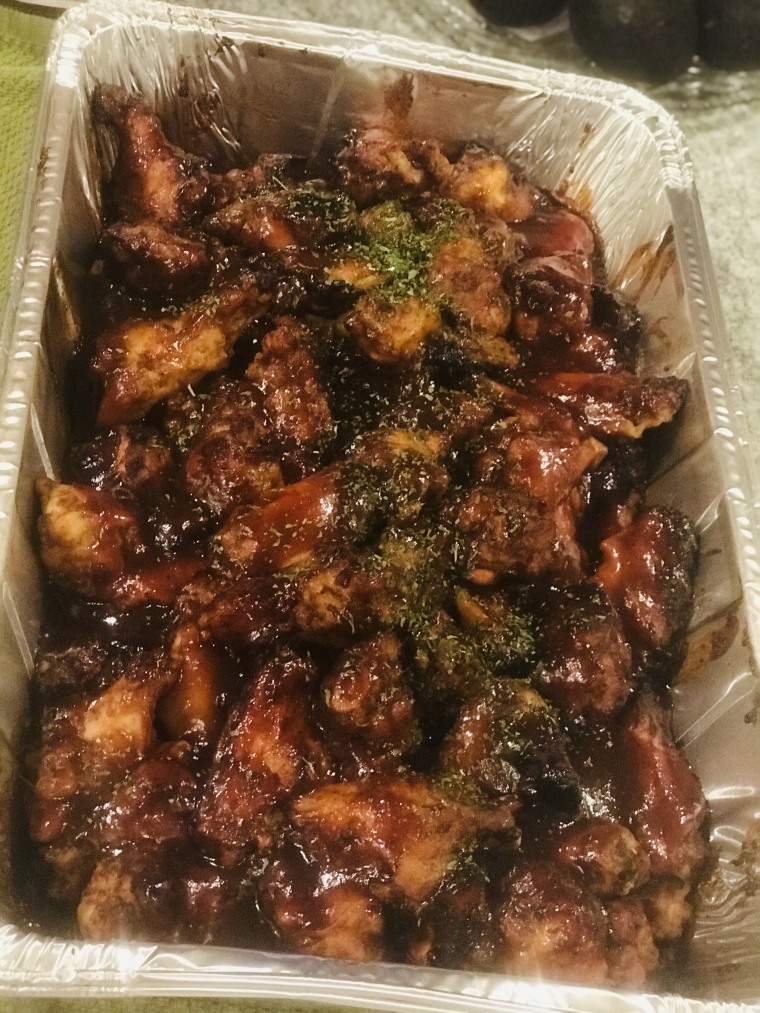 "Just Soul Catering is about soul food, touching the hearts of those in New York City, feeding those that never sleep and love to eat," she said. "I was brought up in a West Indian family and lived in a neighborhood where there was Southern people all around me, jerk chicken, a little Caribbean too, mac and cheese, turkey wings, don't forget the banana pudding. My grandma was always in the kitchen."
When asked if that's where she learned to cook, she responded, "Recipes come from within. What I mean by that is, food is just food until you put the seasoning right. Myself and my cooks, we have a unique way and we have not had a complaint in six years. We make fried chicken, collard greens, traditional mac and cheese, we sit down and have meetings to talk about what we should add or take away."
Recipes come from within.
She draws from a pool of over a hundred people when she gets a job. "The struggle is real, let me tell you that. People hire for a little job over here, a little payout there, but we need something more now." She said she was thinking specifically of a woman she did time with named Donna. "We reunited at an event I was doing and she came over to me and said she needed a job, so I started hiring her for events. The Caribbean dishes on our menu, those are all Donna's dishes. She's an amazing individual and I just wish I could help her more. Somebody like Donna needs a 9-to-5, not just getting a job every now and again when I get a job."
When COVID-19 brought everything to a halt last year, Richardson, ever nimble, pivoted her business to help essential workers. "During the pandemic, even though events were being canceled, we didn't let this stop us! We started a GoFundMe page and raised $19,000 and just went to hospitals, to feed essential workers, out on the streets."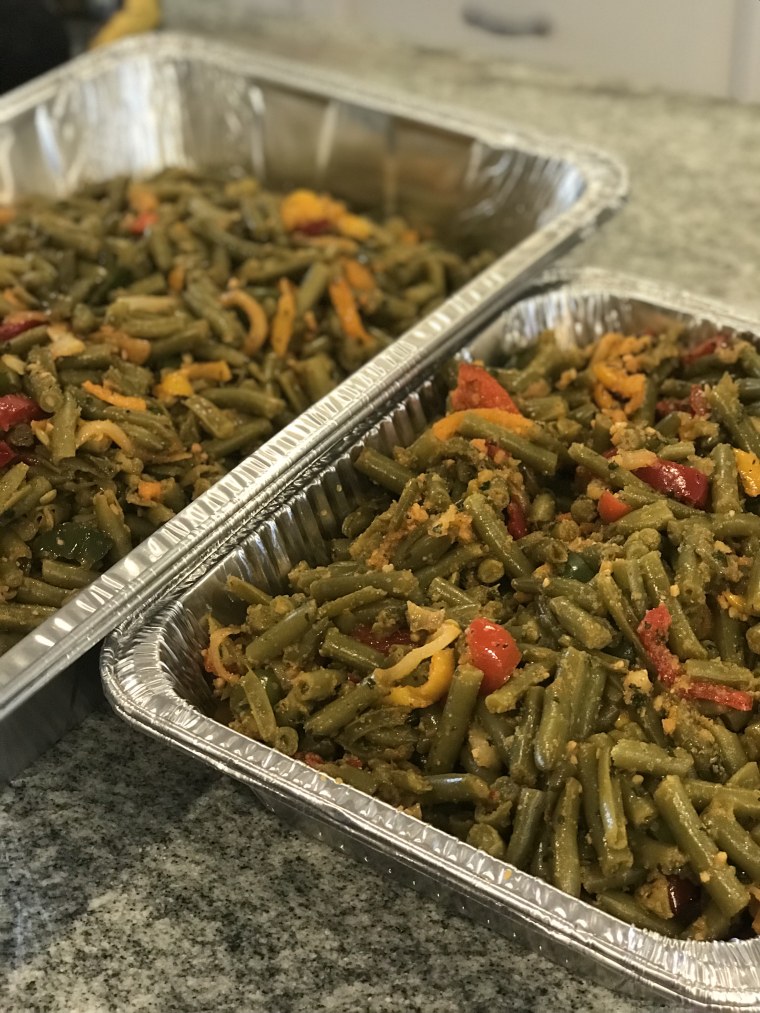 Richardson still hungers for a bigger platform to bring more attention for her cause. She's been on "The Kelly Clarkson Show" twice during the pandemic, but turned down the chance to be on "Chopped." "I can't open up no basket, that's not the way I cook!" she explained. What she's looking for is something much bigger than a trophy or a cash prize. "We're not looking for fame, not really. There is nothing out there for formerly incarcerated people. We need a platform for women like me who are coming home and doing the right thing."
After a rare pause, she said, "Let me tell you something: We will change the world. We will change the way people view us."
We will change the world. We will change the way people view us.
Her own journey, the way she looks at the world through rose-colored glasses, is proof of how much things can change. Today, Richardson is a finalist for the 2021 David Prize honoring New Yorkers who are changing their communities for the better. She feels it was all meant to be.
"Who knew that this was waiting for me? And that I would love it so much and have a story to go with it? I am in love with life, I am in love with today and who I am and what I've become. I can't cry any more. My incarceration, my time away has created the 'me' of today and I am bringing along all the people who wanna ride this train with me. And all the people who wanna judge us, y'all gonna have to get off at the next stop and catch another train."