While Prince Harry and Meghan Markle have yet to make any official announcement about their wedding cake, there's a pretty big rumor that has people going absolutely bananas.
British royal wedding cakes tend to be baked in tradition — for the past few decades, most royals (and their lucky guests) have enjoyed a multi-tiered fruit cake. And while Harry and his culinarily-inclined bride-to-be may incorporate more modern touches into their big day than previous generations, many were surprised when an unnamed source recently told The Telegraph that the couple wants to serve a banana-flavored cake at their upcoming nuptials in May.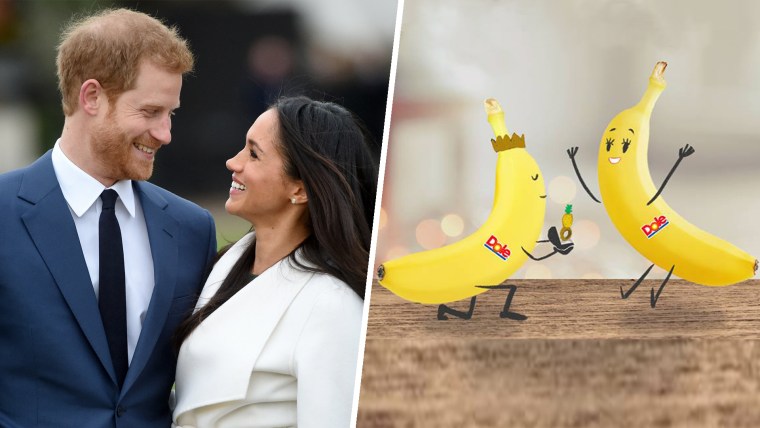 Now, a big fruit company is looking to ride the royal publicity wave with a sweet offer for the royal couple. Fruit giant Dole has joined in on the fun and offered to make Harry and Markle the cake of their dreams. They've already offered the services of their "top banana" chef to personally bake the cake that will be served after the couple's ceremony in St. George's Chapel at Windsor Castle.
Mark Allison, director of culinary nutrition at the Dole Nutrition Institute, told TODAY Food via email that his "banana cake for [the couple] would start with that English style and elegance, to compliment the royal theme, but would reflect at least a little of the whimsy that are bananas." His recipe, which would of course include Dole bananas, would be based on "banana bread recipes that are firm enough to support at least three layers of cake on top."
"I have two recipe options that I'm sure would work for this special occasion: a royal twist on a traditional banana cake that has been a favorite in the Dole recipe library," said Allison, "and a more elaborate take on a gluten-free cake that is gaining popularity with a new generation of recipe lovers."
Dole is also campaigning for this baking honor via social media that will include a series of "congratulatory banana memes." The first features a crown-wearing banana, down on one knee, offering another banana a pineapple ring. Isn't that romantic? The messaging, of course: "Congratulations to Meghan and Prince Harry from Dole Fresh! We're going bananas over your Banana Wedding Cake."
Bananas seem to have played a big part in the whirlwind romance between Markle and her prince. The speculation over the connection dates back to an Instagram post the actress put up soon after she allegedly met the red-headed royal.
Former royal chef Darren McGrady, also shared that Harry has a history of enjoying bananas in pretty much everything. The chef told Hello! magazine that as a young man, Harry "loved banana flan, anything with banana really, banana ice cream." So why wouldn't he want a banana wedding cake?
Such a cake would be quite a departure from royal tradition, though, so is it totally bananas to speculate about it? Not necessarily, says one British wedding expert. "A departure from tradition is certainly something we've seen in more modern times with the royals, but typically, it's been a less impactful shift since the newlyweds still paired it with a customary fruitcake as the main act," Kylie Carlson of UK Academy of Wedding & Event Planning told, TODAY Food.
But, added Allison, there's yet another great reason to incorporate the yellow fruit into a cake.
"Bananas are also an excellent way to keep a wedding cake moist and succulent, without having to add too much fat or sugar," Allison told TODAY Food. "So, it's a healthier option over a traditional English wedding fruit cake using dried fruit."
Though Prince William and Kate Middleton had a large, multi-tier fruitcake as the main sweet attraction, they also served a chocolate biscuit cake for the groom's cake, a favorite of Queen Elizabeth's.
"If Prince Harry and Meghan decide on a banana cake and forgo a fruitcake, it would certainly be in stark contrast to what we've seen with royal celebrations in the past," says Carlson. "I think a banana cake could absolutely be in the cards for this modern couple. This will be a celebration of many firsts, so why shouldn't the menu reflect that as well?"
Added Allison, "Considering the relaxed elegance of the bride, I would also work with her to match the colors of the icing to the dress and flowers she has chosen for the day."
The bigger question is: If they do decide on a banana cake, is it something that would actually catch on? Only time will tell. Whether or not there's banana cake happening on the big day in May, you can always make your own delicious version right at home.