Last week, 4-year-old Prince George arrived for his first day of school at the super posh and private Thomas's Battersea School located just a few miles from his home at Kensington Palace.
Prince Charles might have expressed some sympathy for his grandson's nerves about the situation, saying "Poor old thing," but we don't feel sorry for Kate and Wills' first little one — especially after taking a peek at the school's decadent lunch offerings.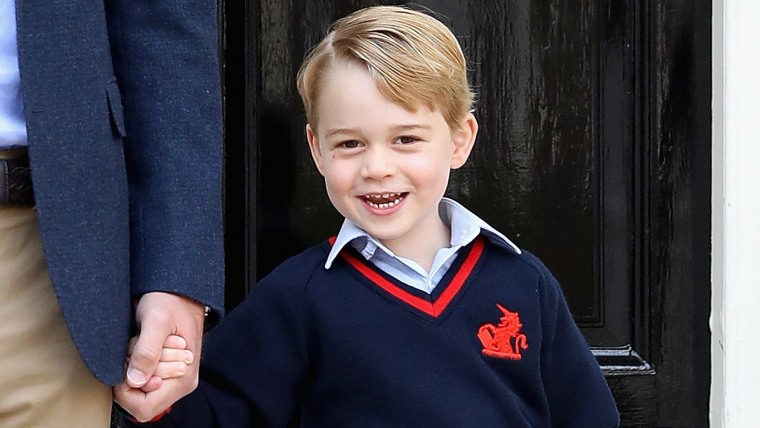 Lamb ragout with garlic and fresh herbs, "BBQ" pork strips, tomato and avocado bruschetta, baked smoked mackerel, free range chicken with minced chili con carne and three bean ratatouille are just some of the delicious-sounding dishes listed on the sample menu on the school's website. Every day, kids can choose between a meat, fish or vegetarian meal option — and that doesn't include a starter plus freshly baked bread daily!
And don't even get us started on the dessert. From custard tarts and cookies to tropical fruit smoothies and milkshakes, the options not only sound healthy but will satisfy any sweet tooth.
The school, which costs about $8,350 per term, says that it does not knowingly use "convenience or processed" foods, undesirable additives or hydrogenated fats in its recipes. It also gives students a morning break to indulge in things like fresh fruit, breadsticks, cheese and organic semi skimmed milk.
And for kids with dietary restrictions, it seems like a safe place to be. Besides a no nut policy throughout the campus (parents aren't even allowed to bring items made with them to school), the catering department offers a new allergy-friendly food option on the menu each day. These include dishes that are gluten, egg and dairy free.
"Each term the catering team develop a range of ideas and dishes with an emphasis on healthy cooking, full flavour [sic] and presentation," Mark Newman, the general catering manager at Thomas's, said on the website. "Our goal is to not only persuade pupils to eat but, more importantly, to enjoy a balanced diet whilst at school."
Prince William reported that George did indeed have a good first day, and we're sure with a menu like this, he'll be having plenty more throughout the year.