What does it mean when a restaurant describes its products as "natural" foods? Well, in the U.S. at least, it's hard to know, as the Food and Drug Administration (FDA) has yet to officially define the term.
In the United Kingdom, however, the Advertising Standards Authority (ASA) ruled that the restaurant chain Pret A Manger, which has dozens of locations in major U.S. cities like New York, Boston and Chicago, as well as overseas, may no longer use the word "natural" in its advertising because some of its foods contains additives.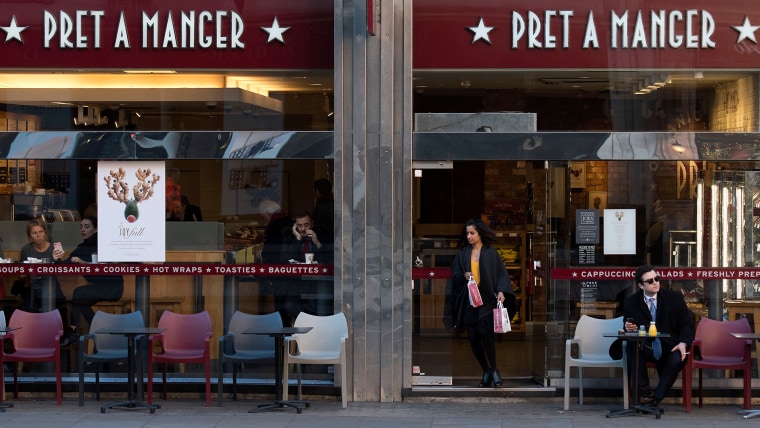 Clare Cough, food and coffee director for Pret A Manger, described the company's mission to TODAY Food by email, saying, "Since day one, Pret has been on a mission to create handmade, natural food, avoiding obscure chemicals and preservatives. Our teams freshly prepare our food every day in our on-site kitchens and at the end of each day our unsold food is donated to homeless charities."
In response to a complaint from the Real Bread Campaign about Pret A Manger's marketing, the company argued that "their ads did not claim, either expressly or impliedly insinuatingly, that they used only natural ingredients or that their food was additive and preservative free," according to the ASA ruling.
Pret's sandwich bread contains three E-numbers, which are food additives, dyes and preservatives that are approved for use in the European Union. Pret A Manger said the additives in its sandwiches are also commonly found in many household brands of bread and are widely used in the industry to make sandwich bread.
One of the additives, ascorbic acid, is used in McDonald's buns and English muffins; in croissants, buns and flatbreads at Arby's; and in bread and danishes at Au Bon Pain, for example.
But is it fair to describe products with additives as "natural"?
Last week, the ASA ruled no. In its decision, the organization defined "natural" as meaning "the product is comprised of natural ingredients, e.g. ingredients produced by nature, not the work of man or interfered with by man."
As a result, they ruled Pret was misleading customers by using the term "natural" to describe foods or ingredients that use chemicals to change the product's composition, or foods that contain additives and flavorings that are produced by the chemical industry or extracted by chemical processes.
"We do, of course, take on board the views of the ASA and have already made the requested changes," Clough told TODAY Food. "We believe we represent Pret's food honestly and we always welcome feedback."
The battle over the term "natural" is happening here in the U.S., too. In 2016, the FDA requested the public's input on what the word "natural" on food labeling should mean. A representative for the FDA told TODAY that the agency "has not engaged in rule making to establish a formal definition for the term 'natural'." But added that "they would have more to say on this topic soon."
Panera has also asked the government to be clear about what constitutes a real egg as they look to differentiate their breakfast sandwiches from others that have eggs made with additives and fillers.
Without any regulatory standards in place defining what it means for a fast food sandwich to be natural, consumers in the U.S. should do their research by reading ingredient lists and product labels carefully to find out exactly what's in their meal.