Jon Matsubara and Isaac Bancaco, both chefs at Hawaii's top restaurants, stopped by TODAY to share their island-inspired recipes. From pork tacos with pineapple salsa to watermelon salad with macadamia nuts, these dishes are guaranteed to take your taste buds on a tropical vacation. 
Hawaiian luau 'carnitas' with corn tortillas, pineapple salsa, pickled Maui onion and feta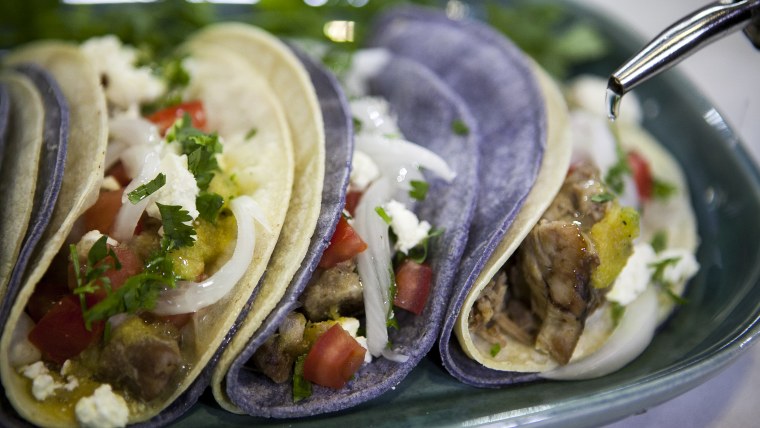 For the carnitas:
3-lb. pork butt, cut into 2-in. chunks
2 tbsp. coarse salt
1 tsp. liquid smoke
2 cups water
For the salsa:

6 oz. pineapple, cubed and grilled
1/4 of a jalapeño, seeded
1 lime, juiced
Salt, to taste
For the pickled onion:

1 Maui or sweet onion, cut into thin strips
1/2 cup water
1/2 cup white vinegar
1/4 cup sugar
For garnish: 

1 cup cilantro, chopped
1 cup feta cheese
1 cup tomato, diced
To make the carnitas:
Preheat oven to 350 degrees. In a medium roasting pan, place heavily salted pork butt, liquid smoke and water in the pan and cover with a double layer of heavy-duty foil.  
Bake for 30 minutes, then turn down to 275 degrees for 2 1/2 hours. Let rest, then remove from pan and shred while still warm. Place in a clean serving bowl and cover with plastic to keep warm.
To make the salsa: 
Combine all the ingredients in a blender on medium speed until they are incorporated. Reserve.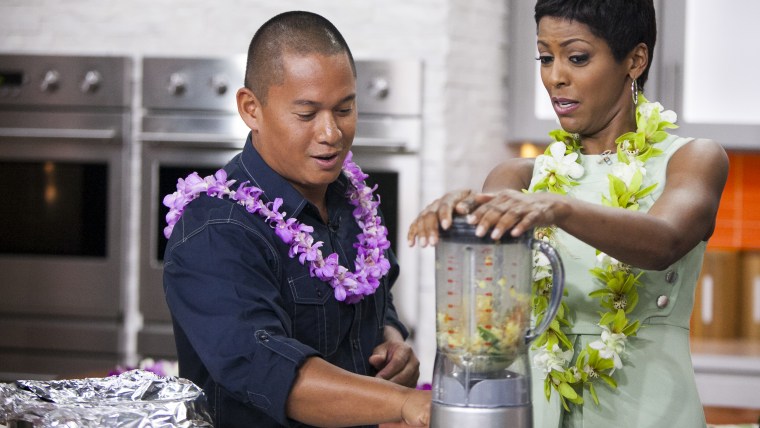 To make the pickled onion:

Combine the water, vinegar and sugar in a pot and bring to a boil. Pour the sugar mixture over the onions and reserve for serving. 
To assemble: 
Spoon warm carnitas into tortillas. Top with pineapple salsa, pickled onion and garnishes. Serve. 
Watermelon salad with goat cheese and spiced macadamia nuts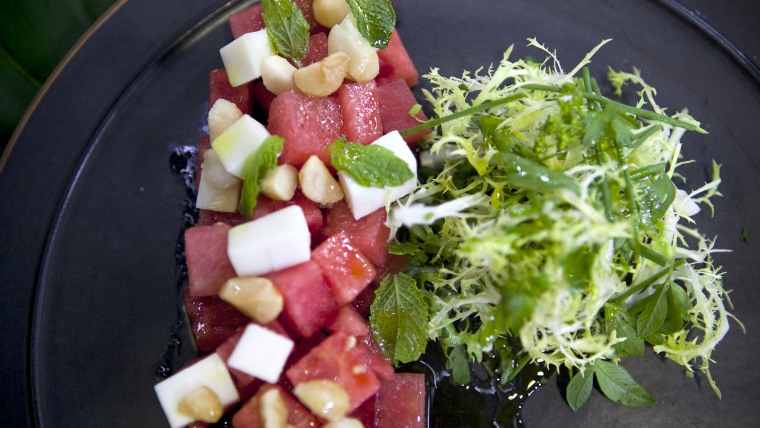 For the watermelon:
1 cup watermelon, skin peeled and flesh diced
1/2 cup lime juice
For the salad dressing:

3 tbsp. olive oil
1 tbsp. lemon juice
1/2 tsp. salt
For the salad: 

3 tbsp. goat cheese
1/4 cup canned honey macadamia nuts
2 sprigs mint, chopped
1 small handful chives, cut into thin strips
1 small handful Italian parsley, chopped
1 cup frisée (you can also substitute with arugula) 
To prep the watermelon:
Let the fruit marinate in lime juice for at least two hours in the refrigerator. Drain before serving.
To make the salad dressing:
Mix together the ingredients with a whisk. Reserve.
To assemble:
Combine the frisée, mint, chives, parsley and nuts in a bowl, and toss with the dressing. Add drained fruit and goat cheese chunks. Toss salad, and garnish with leftover macadamia nuts.
Grilled Hawaiian shrimp with summer fruit salad and pickled cranberry vinaigrette dressing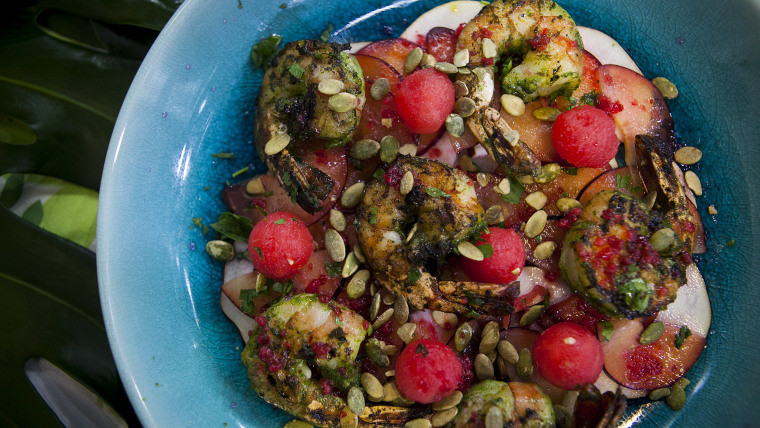 For the shrimp:

2 cups salad oil

7 cloves garlic, chopped
2 small bunches cilantro
Salt, to taste
16 to 20 raw shrimp, peeled and deveined
For the vinaigrette:

2 cups rice wine vinegar or white wine vinegar
1 3/4 cups sugar
1 cup puréed cranberries
For the fruit salad:

2 red pears, cored and sliced carpaccio-style 
1 Asian pear or green apple, cored and sliced carpaccio-style
1 plum, cored and sliced carpaccio-style
1 cup watermelon, sliced carpaccio-style 
1/2 cup pumpkin seeds, toasted
1/4 cup mint, chopped 
To prep the shrimp:
Blend the first four ingredients in a blender or food processor until completely smooth and bright green. Add shrimp to marinade, and toss well. Cover and marinate in refrigerator for at least four hours.
To make the vinaigrette:
Whisk vinegar, sugar and cranberries together. Set aside until ready for use.
To assemble:
Grill the marinated shrimp until they're pink and have a nice char. Arrange the sliced fruits on a plate, and drizzle with the cranberry vinaigrette. Top with shrimp, mint and toasted pumpkin seeds.