/ Source: TODAY Contributor
On steamy days, there's nothing I enjoy more than coming in from the heat and enjoying a frosty frozen pop. They're generally a guilt-free treat that my whole family can enjoy. But I got to thinking about how I could make them even better — basically a smoothie situation on a stick — and I came up with these combinations, which help you achieve a specific goal.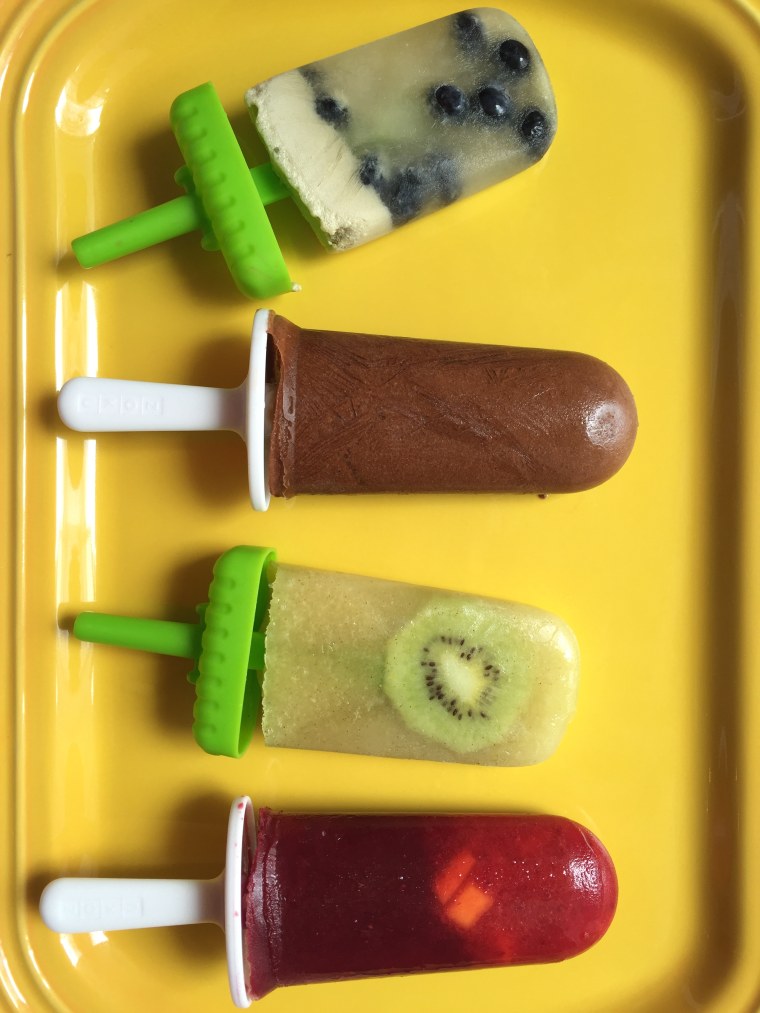 Break out your pop molds and give these a try! If they become a replacement for your usual green juice or iced tea, I wouldn't blame you at all. And yes, it's okay to have an ice pop as part of your balanced breakfast.
HYDRATE: Kiwi Melon Popsicles
I often return home from a sweaty run wanting nothing more than a cold glass of water and a REALLY cold snack, but ice cream probably isn't the right thing to grab post workout. These pretty pops hit the mark with their blend of hydrating honeydew and potassium from the coconut water to help prevent muscle cramps. The kiwi kicks in plenty of vitamin C to help bust up those free radicals that form during intense exercise. There's even a little salt to help replace the electrolytes you lose during those sweat sessions.
ENERGIZE: Coffee Popsicles with Chocolate, Peanut Butter and Banana
Swap your hot or iced coffee for one of these pops. I love warm weather, but sometimes a day out in the burning sun can leave me feeling less than peppy. That's when I want a cool treat that also gives me a kick of caffeine. These provide just the right amount for an early afternoon boost.
DEFEND: Strawberry Mango Popsicles
Cold and flu season extends into late Spring, so it's smart to keep making sure your immune system is ticking. I loaded up this pop with antioxidant and vitamin C-rich ingredients like strawberries, beets and mango. If you don't want to go the extra step of freezing the strawberry puree first, simply combine the strawberry mixture with the beet mixture and freeze for a total of 6 hours, or until completely frozen.
RELAX: Blueberry, Chamomile and Mint Yogurt Popsicles
Being plugged in and scheduled 24/7 can leave us feeling frazzled. When you're in need of some chill time and want to skip the booze, reach for this calm and cool pop instead. Chamomile has long been known to help settle nerves, and may also provide a boost to your immune system. Mint helps relieve gas and indigestion, a common symptom of stress. Blueberries are loaded with anthocyanins, a type of polyphenol antioxidant that may help women cut their risk of having a heart attack by a third. Anthocyanins also are quite promising for helping to reverse age-related declines in brain function. Did I also mention that this interesting combination tastes amazing?
Frances Largeman-Roth, RDN, is a nutrition expert, writer and best-selling author. Her books include Feed the Belly, The CarbLovers Diet and Eating in Color. Follow her @FrancesLRothRD.
This post was originally published Apr. 1, 2016.