We've heard of gilding the lily but what about gilding the chicken?
Popeyes has just unleashed a crispy entree that may or may not bring tears to some diners' eyes: boneless chicken wings dipped in champagne and then coated in 24-karat gold batter.
The shiny new offering is available for one day only (Oct. 4) to celebrate the chain opening its 3,000th restaurant.
Surprisingly, they're actually a steal!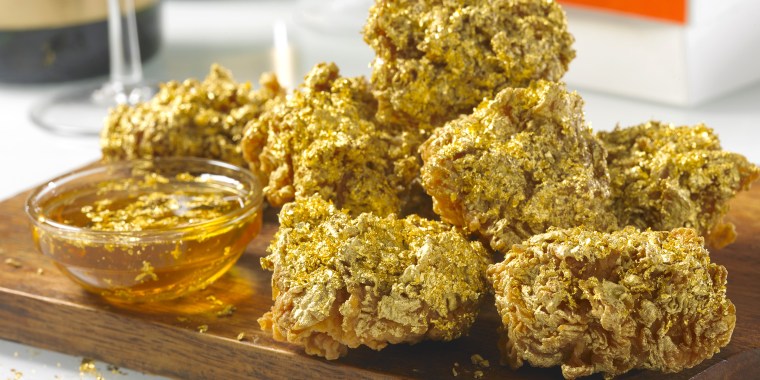 Popeyes "is breaking out the champagne ... and using it to hand batter our boneless chicken wings before tossing them in edible 24 karat gold flakes," the brand said in a statement.
The dish is part of chain's "Boneless Wing Bash" promotion, which includes six boneless wings with a choice of any side and a biscuit for just $5 while supplies last. The wings will be offered at participating locations in New York City, New Orleans, Anaheim, California, and Elizabeth, New Jersey (lucky number 3,000).
Depending on how popular the dish is on Thursday, Popeyes may bring it back in the future.
However, as novel as the idea of gold chicken may be, this isn't the first time wings have been battered and glittered.
Various locations of The Ainsworth restaurant in New York City have been offering them for months thanks a special collaboration with Kim Kardashian's publicist pal Jonathan Cheban.
However, Popeyes' limited-edition offering is way more wallet friendly. The wings that appear on the Ainsworth menu are described as "gold dusted, 24-hour brined, gold coconut butter-chipotle honey, gourmet bleu cheese" and sell for for $45 (for 10 wings) or $1,000 for 50 wings and a bottle of Champagne.
If you're on the hunt for Instagram-friendly snacks, head to Popeyes now. Or, you know, save up and buy some edible gold leaf to add some golden flair to your entire meal soon.