An unsuspecting policeman's random act of kindness for a homeless man seeking employment is winning praise across the country.
But for officer Tony Carlson, it wasn't really random at all — he says it's just part of his job.
Phil (whose last name is being withheld by authorities for privacy) lives on the streets of Tallahassee, Florida. On Saturday, he was sitting inside a local McDonald's when he reportedly overheard Judy McLennan, a job recruiter, discussing two McDonald's employees who also found work while living on the streets.
Raphael Vasquez, who owns and operates that restaurant location, told TODAY Food that Phil said he'd be able to work "just as hard" as the other employees if given the opportunity. However, McLennan recommended that he freshen up (and lose the beard) before coming in for a real interview.
On Sunday, Phil attempted to shave in a gas station parking lot next door to the McDonald's, Carlson said in a video filmed by Rachelle Denmark, the Tallahassee Police Department's officer of public information. When the officer pulled in, he noticed Phil struggling to groom his thick beard with a faulty razor. Carlson then tightened a screw on the razor, took it into his own hands and gave Phil a close shave.
"[Phil] came back on Monday fully shaved," Vasquez told TODAY Food. "He interviewed and he did everything great. He just needs to complete the ID process and he has the job."
According to Vasquez, anyone applying to McDonald's needs to provide some form of government identification and a social security card — neither of which Phil currently owns.
"If he's wanting to help himself, I need to try and help him as best I can," Carlson said. "He was excited that there was a chance he was going to get the chance to get a job if he just did this single thing. I just wish I could have done more."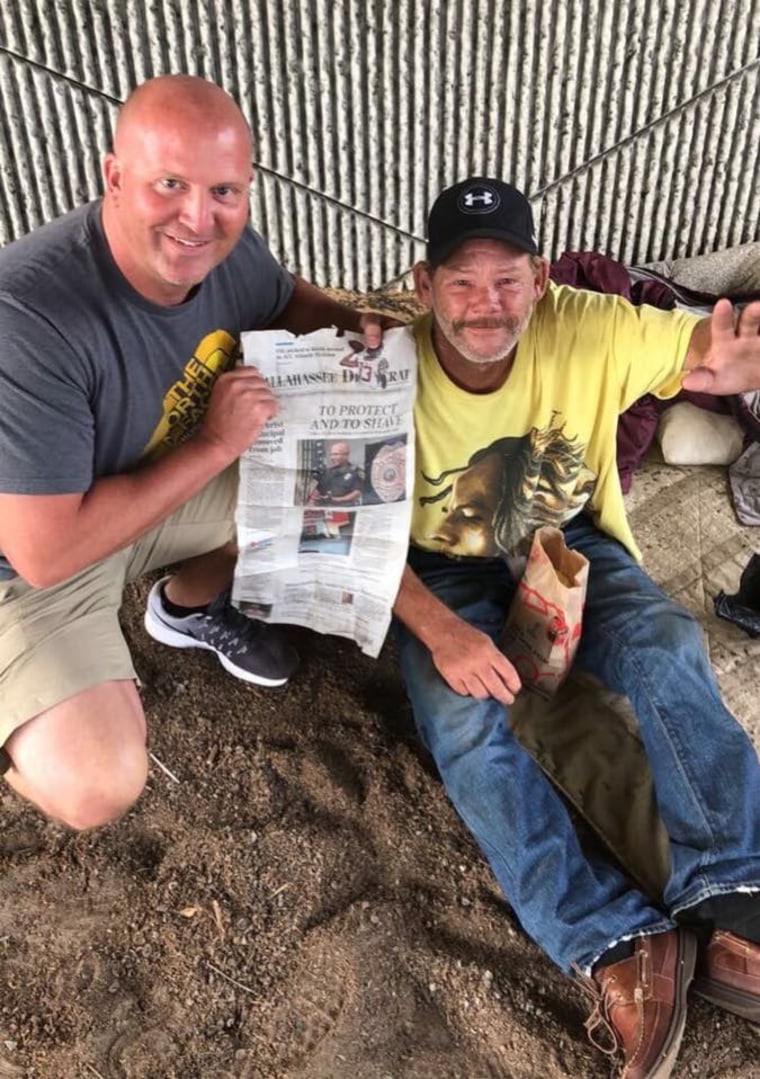 Carlson, who Denmark referred to as a "low-profile guy" with a "heart of gold," had no idea his good deed was being filmed, nor that the video went viral ... until his wife asked if he had been shaving a homeless man during his shift! But helping Phil get ready for his interview was just part of Carlson's kind act.
In an update shared on the police department's Facebook page, Carlson posted that he took his family out to dinner on Tuesday night. En route, his kids noticed Phil camped out under a large bridge. After dinner, the family went to McDonald's and purchased a few cheeseburgers for Phil, who excitedly updated the Carlson family on his successful interview.
"I then told Phil I had good news about that and told him I had been contacted by Senator Marco Rubio's office here in town," Carlson wrote. "They stated they had also seen the story and wanted to help Phil get his ID and Social Security card. I told Phil when I got to work on Thursday I would print out the paperwork they emailed to me and bring it by for Phil to fill out."
Since the original video of Carlson helping Phil shave has gone viral, hundreds of people have weighed in to praise the officer's actions.
Vasquez told TODAY Food that Carlson and Phil have made an appointment on Thursday at a local homeless shelter to assist processing his identification documents. After Phil secures the proper identification, McDonald's says Phil will be able to start performing janitorial work with absolute "room for growth."
Should Phil stay with the company for at least 90 days, working 15 hours a week, Vasquez said Phil will qualify for McDonald's national Archways for Opportunities program. Through the program, he'd be eligible to receive $2,500 to earn a high school diploma, receive college tuition reimbursement or learn a second language.
Said Carlson, "I like to think of us more as peace officers first, law enforcement officers second," Carlson said.