Nothing like a slice of pizza with an ice cold beer. Seriously, nothing. Name one thing.
Which is why on Nov. 5, Pizza Hut started a pilot program through which they deliver beer and wine. While the program kicked off in Phoenix, Arizona with just beer, the chain will expand to wine in Jan. 2018 in hope of taking the delivery service nationwide.
Many Pizza Hut locations across the country are already serving beer at wine, as they are licensed to distribute the products. This allows the pizza giant to eliminate third-party vendors.
"We know that beer and wine go great with pizza and we're uniquely positioned to deliver these given many of our restaurants already serve beer and wine," said Stacy Lynn Bourgeois, director of brand marketing, in a press release. "When you combine that with our extensive network of delivery drivers, we're excited to provide a unique and convenient experience for our customers."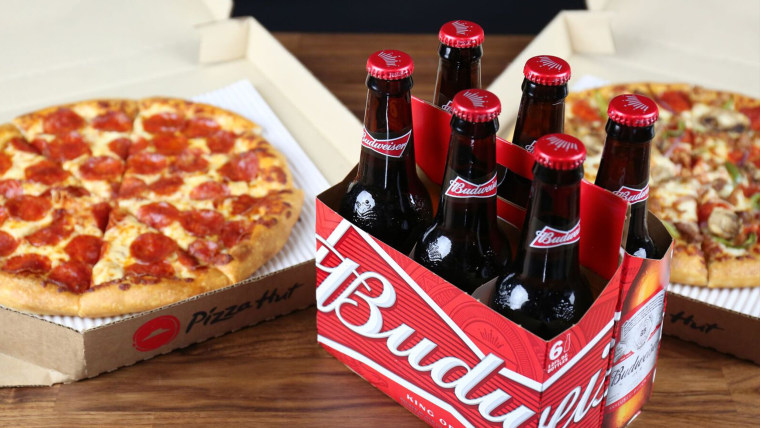 Currently, the beer selection includes six packs of Budweiser, Bud Light, Shock Top and Kilt Lifter (a local favorite in Phoenix). The options will vary in each market, but Pizza Hut plans to include local and craft options to cities around the country. No matter where you are, you can count on your drinks being delivered cold thanks to custom coolers that will carry each delivery.
And don't worry, parents: Pizza Hut plans to operate much the same way as a typical bar when it comes to checking IDs. The drivers will check IDs upon delivery of the beverages, the chain notes, and they are exploring new technology that will make this experience more seamless in the future.
For now, if you live in Arizona, sit back, relax, and let your pizza and beer come to you. At the same time. We think we speak for the rest of the country when we say we're extremely jealous.