The only thing worse than being stranded on a broken-down train? Being hungry with no access to food on a broken-down train. For some Amtrak passengers, that nightmare quickly became a reality on Sunday evening as their train from New York to Washington stalled on the tracks for more than three hours.
But luckily, they were rescued — not by train workers, but by a heroic pizza delivery guy who cut through a backyard, navigated a steep embankment and jumped over a water-filled ditch all while balancing two pizzas in his hands, according to the Associated Press.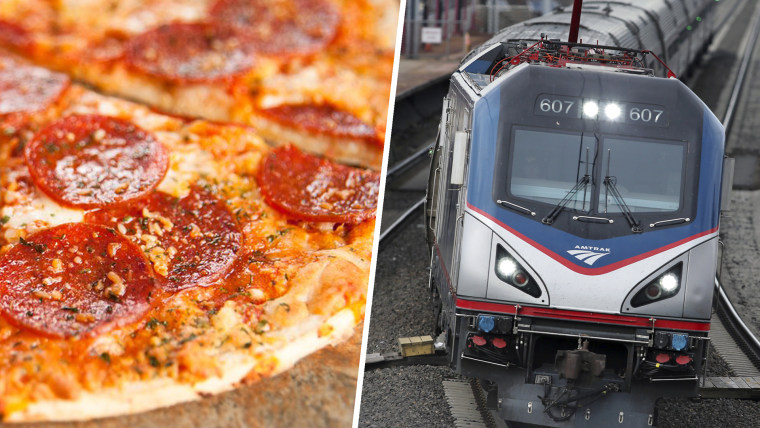 Jim Leary delivers pizzas for Dom's NY Style Pizzeria in Newport, Del., and said getting to the train was the trickiest part.
"I was going through people's yards, going through the muddy embankment," he told TODAY Food. "I was scared of dropping the pizza. I didn't know people were filming me. I'm just glad I didn't fall."
When he finally reached the train, he said he was greeted with cheers for the "pizza guy."
"I was like, 'I got y'all,'" he said. Not only did Leary (or "Jimbo" as he's called) deliver the cheese and pepperoni pizzas to the passengers — he also gave them paper plates.
"They were saying, 'You are the man! We appreciate you for getting these pizza down here,'" he recalled. The customers gave him a $32 tip for the challenging delivery.
Leary said the thing that kept him going during the journey to the train was knowing that these people were hungry: "I said I'm gonna hook these people up — people got to eat."
And while he doesn't consider himself a hero, he said he just wants to do anything possible to help others.
"There's so much negativity in the world," he said. "The thing about pizza is it brings people together. People don't give pizza that much credit. When I go into a house [with a delivery] everyone's faces light up."
One of the train's passengers, Mitch Katz, posted a video of the happy moment on Twitter:
Another praised the delivery man for his fearless dedication to the cause:
Leary wasn't the only hero of the day. One passenger tweeted that a man working in the cafe car gave away free Twix:
And apparently some moms shared a bottle of Champagne to celebrate Mother's Day and ease the pain of sitting on the stalled train for so long:
The passengers were eventually transferred to another train to continue their journey. And while it was more than three hours late to its destination, at least some of the passengers were no longer hangry thanks to Leary and his brave mission.
RELATED