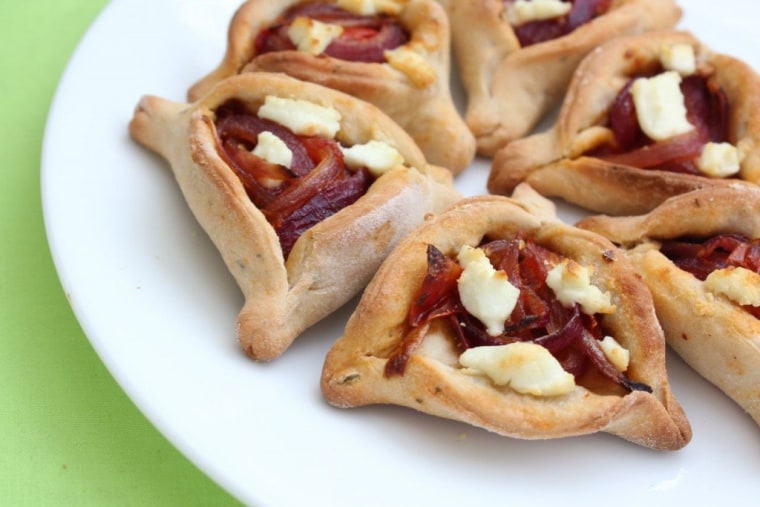 This week, Jewish people across the world will celebrate Purim, a holiday that commemorates the deliverance of the Jewish people from the ancient Persian empire. According to the story, Queen Esther bravely revealed to her husband, King Ahashueros, that she was Jewish. By doing this, and informing the king that her uncle Mordechai once saved him from an assassination attempt, she saved the Jews from extermination from the evil Haman. Now, the holiday celebrates Esther's bravery with singing, festivities, costumes, and, of course, food.
One traditional Purim treat is hamantaschen, triangular shaped cookies filled with jam or poppyseeds, named because they resemble Haman's ears. There are gourmet hamantaschen filled with Nutella or peanut butter, but some get even more creative. One thing is for sure: it will make you wish that Purim came every week of the year.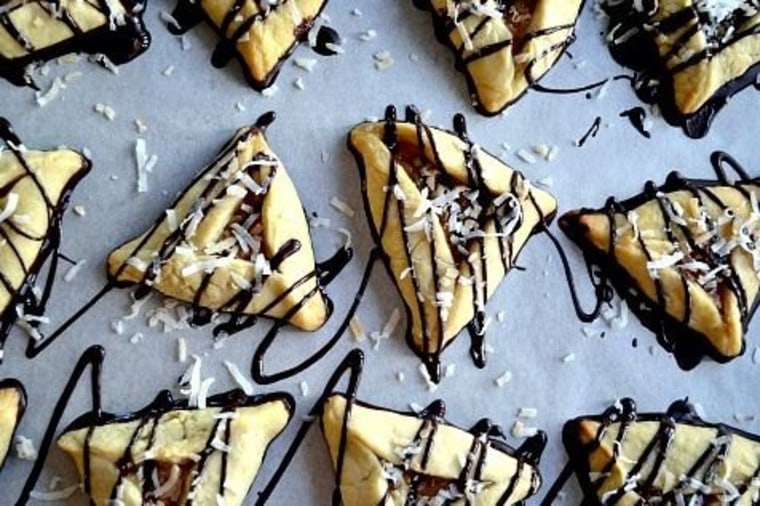 Samoa hamantaschen
This year, Purim falls right in the middle of Girl Scout cookie season. Melinda Strauss of Kitchen Tested brings together the best of both occasions in her Samoa hamantaschen. Coconut, caramel and chocolate to make this festive cookie. Melinda says that "the toasted coconut caramel filling was creamy and crunchy and the sweetness certainly balanced out the almost-savory dough." The only bad part about these cookies is telling your neighbor's sweet daughter to hit the road, since you don't need her to get your Samoa fix any more!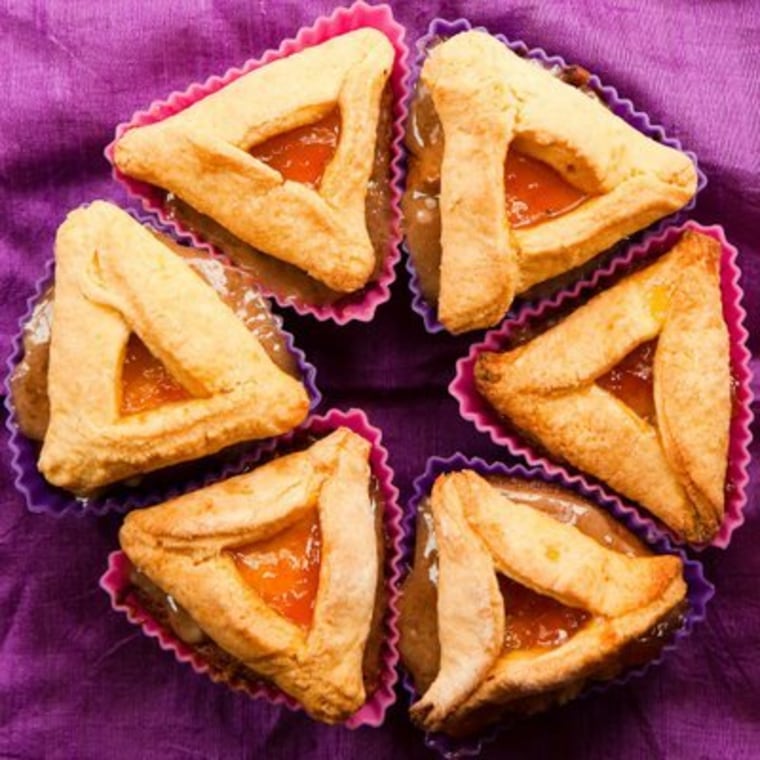 Hamantaschen cupcakes
If you are hankering for something a little more elegant or whimsical than the classic sturdy cookies, look to Cupcake Project for inspiration. Stefani Pollack was originally dared to make a cupcake inspired by gefilte fish, but doubting that she could really make a sweet treat out of pureed carp, she looked to hamantaschen instead. With some triangular liners (easily obtained on Amazon), a hidden jam filling and a topping of a miniature hamantaschen, she has created a treat that is as lovely to look at as it is to eat. And, good call on turning down the gefilte fish, Stef. Some dares just aren't worth it.
Pizza hamantaschen
Blogger Amy Kritzer took everyone's favorite food and turned it into hamantaschen. After all, what goes better with celebration than pizza? She uses fresh tomatoes, goat cheese and red onions to create a savory hamantaschen that is both unexpected and delicious. She recommends you serve it with some potent alcoholic drinks, but you might already be on cloud nine after trying these mini pizza-cookies.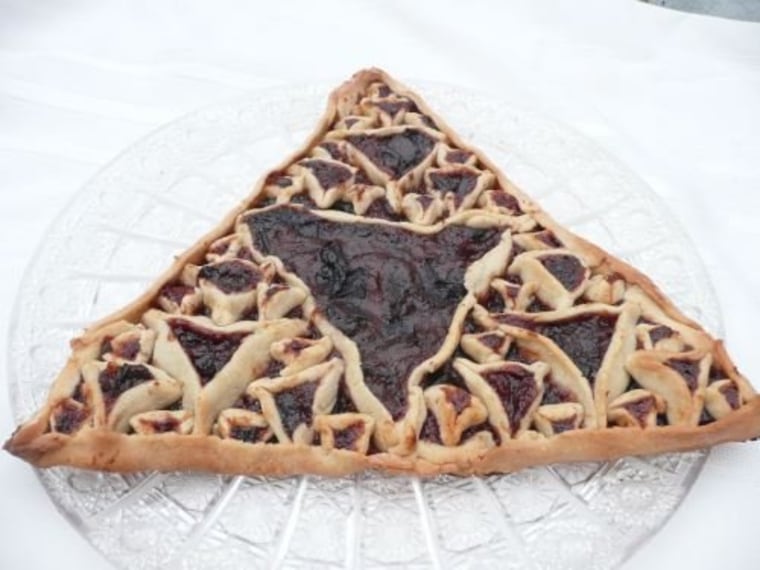 Hamantaschen for nerds
Deborah Gardner, of Seattle Local Food, created a Sierpinski hamantaschen. Filled with prune butter, this very large hamantaschen is based on the "Sierpinski triangle, a mathematically attractive, self-repeating fractal that starts with one equilateral triangle and breaks down into ever-smaller triangles." To that end, Debs made a huge hamantaschen, with each segment comprising of smaller and smaller triangles. She calls it "nerdecadent." We just call it delicious.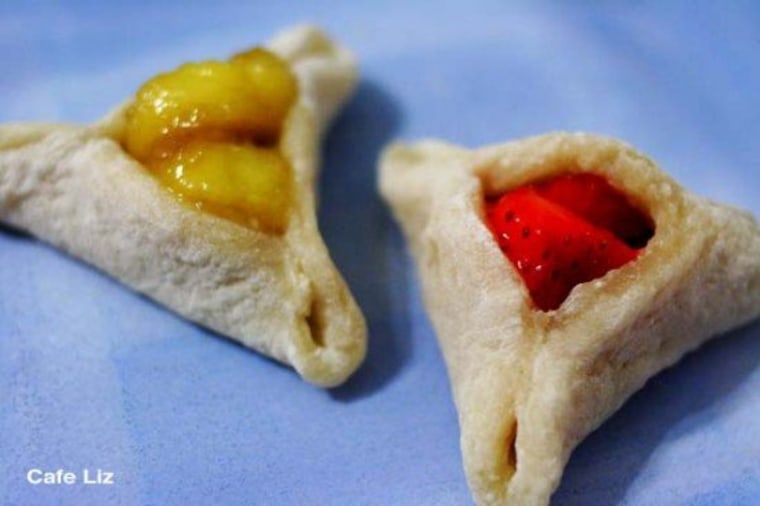 Mochi hamantaschen
Gluten-free is a foodie buzzword these days, with more and more people jumping on the bandwagon. If you are one of these folks but don't want to miss out on the cookie-guzzling fun, you might want to check out these mochi hamantaschen, made by Liz Steinberg of Cafe Liz. She started out to make a cookie with the Japanese sticky rice snack mochi, but the shape made them perfect hamantaschen. She filled them with chopped strawberries, caramelized bananas and azuki beans. As an added bonus, these babies don't even have to be baked – they can be devoured as quickly as they are made.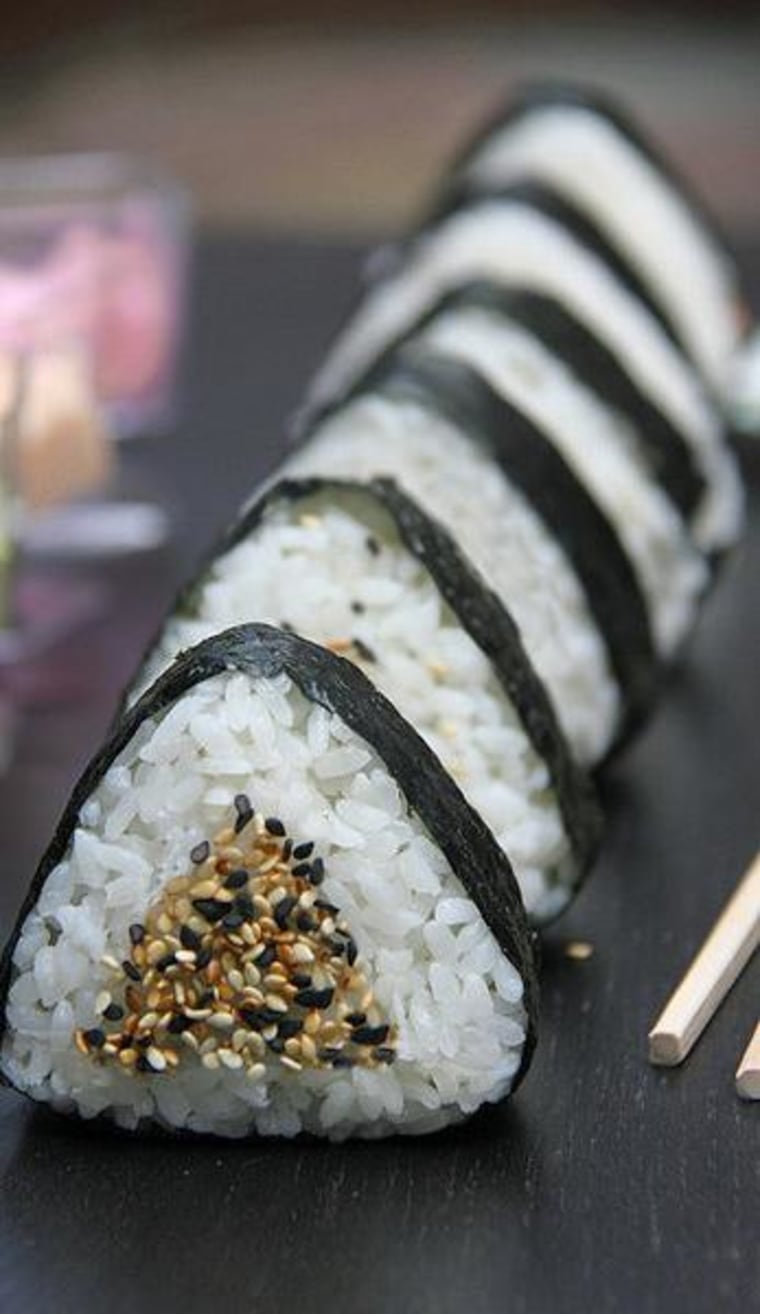 Sushi hamantaschen
Blogger Chanie Apfelbaum from Busy in Brooklyn took her favorite food – sushi – and turned it into hamantaschen. She found triangular shaped packages of rice and nori, known as onigiri, and quickly adapted that idea to make untraditional hamantaschen. Although she uses a special triangular rice mold, it is easy enough to shape these sticky sushi rice balls by hand. Fill them with whatever your heart desires, from fish to vegetables, to spicy leftover Thai food.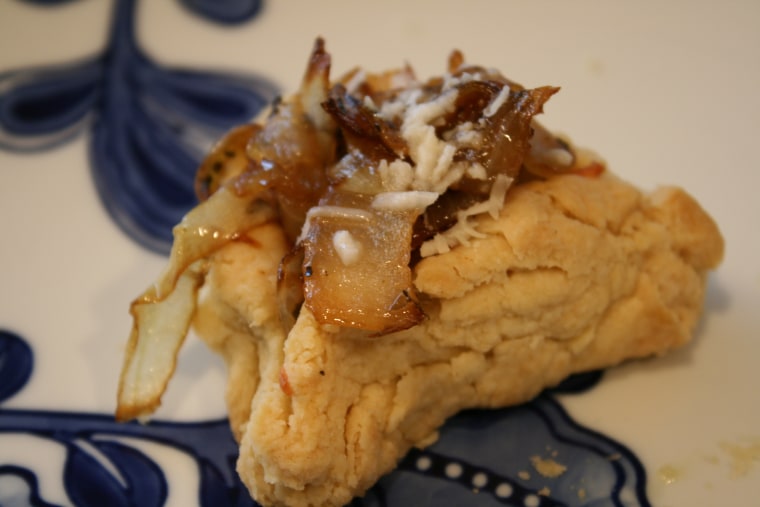 French onion soup hamantaschen
My own hamantaschen are a combination of my love of all things French and my boredom with being fed the same old apricot hamantaschen year after year. My French onion soup hamantaschen combine a savory cookie crust with sweetly caramelized onions and nutty gruyere cheese. Serve them warm as an appetizer, room temperature as a snack, or bring them to a party. No one else will be serving hamantaschen like these!
For more from Sarah Spigelman, visit her blog, Fritos and Foie Gras