Ree Drummond, aka Food Network's The Pioneer Woman, is known for raising hungry cowboys and cooking with rich ingredients like cream, butter and bacon — but does she really eat that way every day?
Actually, no, Drummond recently revealed to TODAY Food. In fact, she's not beyond letting her kids fend for themselves with some cold cereal when it's a busy night at the ranch. But, of course, there's always going to be something on her table. "I have teenage boys," Drummond said, "so while I'm not opposed to having cereal one night here and there for dinner, for their appetites, I have learned [the] demand is much more than that. It's hard to skip dinner in our house!"
Of course, that's not to say everything she makes is always flawless and simple. In fact, there's been a lot of hit and misses as she develops the recipes her fans know and love. "The early disasters I had were things like pot roast where I thought I was cooking them way too long and [they came out] dry. But it turned out I wasn't cooking them long enough!" said Drummond.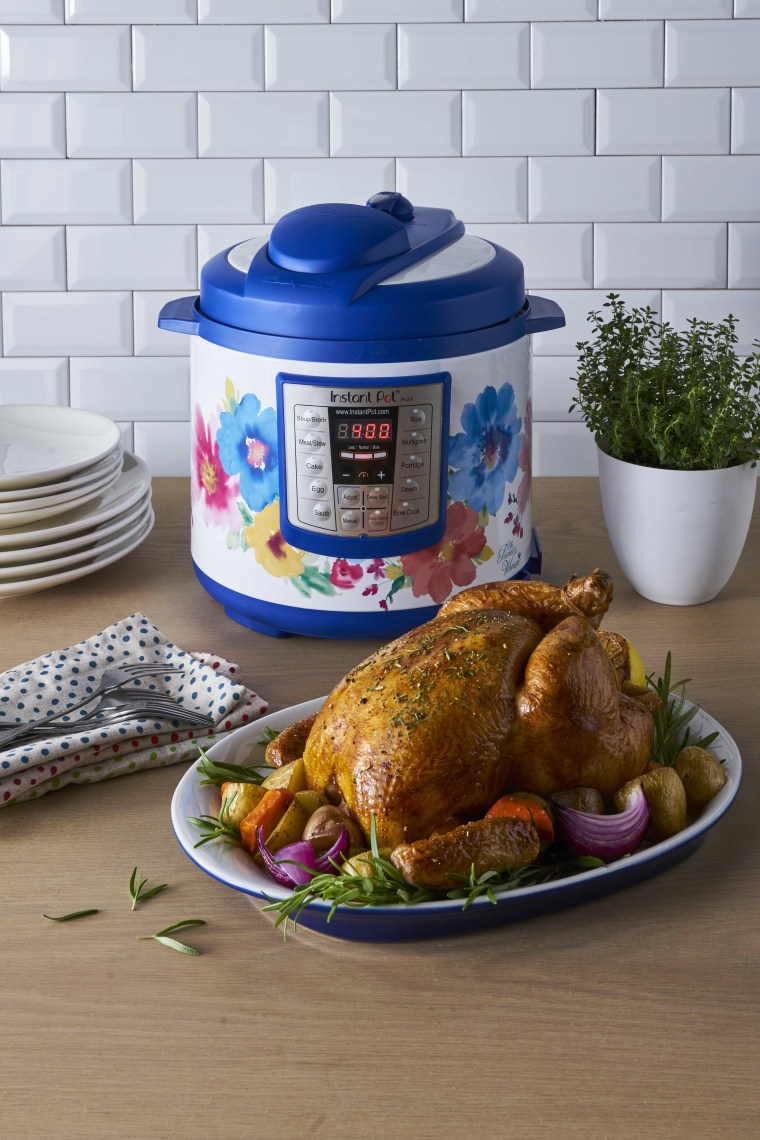 The length of time things take to cook — and being able to save time — is actually what led to Drummond's new partnership with InstantPot: a Pioneer Woman-branded pressure cooker that launches exclusively at Walmart stores and on Walmart.com on Saturday, Sept. 15. Drummond's 6-in-1 device features all of the usual cooking settings from a classic InstantPot including steaming, sauteeing, pressure cooking, rice cooking, warming and, of course, slow cooking and pressure cooking.
Instant Pot Pioneer Woman LUX60 Vintage Floral 6 Qt Pressure Cooker, $99, Walmart
Drummond already has a kitchen and dining set at Walmart with the same bright floral patterns that will be the talk of your kitchen countertop. You can shop our editors' favorite picks here.
"I was actually resistant to jumping into the InstantPot world because I don't really like to have a lot of appliances on my counter. I don't want to have a lot of clutter out," said Drummond. However, it was one of Drummond's friends that actually turned her on to the device with a cult-like following.
"My best friend Hy actually gave me an InstantPot for my birthday last January. She kind of forced it on me ... she kept telling me 'I have to get one! I have to get one!' and I just resisted," said Drummond,. But after she started trying it out, it didn't take long before she "was hooked!"
"You can use it as a rice cooker, bake in it, I mean you can make dessert and so much else. There's really not much I haven't been able to make in it. I'm definitely a believer!" she added.
As for her favorite, go-to InstantPot recipes? Drummond has adapted her legendary pot roast since it's one of her "better-known" dishes.
"It is just a message to me that people just like good, basic dishes that they grew up with," said Drummond. "They just want to be able to make the best version of those things. That's just kind of what I try to do."
Drummond, who stays incredibly busy these days between filming her series, promoting her line of products, her restaurants and boarding house, rarely gets a day off. But when she does, it looks a lot like what we'd expect. "My perfect day is not to leave my house, to be home all day, kinda clean out my fridge, make something with leftovers or, you know, clean out ingredients that are about to expire," she said, before adding, "And make something really delicious and watch 'Real Housewives.' That's my perfect day!"
Ours too, actually.
Instant Pot Pioneer Woman LUX60 Vintage Floral 6 Qt Pressure Cooker, $99, Walmart
The Pioneer Woman InstantPot launches exclusively at Walmart stores and on Walmart.com this weekend and will retail for $99. If slow cooking is more your speed, check out Drummond's line of floral slow cookers.