When it comes to foods made for Instagram, here's a colorful product that'll make you say "cheese!"
The Great British Cheese Company has introduced a millennial-pink cheese, and it's got people buzzing for the unique hue that's sure to be a hit at holiday parties this year.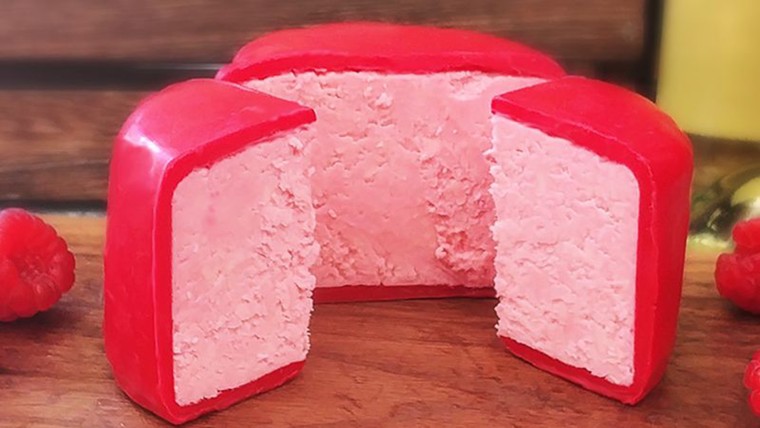 The product is a classic English Wensleydale that's infused with sweet raspberry and sharp prosecco flavors. Surrounded by a hot pink rind, the cheese has a supple and crumbly texture along with a milky freshness, according to the company's description on its website. And the pairing of raspberry and prosecco with it produces "savory, sweet and acidic flavor combinations."
You can buy a 200-gram truckle of the cheese for £4.50 (a little less than $6), but — and here's the kicker — it's only available for delivery in the United Kingdom.
If you're really craving some pink cheese, though, it does exist in the U.S. And while it's not that common yet, we have been seeing other variations pop up on social media ever since millennial pink became the It color last year.
And if you really want to go far back to when wine-infused cheese was introduced, you have to give a nod to the Kaukauna Port Wine Cheese Ball which has been served at festive gatherings for decades. Call it the grandmother of pink cheese.
Of course, it's not just cheese that's getting the pink treatment. The number of food products that have been given this trendy hue has skyrocketed this past year — we've seen everything from ruby chocolate to the "Pink Drink" at Starbucks.
And it's not just pink-hued food and drinks that have made headlines in 2017. There's also been a surge of rainbow-colored treats, too. In recent months, there's been the launch of "unicorn"-themed Starbucks drinks, bagels and even grilled cheese sandwiches.
The bottom line? Colorful food is here to stay. And our Instagram accounts are completely fine with that.
TODAY has affiliate relationships, so we may get a small share of the revenue from your purchases. Items are sold by the retailer, not by TODAY.