As 2017 comes to a close, we finally have some solid data for the great debate of the year: Is pineapple an acceptable pizza topping?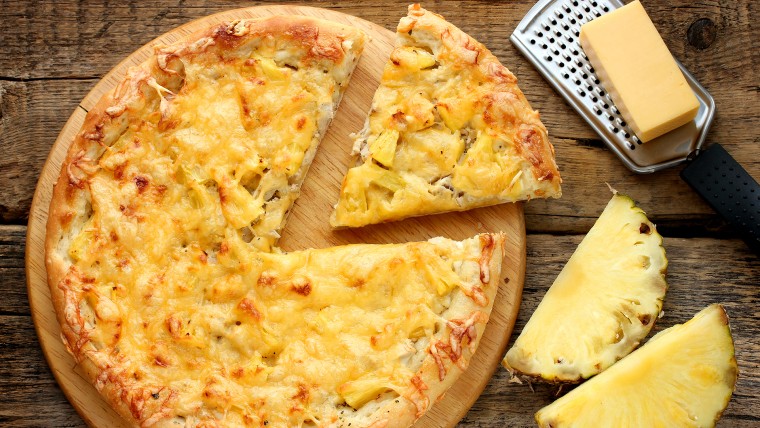 Pizza delivery app Slice surveyed 34,000 people about pie controversies — including their taste in pizza toppings and the age-old battle between New York City and Chicago for the best pizza. Turns out 54 percent of respondents (out of the 9,474 who weighed in on this question) join the likes of Gordon Ramsay in saying no, pineapple does not belong on pizza.
Throughout the year, there's been a heated debate on Twitter and beyond about pineapple as a pizza topping. Pineapple haters may have come out victorious, but that still means 46 percent of people give their blessing for pizza with a tropical twist. At least it's more acceptable than pizza topped with strawberries.

Pineapple-and-ham topped pizza may be called a Hawaiian, but the pie was actually invented in Canada in the 1960s. And while Hawaiians now love their pineapple pizza, according to Slice, Oregon is actually the state where pineapple pizza is ordered most — then Maine, California and Nevada. Hawaii is fifth.
More people united against anchovies, with a whopping 86 percent (out of 9,352 respondents) saying pizza is no place for the fish. And 61 percent (of 9,600 respondents) say that the trend of dipping pizza in ranch dressing is just not cool; just ask the pizza shop owner who was charging $1,000 as punishment for those who ordered ranch dressing with their pizza.
We're guessing there will never be a consensus on whether New York or Chicago has the better pizza, but 76 percent (of the 5,682 respondents) crown New York as the winner. Either way, like Jon Stewart says, isn't Chicago pizza really just a casserole anyway?