I first began to suspect that what I considered to be delicious was strange -- even off-putting -- to most people when I interviewed a Manhattan chef who was cooking venison hearts in his restaurant.
On the countertop lay an enormous bin filled with the dark, glossy hearts, no bigger than our fists. The chef took a heart in his hand and, with a few smooth cuts of his knife, splayed it open, exposing ventricles and sinews that were no good to eat. With precision, not wasting any of the precious organ, he cut away all the tubes and tissues until there was only the dark red muscle left. He diced the heart into tiny pieces, mixed them with a vinaigrette of sorts, then offered me heart tartare on rounds of toast.
The heart was lean yet meaty-tasting. We stood there, eating venison heart and shooting the breeze. Somehow the interview got turned around and he started asking me all the questions. Where had I been born? China, I said. And was my mother a good cook? The best, I said. Then he asked me, what about all the offal you were made to eat as a kid? Weren't you grossed out? Didn't you just want a bowl of cereal, or a peanut butter and jelly sandwich?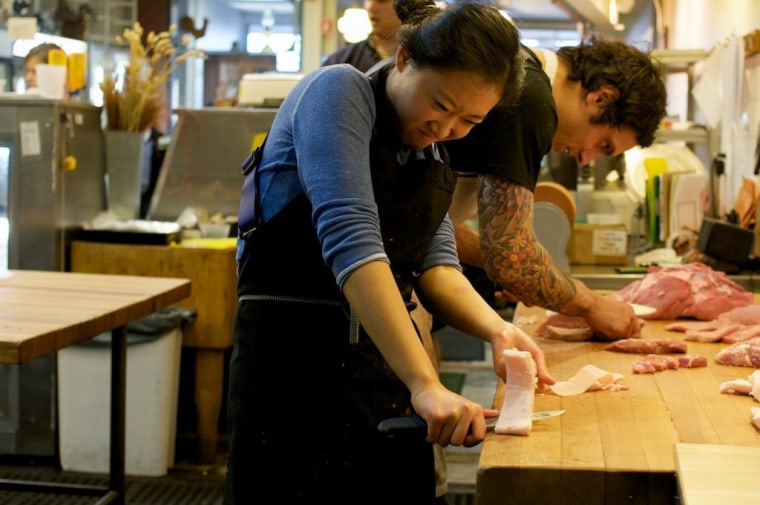 I tried not to roll my eyes. How dense could this guy be? Just kidding, chef!
But really: was I grossed out by offal as a kid? That's like asking someone who grew up on a farm if the smell of manure was too rank to tolerate. What seems gross to one person may be perfectly natural to someone who has grown up with it. (I have several friends who were raised on farms and swear by the intoxicating scent of hay, grass, and horse manure commingling in the air. )
So what is offal, exactly? Dictionaries define the word as the internal organs of an animal meant for human consumption. But I think that offal, more broadly understood, should also include all those bony cuts of the animal as well as those organs that are usually not seen at your typical meat counter: tongues, cheeks, necks, ears, snouts, trotters, tails, marrow bones and shins. That definition may not fly in the Oxford English Dictionary, but it's a useful way of understanding just how narrow our consumption of meat has gotten these days.
While offal is a small but growing trend in the U.S. today, for my family, it was a matter of survival. A chemist by training, my mother brought to the kitchen the same kind of scientific precision she employed in the laboratory. That we were new immigrants in America, and poor, never stopped her from cooking indulgent meals in the kitchen. Resourceful and thrifty, she chose to invest time rather than money into making food good. Instead of pork tenderloin, we ate pork neck, simmered for hours with rice wine and ginger until the meat was fork-tender and falling off the bone. Instead of chicken breast, we nibbled and gnawed on chicken feet. And all of it was delicious, precisely because it wasn't mere flesh, but a more interesting textural experience of things that were chewy or crispy, or rich and fatty. 
Nowadays, I still don't eat much tenderloin or breast meat. What do those two cuts have in common? Very little fat, and therefore, less flavor than their more marbled counterparts. There's an old saying about eating high on the hog, which refers to the placement of tenderloin and steaks as falling on the back and side regions of the animal, away from the ground where it grazes.
I'm content to let others eat high on the hog as long as I can have the trotters and the snouts, the tails and the shin bones. Not to mention all those delectable internal organs that, for lack of human demand, are turned into dog food.
I'm no masochist. I eat offal not only because it is economical, but also because it is utterly delicious, and because you just can't find those kinds of texture and flavors anywhere else.
If you're looking to expand your offal horizons, you have two paths to take. Do you want to eat muscle-meat, or do you want to eat an organ that is more internal? A cut that is fleshy, like neck meat or tail meat, is really no different from any well-marbled piece of meat that is attached to the bone, such as pork shoulder or ribs. If you like meaty soups and stews, then put neck bones and oxtail on your shopping list. The cartilage, bone and tendons in those cuts will give you a stock that is rich in flavor and thick in body, not to mention the meat itself, which will be extremely tender.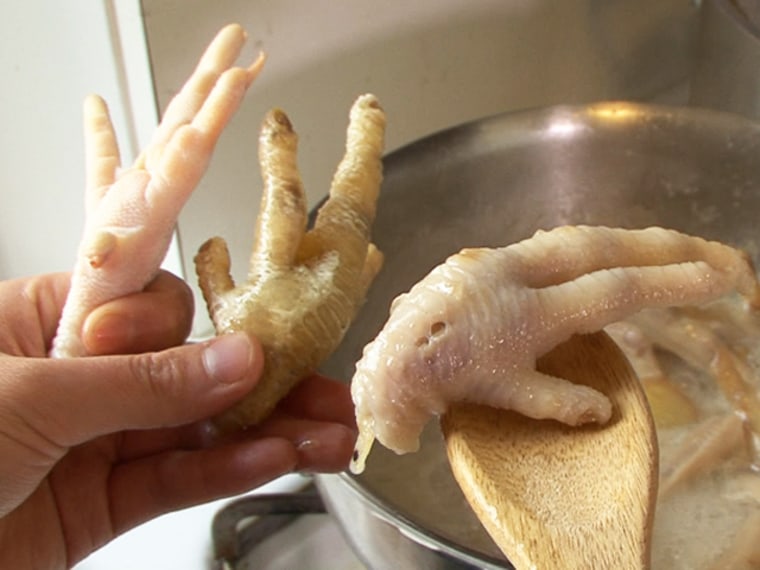 If you're curious about the litany of delicious internal organs -- liver, heart, stomach, kidney, lungs, gizzards and, yes, even testicles -- then you must cook the organ in a matter that befits its anatomical structure. Things that are tough, such as pork stomach and beef and lamb tripe, take hours of stewing to become palatable and tender. Other organs, such as liver, cook in a flash and are best left rare in the middle. Still others, such as heart or kidneys, have the advantage of being cooked either very quickly or slowly, depending on whether you're in the mood for stir-fry or soup.
You can find all manner of offal at ethnic markets as well as specialty butcher shops. Conventional organs, such as liver and poultry gizzards, can be found almost anywhere meat is sold. Even farmer's markets these days have stands where offal is peddled along with free-range eggs and grass-fed meat. And if you patronize local farmers, you drastically increase your chances of getting the freshest, healthiest organs your money can buy.
It's worth getting to know your butcher or farmer so that the cuts you crave will be specially set aside for you. My chicken farmer, for instance, knows to call me whenever he slaughters a duck or has extra gizzards on hand.
Start with something simple. If you can pan-fry a steak, then you can cook liver. Get your saute pan very hot with a pat of butter and lay down a fresh slab of liver, dusted on both sides with flour. Pan-sear the liver until the surface is browned, taking care not to overcook the interior. Sprinkle the liver with good-quality salt and freshly ground black pepper, and squeeze some lemon for good measure. The fresher the liver, the more delicious it will be. Liver and onions, that much maligned staple of diners and cafeterias, can be revelatory if the liver is tender and sweet and the onions are caramelized just so. 
If you're feeling ambitious, give pig tails a try. Like belly or bacon meat with the skin still attached, the tails are covered with skin on the exterior. Inside, the links of bone, after they have been stripped of meat, look prehistoric in shape. The tails must be simmered for a while so that the meat is tender, after which, you deep-fry the tails to crisp up the skin until it crackles with every bite. Inside, the flesh will be marbled with just the right amount of fat. Dress the tails in any fashion you choose - vinegar and soy sauce, with a blend of spices and peppercorns, hits the spot for me every time.
Pig tails are finger food par excellence. There's no way to eat these with fork and knife; instead, put your fingers to work and have at the fork-tender flesh.  
Chichi Wang is an offal cook who writes The Nasty Bits column for Serious Eats.