After a week of reporting on the sugar-laden mythical drinks from Starbucks, we couldn't be more excited to bring you some salty news.
Pickle juice soda is now a thing — thanks to Grandpa Joe's Candy Shop, a chain of kitschy candy stores in Pennsylvania and Ohio. And you thought we'd reached peak pickle with dill pickle soup and dill pickle mints. (We'll spare you the "big dill" joke here. You're welcome.)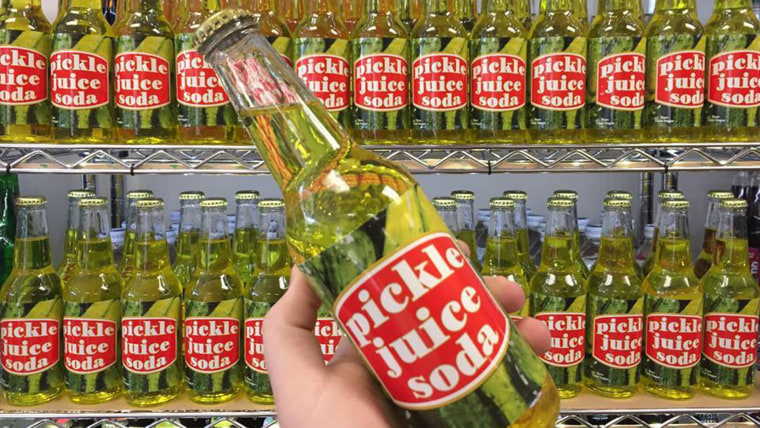 "Our stores offer a variety of pickle items such as pickle-flavored mints, pickle-flavored gum, yodeling pickles, and even pickle bandages," a rep for the candy shop told TODAY Food. So pickle-flavored soda seemed like the logical next step, especially with what the rep called "the recent surge" in consumers' interest in anything pickled.
Since we haven't heard news of a recent spike in pregnancies, our guess is that this surge in interest has more to do with the hipster, make-it-yourself movement coming out of places like Brooklyn and Portland.
But the news has gotten very polarizing reactions on Twitter — from "good!" to "gross!"
I'm personally in the excited camp because I love anything pickled — I regularly eat pickles for dessert — and because this drink will allow for pickle-back shots to evolve into pickle-back drinks.
What does the pickled pop taste like, you ask? Well, we're waiting on the case Grandpa Joe's sent us, but in the meantime, we'll have to rely on their description of it:
"Your brain prepares you for the taste of pickle juice (like right from the jar)," they told us. "It smells just like dill pickle juice as you might imagine. The taste is spot-on. While the flavor isn't overwhelming, it's sweet and would definitely satisfy that pickle craving."
So, perfect for pairing with whisky; not-so-great for thirst-quenching.
RELATED: 4 ways to make quick pickles with just 5 minutes of prep time
And no, it's not just carbonated pickle juice — the soda contains carbonated spring water, cane sugar, citric acid, natural flavor (we assume that's pickle juice), gum acacia and turmeric for color, and it's flash pasteurized for safety.
The briny beverage goes for $2.50 a bottle in stores, but it's $9.99 per bottle online (including shipping), so if you're not near a store, it may be worth it to splurge on the six-pack for $29.99.