Only the most important question of our generation: Will America finally embrace a chocolate spread for breakfast?
(Yes, please?)
Fans of the iconic hazelnut spread should be happy to know Philadelphia recently released a new chocolate cream cheese, appropriately named (and preferably uttered in a breathy voice) "Indulgence." The new creamy product – available in milk chocolate, dark chocolate and white chocolate – can be enjoyed with breads, fruit, pretzels or as purists suggest, simply with a spoon.
We threw a little taste test in the TODAY.com makeshift lab and results were – as expected in a newsroom full of opinionated foodies – mixed. Some praised the spread's velvety texture and pudding-like taste, while others, such as myself, were left longing for the traditional comforts of Nutella (a combination of hazelnuts, milk and chocolate).
"While not as offensive as, say, a chocolate-flavored Easter bunny, the milk chocolate spread is not a high enough quality to use in baking , and it's pointless on a bagel, the 'bready-ness' of which overwhelms the taste spread," explained msnbc.com tech writer Helen Popkin. "Alas, I cannot say the same for the white chocolate version, which is similar to a generic, sugar-free pudding and leaves an unpleasant aftertaste."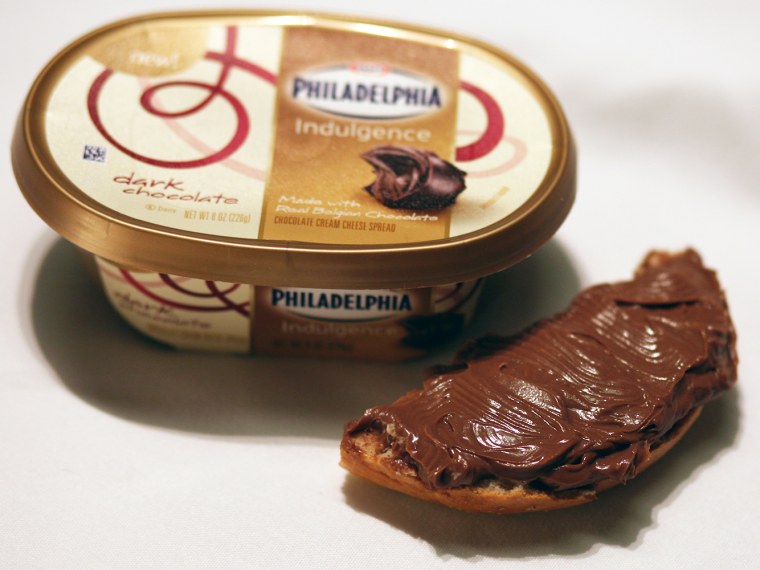 Meanwhile, our most experienced eater (by virtue of being our food editor) Vidya Rao was initially skeptical, but  ended up "digging" the milk chocolate variety, though wishes the cream cheese flavor was a bit stronger. "It tastes like packaged chocolate pudding," she said. "I just can't believe I never thought about using pudding as a condiment. I'd stock up on this stuff to prepare for a post-break-up foodmageddon."
Some were downright uncomfortable with considering a chocolate spread for AM use. (They obviously haven't spent enough time in Europe). "It feels very weird to be spreading chocolate on a bagel," said TODAY.com supervising producer Susan Houriet, who enjoyed the dark chocolate flavor. "It reminds me of chocolate cheesecake. Doesn't Joy Bauer say that dark chocolate is good for you?"
What about you? Are you fan of sugary eats for breakfast?
Philadelphia Indulgence, $2.99 for an 8-ounce tub, is available in grocery stores nationwide.
Rina Raphael is a TODAY.com editor who strictly uses Philadelphia cream cheese for her crowd-pleasing lemon cheesecake.
More:For Cheese Lovers Day, make 'World's Best Mac & Cheese'