Saccharine soda is out and airy essence is in, Pepsi fans.
In its latest effort to hop on board the fizzy water craze that just won't stop bubbling up, PepsiCo is offering its own spin on sparkling water — and it's called Bubly.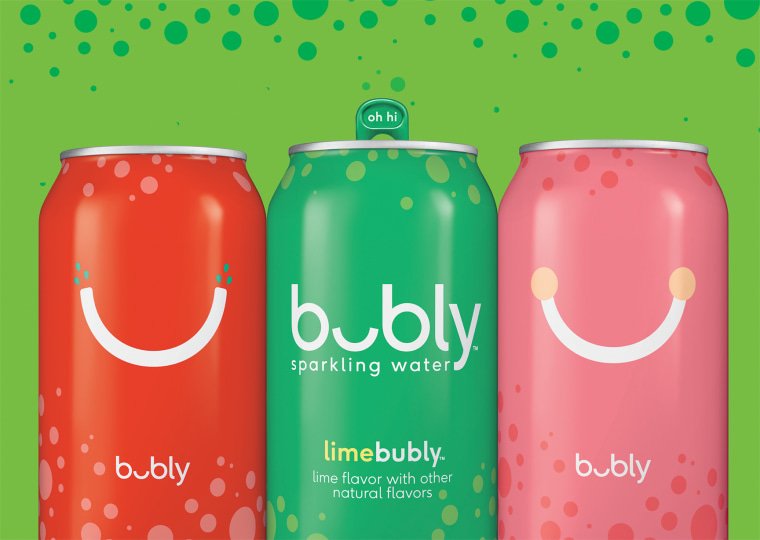 Launched Thursday, Bubly will be lining up on store shelves by the end of this month. Also available onAmazon, the water line comes in eight flavors (lime, grapefruit, strawberry, lemon, orange, apple, mango, and cherry), none of which have sweeteners, artificial flavors, or calories. The drink will be available in packs of 12-ounce cans, as well as 20-ounce single-serve bottles.
Before you take a sip, pop the tab and check out each can's tiny, friendly greeting, such as "Hey u," "hiii," and "yo." The brightly-colored cans also contain cheeky messages ("I feel like I can be open around you," "hold cans with me," and "love at first phssst").
"We created 'bubly' to provide consumers with a great-tasting, flavorful, unsweetened sparkling water in a fun, playful, and relevant manner that is unlike anything we've seen in the sparkling water category today," Todd Kaplan, vice president of PepsiCo's water portfolio, said in a release.
Kaplan continued to say that the brand is making Bubly one of its biggest product launches to date, including a TV debut with two ads set to run during the Oscars on March 4.
PepsiCo's Bubly is looking to grab the attention of younger consumers with its eye-catching packaging and calorie-free contents — similar to LaCroix andDiet Coke's newly-launched fruit flavors — and withfemale-friendly foods. In a recent interview with Freakonomics, PepsiCo CEO Indra Nooyi generated some viral controversy after claiming that men and women have different snacking habits, so the company is researching how to package and market products targeted for women.
"Bubly is geared towards people that want a playful experience," a PepsiCo spokesperson told TODAY Food. "In particular, millennials are at the core, but PepsiCo hopes that Bubly will also be attractive for consumers that have never tried sparkling water before."
Bubly isn't PepsiCo's only product to reflect the company's millennial-approved, health-conscious performance goals, one of which vows to reduce calories in its global beverage offerings by 2025. In addition to Lifewtr (water infused with electrolytes and featuring label designs from emerging artists), PepsiCo has also recently introduced an organic mixed berry Gatorade and a black cherry dragonfruit Aquafina sparkling water, a drink that only has 10 calories per can.