This week, Tom Hanks paid quite a compliment to Tom Cruise, but it wasn't about his acting chops — it was about his taste in cake.
On Jan. 19, Mythical Kitchen's YouTube series "Last Meals" had its most high-wattage guest to date on the program: Tom Hanks. At the start of the interview with host and chef Josh Scherer, Hanks outlines his preferred last meal, and it includes breakfast, lunch, dinner, dessert and even two sodas, for good measure.
Hanks's final menu includes quite the feast: challah bread French toast with Cary's sugar-free syrup; an In-N-Out Double-Double with a Diet Coke; Greek salad with avocado; calamari and a side of pita with taramasalata (Greek fish roe dip); the Taste of History platter from El Cholo restaurant with a diet Dr. Pepper; and finally, what Hollywood A-listers have been calling the must-have cake for years. (We're surprised Hanks' infamous "Diet Cokagne," a mix of Diet Coke and Champagne, didn't make the cut.)
"Look at it! Look at it. Isn't it gorgeous?" says Hanks in the video, holding his hands out in awe of the dessert which is a coconut Bundt cake with white chocolate filling. "This cake is so great, you can really only have it once a year, which works out perfectly because I don't order it. It arrives as a gift at Christmas."
In order to reveal who gifts him this cake every year, Hanks says he's going to drop a "big name," and obviously it's one as big as his or else he wouldn't have prepared the audience for the reveal. The cake, which is made by Doan's Bakery in Woodland Hills, California, comes as a gift from none other than the "Maverick" himself.
"This is a Christmas gift that we get every year from Tom Cruise," Hanks says as Scherer's cards go up in the air from delighted surprise. As Hanks graciously helps clean up the set and hands the host his cards back, he talks about what happens in the lead up to the cake arriving at his office every year.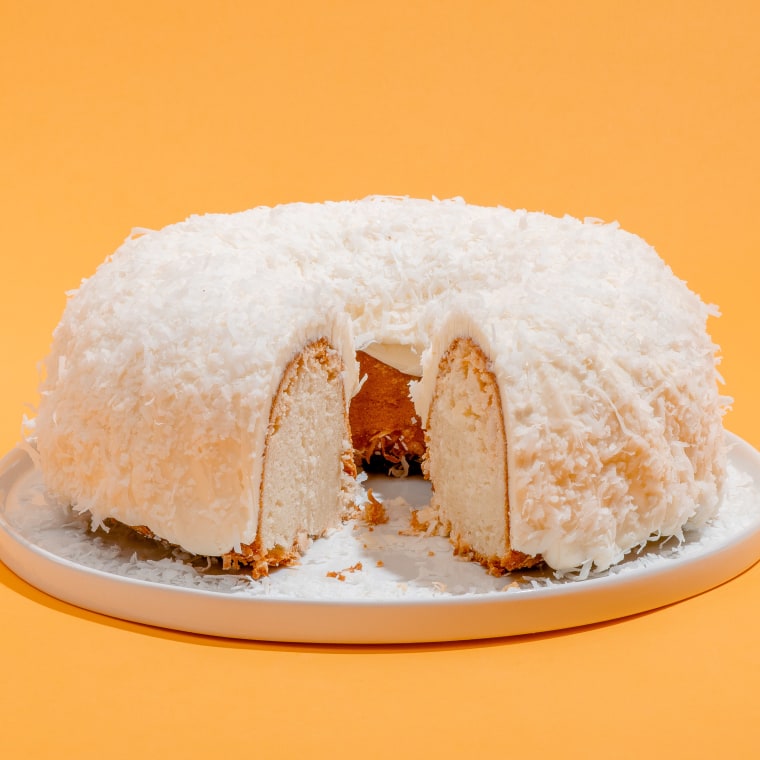 "Now what's interesting is the folks down at the office, the Playtone world headquarters, starting about Thanksgiving they start eyeing what mail has come in today," Hanks says, speaking of the staff at Playtone, the film and television production company he founded with producer Gary Goetzman. "'Are we getting what has essentially been called the 'Tom Cruise cake'?' Because this is off-the-scale fantastic."
"Everybody starts slicing thinner and thinner slices," explains Hanks. "It's a mathematical proof that if you just keep cutting everything in half, you will never run out of Tom Cruise cake."
This isn't the first time the famous Tom Cruise cake has been mentioned — or bragged about — by the stars that have received it. The cake is somewhat of a top-of-the-glitterati litmus test: Sure, you've made it in Hollywood, you're starring in movies, you have a No. 1 single, and you may even have won an Oscar or two. But has Tom Cruise sent you the cake?
"My tommy sent me a coconut cake !! i love that guy," Rosie O'Donnel wrote on Instagram Dec. 2, 2022, showing off a perfectly iced and decorated cake. She gets one every year, as her Instagram feed has confirmed, complete with the same silver reindeer-decorated ribbon. 
Other stars have mentioned receiving the cake, from fellow "Top Gun: Maverick" co-stars Jon Hamm and Miles Teller, "Mission Impossible: Fallout" co-star Henry Cavill to Kirsten Dunst and "Jack Reacher" co-star Cobie Smulders, who told Jimmy Fallon (who also gets one) that she keeps hers in the freezer so she can enjoy it until March.
If you've suddenly worked up an appetite for coconut cake, you're in luck. If you're not in the California area, online food marketplace Goldbelly offers the same White Chocolate Coconut Bundt Cake from Doan's Bakery on its website for $109.95 with free shipping.
"They start with a ring of moist, luxurious coconut bundt cake, mix in chunks of sweet white chocolate, layer on rich cream cheese frosting, and then dust it all over with toasted coconut flakes," reads Goldbelly's description of the cake. "The result is a delicious, pillowy cake good enough to derail the strictest Hollywood diets."
Look at it this way: Now you don't have to infiltrate Hollywood, befriend the "Rock of Ages" and "Cocktail" star and cross your fingers every time you check your mailbox at the end of the year. Although, Mr. Cruise, if you're reading this, I wouldn't say no to a free one.