Melissa McCarthy is one of the hottest actors in Hollywood, so who better to down some spicy wings?
McCarthy, who currently stars as Ursula in "The Little Mermaid," put her taste buds to the test when she stopped by "Hot Ones."
"I have no threshold for spicy at all, which would make this one of my worst choices in life and I make kind of bad choices, so this is saying something," she told host Sean Evans before she started eating.
McCarthy got through the first three sauces without much incident before trying Chile Lengua de Fuego, which provided a jolt.
"It hit nothing in the front of my mouth and then literally it's like I got a bee sting," she said.
Instead of taking a glass of water, McCarthy grabbed a spray bottle with milk in it and sprayed it into her mouth.
"You're a genius," Evans said.
Things started to quickly heat up from there.
"That one's like I inhaled spicy smoke," she said while eating a wing covered in a sauce called The Spicy Shark.
"It's escalating," she said before she used the spray bottle again.
She took out a can of whipped cream to help alleviate the flavor from Jalapeno Chico.
"I can't tell if it coated it or if it's escalating," she said.
"It hurts so much to smile," she added later.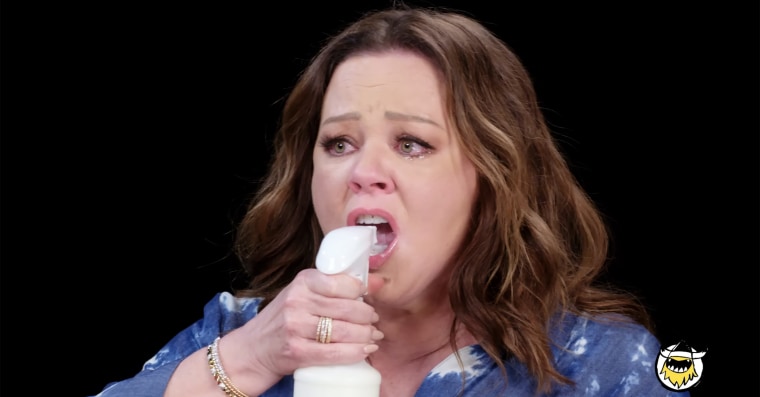 McCarthy found herself at a loss when she tried Da' Bomb Beyond Insanity.
"I don't know what to do," she said, while wheezing.
"Oh my God," she said as she struggled with the intense flavor. "I hate you so much."
She then drank from an entire pitcher of water before blowing her nose. She also gave Evans host the middle finger and ate some bread.
"I'm just fully weeping," she said.
"What's your legal situation?" she joked. "You've got to have lawyers around the clock."
Things progressed when she tried an Alchemy Peppers sauce.
"I'm literally having tremors," she said.
She poured her milk into a pitcher of ice and drank after her last sauce, the Hot Ones' The Last Dab Apollo.
"First time I've ever seen that," Evans said.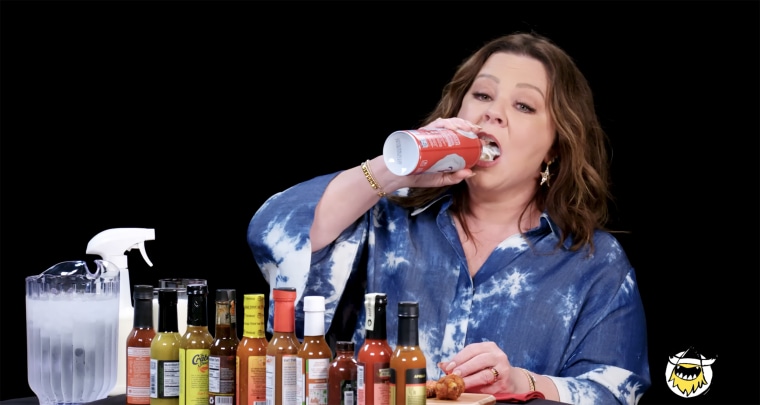 Amid her struggles with the spice, McCarthy managed to make time to answer Evans' questions, including how she was stressed out about appearing on the 40th anniversary special for "Saturday Night Live," where she played Chris Farley's motivational speaker, Matt Foley.
"I got so nervous, like I can't do what he did and I'm afraid," she said. "I didn't want to make fun of it. I didn't want to do a bad job."
"My knees were buckling," she said, noting that she was not "physically controlling my body in any way and I'm about to go live as somebody that I really hold in such high regard."
McCarthy said she became like "a steam train" and got through the sketch because "I can't let him down."
She also defended the importance of movies that make people laugh.
"I just want to keep variety in the pie," she said.
"Somehow the new log line is that comedies don't work. I think bad comedies don't work. I think bad movies don't work, but I will fight to my last breath, which will be in about four more wings, that comedies are important and I think it brings people together."
Evans also brought up how Food Network chef Guy Fieri was the inspiration for Megan, her character in "Bridesmaids," prompting him to ask what connection she may have seen between them. She said she liked how the character was confident, but not self-aware.
"I thought there was something about Megan, at least in my head, that was someone who's not quite — I just love someone who's maybe not kind of putting it all together, but they're like, 'Is this not f------ amazing?'" she said.