Hoda Kotb has no qualms about ripping open a sleeve of Ritz crackers in bed and enjoying a little treat.
Judging by her horrified reaction to that news, Jenna Bush Hager is firmly against snacking in bed.
Hoda and Jenna again found themselves on opposite ends of a food debate after Hoda shared her Ritz habit on TODAY on Aug. 22.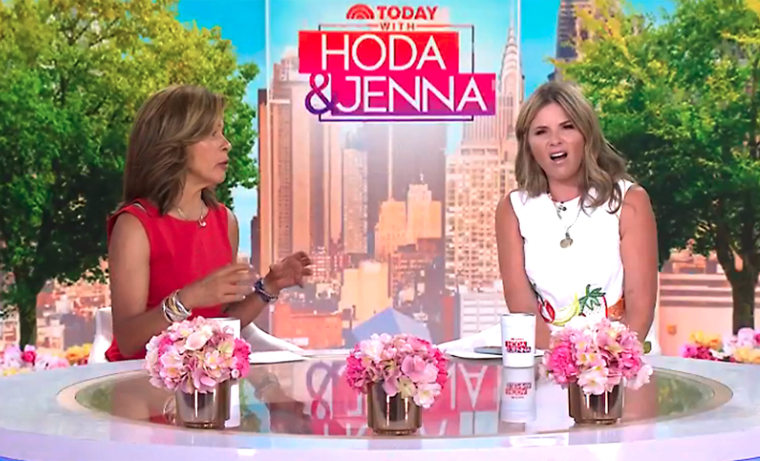 "So a lot of people like to snack in bed," Hoda said. "I feel you and I'm with you. I think it's a good idea. A sleeve of Ritz crackers is good to have."
"Disagree," Jenna said after cringing. "Can you imagine what a sleeve, first of all, of Ritz crackers, does to your sheets?"
"I love Ritz crackers," Hoda said.
The discussion was prompted by the trend of people installing drawers under their beds that they fill with snacks like Rice Krispies Treats, Takis, Pringles and cookies.
Hoda's love for Ritz crackers is well-documented. The TODAY family even surprised her for her birthday earlier this month with a Ritz cracker cake.
Jenna was more concerned about where Hoda is eating her beloved crackers.
"Hoda, you've got to give up eating in bed," she said.
"Why?" Hoda asked.
"Because it's crumby!" Jenna said.
"Let me show you what you do," Hoda said while making a sweeping motion.
Jenna did not see sweeping the crumbs onto the floor as a solution.
"So that it's all over your ground?" she said. "In your New York City apartment where little mice like to come and eat a Ritz cracker?"
Hoda had to admit that a drawer packed with four or five different snacks under the bed might be a little much.
"You're jealous," Jenna joked. "I know what I'm going to get you for Christmas — a snack drawer under your bed. Would you like that?"
"I actually don't like bugs, so if there was a slight risk of bugs I wouldn't do it," Hoda said.
Jenna felt Hoda had inadvertently just made her point.
"OK so because you don't like bugs, I would keep the Ritz out of your bed," Jenna said. "There's still crumbs."
Snacking in bed is the latest food debate that has divided Hoda and Jenna. The two took opposing sides on TODAY in June over the topic of whether feeding your partner a forkful of food at a restaurant is romantic or gross.
"I think food-feeding is fine," Hoda said.
"Ewwww," Jenna responded.
Now we need to know their opinion on how to handle your partner snacking on Ritz crackers in your bed.