Eight-year-old Kayzen Hunter has a regular ritual: breakfast at his local Waffle House in Little Rock, Arkansas with his family, sometimes with his grandpa, but often with his parents and siblings. With these trips comes his meal served by his favorite waiter, Devonte Gardner.
"It was about a year ago when they met. My dad started going and Kayzen would go with him. When he came home, he talked about Devonte and how much he liked him," Kayzen's mom Vittoria Hunter tells TODAY.com, adding that the family go for breakfast just about every weekend.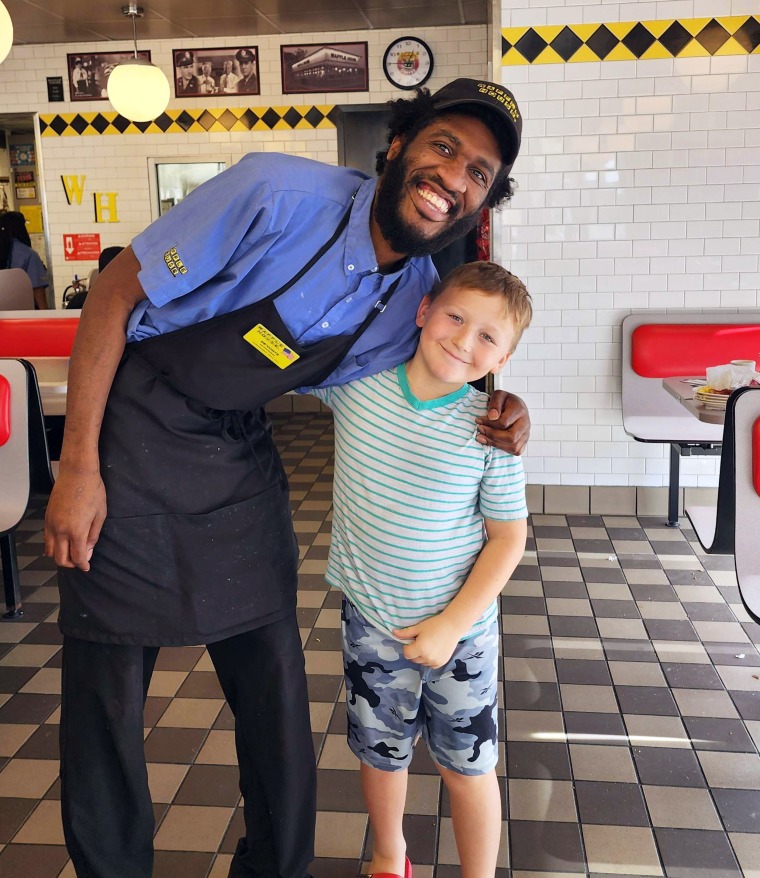 For Gardner, the feeling is mutual.
"Every time he comes in, I always give him a high five because that's what he expects," Gardner tells TODAY.com. Gardner has memorized Kayzen's usual order — scrambled eggs with cheese, no toast, hash browns covered with cheese and an Arnold Palmer. 
"He's a wonderful kid. He tells me jokes every time he comes in, like, 'Hey, Devonte, I got a joke for you,' and the next thing you know, we're laughing," he adds.
Hunter says the family got to know Gardner better over time, learning about his wife, Aissa, and daughters 3-year-old Jade and 2-year-old Amoura.
"As we started to go more and more and we met Devonte, we realized he's just really a light in the world," Hunter says.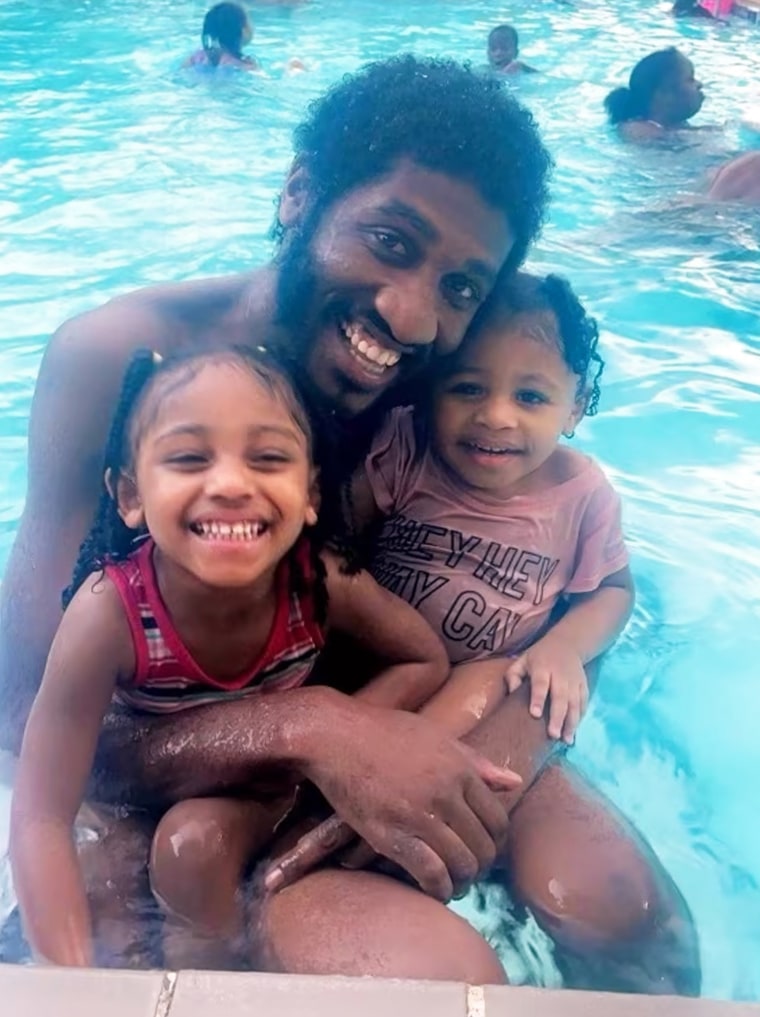 "It got to the point where we always would sit in his section," she adds. "Every time we go in, he's so smiley, he's always like, 'Hey, Kayzen, how are you?'"
One day, Kayzen learned that Gardner was in a dire living situation because his family's former apartment was riddled with issues, and he didn't have a car to drive to work.
"We wanted to find something affordable, so we moved into a low-income area," Gardner says. "We just got tired of infestations with rats and roaches and all this black mold. My daughters were getting sick. No heat and things like that. When it was cold outside, we had to bundle up with like four or five blankets in order to stay warm."
"It was just horrible," Gardner says, adding that he and his family have been living in a motel for the past eight months.
After learning this, Kayzen decided he wanted to help his friend.
"He came home and told me that, 'Hey, Mom, Devonte walks or gets a ride to work and I'm gonna start a GoFundMe,'" Hunter says, adding that Kayzen had begged her for a while to do a GoFundMe before she agreed to take the plunge. "I was like, 'Well, OK, that's really sweet. It's a great idea."
The initial idea was to raise enough money to get the Waffle House worker a car. Gardner mentioned to the family he was looking for one, but the plans were put on hold due to his living situation. "It really set him back because the motel was so expensive," Hunter explains.
With his mom's help, Kayzen aimed to raise a modest amount of $500 for Gardner. They posted the GoFundMe titled "Help Devonte get a family car" on Feb. 18.
"Hi, my name is Kayzen, I am 8 years old," reads the GoFundMe description. "Devonte is a hard-working dad with two little girls and a wife. He is a dedicated worker and has to walk or get a ride to get to work every day."
Kayzen then explains that Gardner was looking for a decently priced car, and that the Hunter family wants to get Gardner's family into a clean rental property.
"Devonte is one of the most joyous and positive people you've ever met!! He always greets us with the biggest smile," Kayzen wrote. "I hope your heart is as BIG as mine and you will help me spread kindness in the world. Any amount helps!!"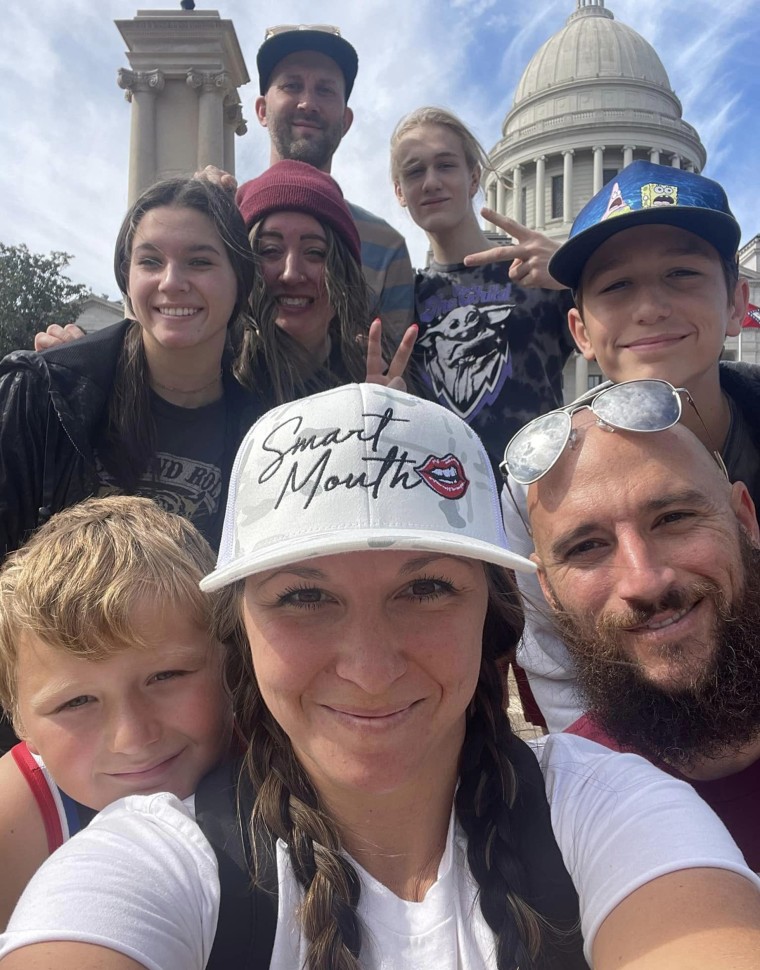 Though the Hunters say the GoFundMe started out slow, as more attention comes to it, the amount — and the goal — has skyrocketed to over $100,000 as of publication.
"It's exciting," Kayzen tells TODAY.com. His mom jumped in to add that all the attention has been slightly overwhelming for the little one.
"I mean, he's still eight, you know?" Hunter says. "The other morning, he said, 'I was just trying to maybe make $5,000 and get him a car.' Now, it's turned into a crowd. We had no clue that this was going to happen."
"That's the crazy part to us," Korey Hunter, Kayzen's dad, tells TODAY.com. "I get it, but the goal was $5,000 and people do not care what the goal was; they keep giving and giving."
Gardner, who spoke to TODAY.com while on break during his morning shift at Waffle House, says that he just signed a lease on a two-bedroom apartment thanks to the efforts of his little friend. 
"I will be moving into my apartment very soon. We're able to have something more stable," Gardner says, adding that he's looking to get a family sedan or minivan but will save the rest of the money for his kids.
"I'm gonna save the rest because I want to put my daughters in a good school, I want them to be in a good environment," Gardner explains. "Everything I'm getting is going mostly towards my daughters to make sure they have a great, great life. Make sure we won't have to struggle anymore."
Gardner and the Hunters also mention that they just saw each other recently, after the GoFundMe at the Waffle House, where Vittoria Hunter snapped a picture of Gardner still at work.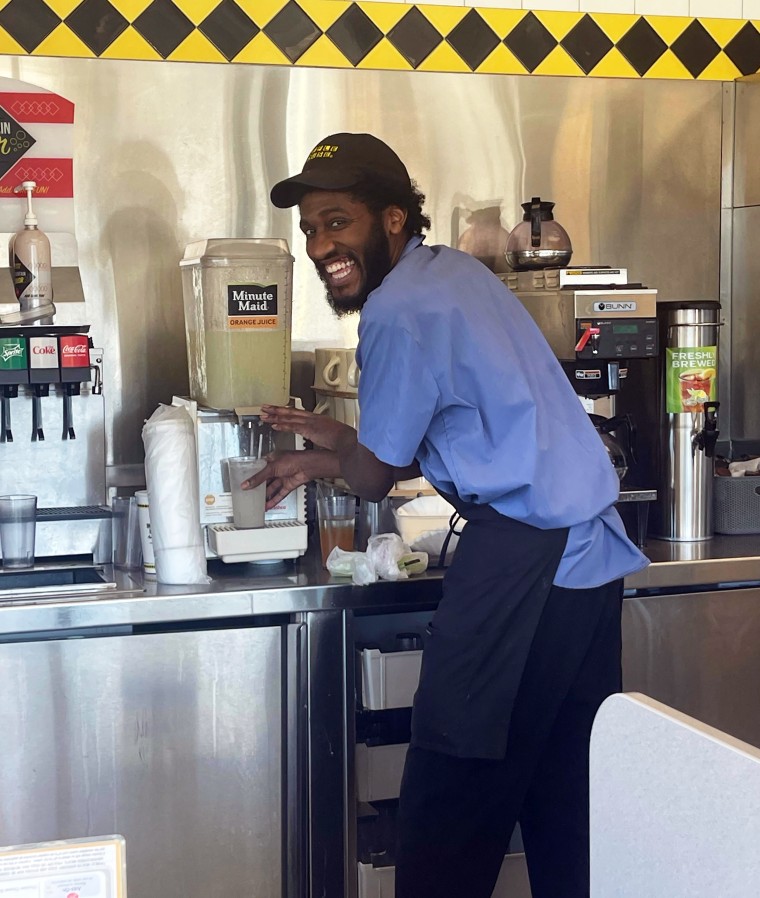 "He's a positive young kid. He has a very huge heart, and I'm thankful he came into my life," Gardner says.
"I think so many people spend a lot of energy complaining about what they don't like," Vittoria Hunter says. "But if you just be positive, then you know eventually love and positivity is gonna prevail. It always does."
"'Be the change you wish to see in the world,' right? We know who we are as people and we know the potential of what our children can be," Korey Hunter adds. "Kayzen's middle name is actually Love."
When asked if they think Kayzen is living up to his name, both of his parents reply, emphatically, "Exactly."
EDITOR'S NOTE (March 6, 2023 at 10:19 a.m.): This story has been updated to reflect the increase in money raised, from $66,000 to $100,000.