It's not unheard of to make a trip to a mall, not to go shopping, but just to head straight to the food court to pick up an addictively delicious cinnamon roll from Cinnabon.
In the past few years, delivery services like Postmates have made it easier for people to get their hands on the frosted desserts, but now there's a way to get a side of pizza with those sweet buns nationwide — and people are freaking out about it.
On Monday, Pizza Hut announced that it added mini Cinnabon cinnamon rolls to its permanent menu. One order of the dessert includes 10 mini buns and costs $5.99.
"There's nothing better than polishing off pizza night with something sweet, so the new Cinnabon Mini Rolls are a perfect addition to our dessert portfolio," said Pizza Hut's chief brand officer Marianne Radley in a news release.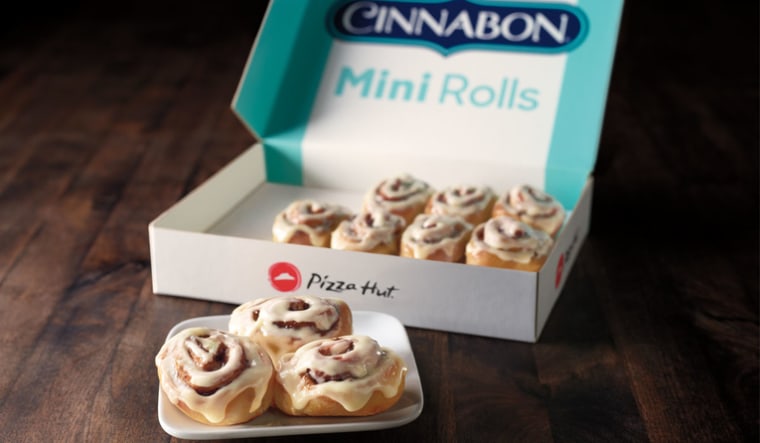 Pizza Hut hasn't added a dessert to its menu since June 2015, when the chain introduced its Hershey's Triple Chocolate Brownie.
"We've been testing Cinnabon for close to a year before it's national launch today," a spokesperson from Pizza Hut told TODAY Food on Monday.
The Crafted by Cinnabon mini rolls at Pizza Hut look a lot like the small-sized BonBites that are served at stand alone Cinnabon locations.
"With our fans craving bite sized treats, the mini rolls are similar in size to BonBites but specifically designed for Pizza Hut as a shareable 10 count cinnamon roll pull-a-part that can be delivered to your house for family and friends to enjoy," a spokesperson from Pizza Hut told TODAY Food.
The mini buns are swirled with Makara cinnamon (Cinnabon's spice of choice) and topped with a cream cheese icing. They're available for delivery, take-out and dine-in, and are served warm.
Taco Bell started offering Cinnabon Delights, a breakfast doughnut hole filled with icing, in 2011, but this is the first time that a version of the cinnamon buns are offered by a fast food chain that delivers.
"We're fortunate to have incredibly passionate fans that love the brand and are always craving more ways to enjoy Cinnabon products," said Cinnabon's vice president of marketing Kerri Christian in a news release.
Cinnabon's have a pretty hardcore fan base, so of course people are freaking out about the news that they can get the two comfort foods at the same place, at the same time.
The most common reaction to the new sweet addition to pizza night was simply an "Oh my god," — three words that may be as commonly overheard at the mall as "Let's go get a Cinnabon."