There are certain treats that we just can't help but think about when specific holidays roll around — and, as far as seasonal candies go, Cadbury Creme Eggs are right up there with Peeps and jelly beans for Easter.
Cadbury is capitalizing on this classic association by taking things up a notch this year with their first-ever White Chocolate Creme Eggs. A white egg?! Pure genius.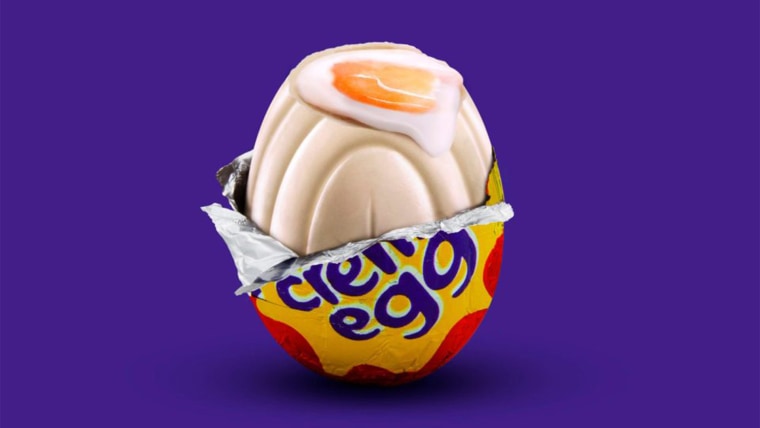 The traditional confection consists of a milk chocolate shell around a creamy orange and white filling that resembles a raw egg white with a yolk. The new version simply replaces the milk chocolate for white chocolate, which means it more closely resembles a real egg you might find in the fridge.
But don't get too excited yet: These limited-edition treats are only available in the U.K. and you won't be able to walk into any store and just grab a handful. To score this egg, you'll have to be lucky enough to find one of the 350 to 400 hidden inside the packaging of regular milk chocolate eggs at grocery stores like Tesco and Sainsbury's. And, to make things even trickier, they'll be wrapped in the exact same foil as the regular eggs, too.
While just finding a different type of creme egg might seem like a big enough reason to celebrate for any devoted chocolate fan, you can also win big. Cadbury has turned the egg hunt into a Willy Wonka-style contest. Upon finding a white chocolate egg, lucky winners will be able to call a Cadbury hotline to claim a cash prize. Most eggs, which come with their own unique code, will score you around 100 pounds ($136 USD), but 34 of the eggs are worth 1,000 pounds ($1,355 USD). And there's even one very special, grand prize egg worth 2,000 pounds, which is over $2,700!
The potential to win big has made Twitter all kinds of excited.
But some shoppers have accused egg fans of going too far to find the cash-winning treats. In the U.K., grocery shoppers are sharing photos of Cadbury Creme Eggs that they say have been unwrapped and not-so-carefully re-wrapped by people looking for the elusive alabaster candy.
People may want to pace themselves, though. Since Cadbury produces about 500 million Creme Eggs annually, chances are anyone who scores will have to go through a whole bunch of eggs to find just one white chocolate winner.