Penne is a good pasta for this dish, but you can use other short pastas like rigatoni or ziti. —Annie Wayte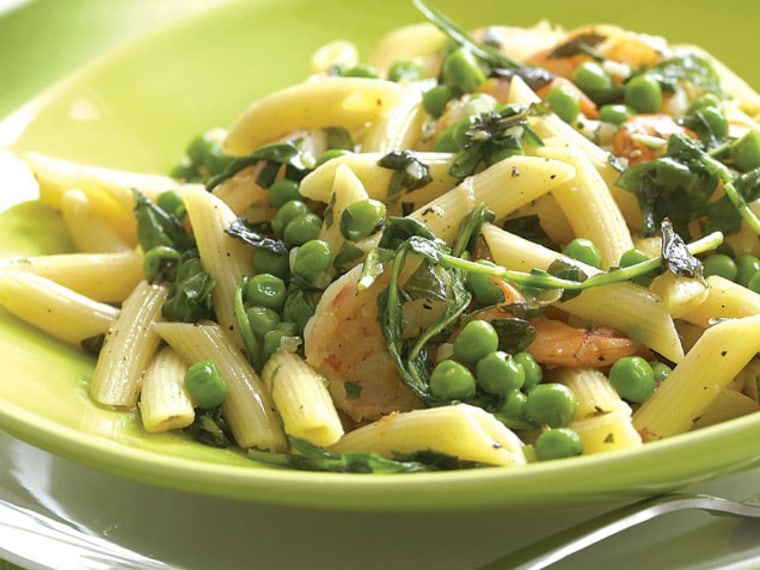 Ingredients:
1 1/2 pounds shrimp peeled, deveined, and cut in half lengthwise

3/4 pound dried penne

1/2 cup chopped fresh basil

Freshly ground black pepper

5 tablespoons extra-virgin olive oil

1/3 cup finely diced shallots

1 tablespoon finely grated lemon zest
1 teaspoon minced garlic
Kosher salt
3/4 teaspoon seeded and minced hot fresh chile, such as Thai bird or serrano
1 1/2 cups fresh shelled peas or frozen peas
2 lightly packed cups arugula, trimmed, washed, and dried
Yield: 4 Servings
Directions:
Toss the shrimp with half of the basil, 2 Tbs. of the olive oil, and the lemon zest. Cover and refrigerate for about 30 minutes.
Bring a large pot of well-salted water to a boil over high heat. Put the peas in a large metal sieve and dip them into the boiling water. Cook until just tender, 2 to 4 minutes. Lift the sieve from the water, let the peas drain, and then spread them on a baking sheet in a single layer to cool.
Add the pasta to the boiling water and cook, following the package directions, until al dente. Reserve 1/2 cup of the cooking water and drain the pasta.
Meanwhile, take the shrimp out of the fridge and season them lightly with salt and pepper. Heat the remaining 3 Tbs. oil in a 12-inch skillet over medium heat. Add the shallot, garlic, chile, and a pinch of salt and cook, stirring occasionally, until the shallot is soft and lightly browned, about 2 minutes. Add the shrimp and continue to cook, stirring, until the shrimp have turned pink and are almost cooked through, 2 to 3 minutes. Stir in the peas and remove from the heat.
Return the drained pasta to its pot and add the shrimp mixture and 2 Tbs. of the pasta water. Cook over medium heat until the shrimp are completely cooked through, about 1 minute more. Toss the arugula and the remaining basil into the pasta. Add more pasta water as necessary to keep the pasta moist, and continue tossing until the arugula is wilted, about 1 minute. Season to taste with salt and pepper and serve immediately.
Nutritional information:
Calories:680

Fiber:7 g

Fat:20 g

Saturated Fat:3 g

Carbohydrates:74 g

Protein:43 g

Sodium:88 mg

Monounsaturated Fat:13 g

Polyunsaturated Fat:3 g

Fine Cooking Make it Tonight by the Editors and Contributors of Fine Cooking (The Taunton Press)
This recipe originally appeared on iVillage.