Peeps, the sugar-coated marshmallow chicks and bunnies, have been an Easter candy tradition for decades. But Peeps dioramas, statues and other decorative art using the sweets have become popular over the years, making the treats more than just a holiday basket-stuffer.
New York chocolatier Jacques Torres first developed a taste for the gooey chicks and bunnies when he moved to the States from his native France. "I discovered that Peeps have a deep part in people's heart," Torres told TODAY.com. "It's a very American thing. It's a part of the Eastern tradition."
He decided he wanted to find a way to combine Peeps with his chocolate-making profession, telling his store managers he was planning to coat the candies in chocolate and other costumes. "People looked at me like I was crazy," he said. But he went ahead with the plan, dipping Peeps in fine chocolate and dressing them up in tuxedos with white-chocolate buttons and bow ties. "We had a big success with them. They sold very well."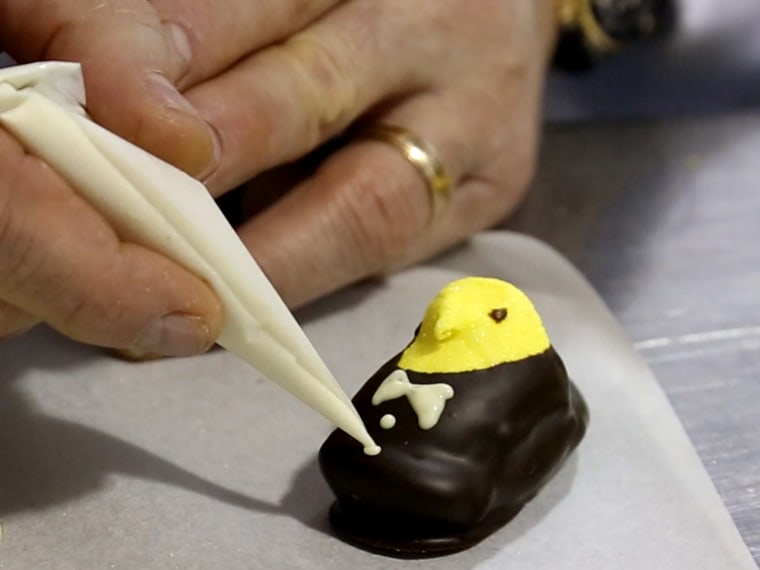 Torres's tuxedoed chicks aren't the only decorative route Peeps have taken. For nearly a decade, newspapers like the Pioneer Press and The Washington Post have held annual contests calling for creative diorama submissions using Peeps. Each year, they're flooded with miniature marshmallow snapshots of everything from classic literature scenes to political satires to famous works of art.
"One of our favorites, 'Eep', was based on the the movie 'Up,'" Tracy Grant, the editor in charge of The Washington Post's Peeps competition, told TODAY.com. "It was a balloon that lifts the house up, and the balloon is all made out of Peeps."
Other recent submissions included a parody of the Occupy Wall Street movement dubbed "Occupeep DC," a diorama featuring 2011's trapped miners in Chile, and a mock-up of the Roman Colosseum. Grant thinks making decorative work out of Peeps has turned into an artistic community effort. "People are very, very creative," she said. "I would say most of our entries are team entries of people working together. Offices work together. It's turned out to be an incredible testament to the ingenuity of people." This year's contest winners will be featured on the newspaper's website on March 27th.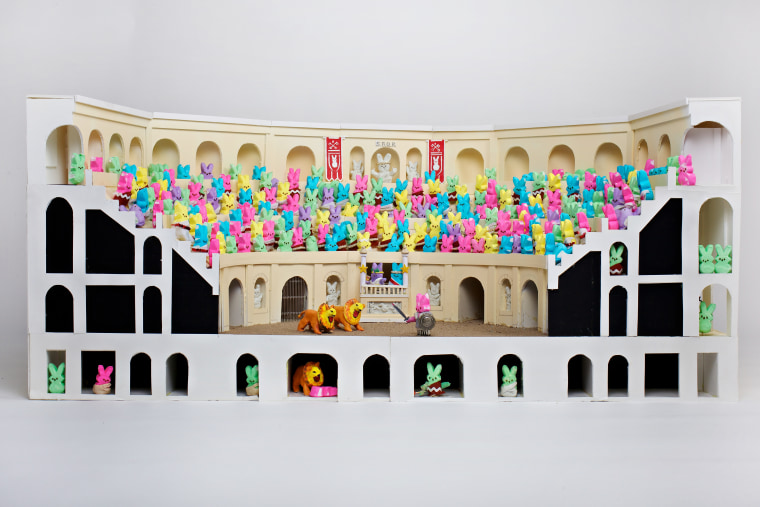 Publications aren't the only ones getting in on the decorative Peeps game. The Carroll County Arts Council in Westminster, Maryland has been holding a popular PEEPshow for the past 6 years, featuring full-scale sculptures and dioramas made out of the candy. Arts Council Executive Director Sandy Oxx says the show, which will run at the Carroll Arts Center from March 28th through April 7th, has received some clever, and occasionally massive, submissions over the years.
"Someone did a whole prom dress, full-sized," she told TODAY. "We tend to get really big monsters and cartoon characters." Oxx says some of her favorite submissions have been simple designs with titular plays on words. "Someone did a horseshoe-shaped magnet," she said. "They called it a 'chick magnet.'"
Oxx thinks Peeps' popularity stems from the candy's long-standing tradition as an Easter basket standby. "Everyone has a Peeps story," she said. "When I was growing up, the fact that they were big and took up a lot of room in the basket, parents could spend $2 and make their baskets really big. If you're Christian, Jewish, like to eat them, hate them, everyone's got Peep memories, so it's a really easy product to base an event around."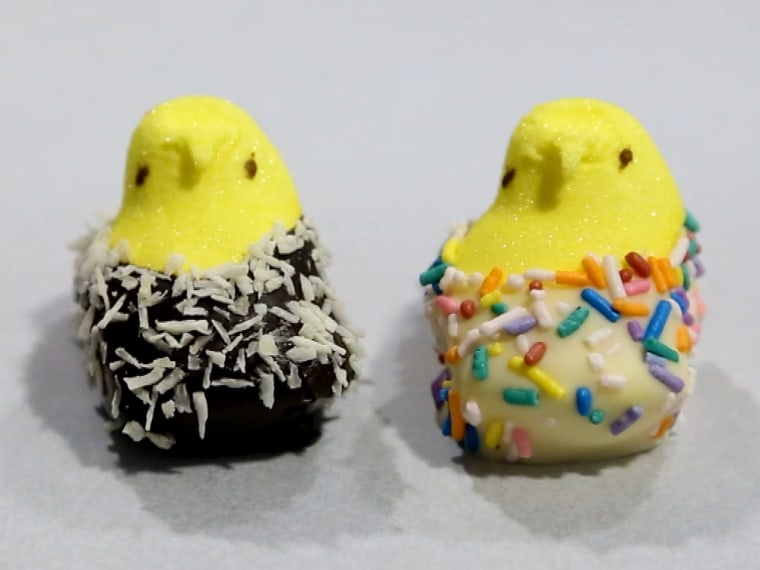 Grant says that annual contests have given a whole new meaning to the holiday treat. "It's a very nostalgic thing," she said. "In a very high-tech world, [the dioramas] feel very old-fashioned and very sweet. It's a real tradition."
And Torres says he hopes to put out even more fun chocolate-covered Peeps creations in the future. "This year, I want to do a Pope Peep," he said. "Don't get offended about that one."
More: New York City bakery sells $1000 Easter egg
Confessions of a real-life Easter Bunny
A hysterical selection of candid photographs of people getting into the spirit of Easter.