Everyone loves a good mystery. When that mystery is a marshmallow, it's all the more enticing. Lucky for mystery flavor fanatics and Peeps patrons alike, the chick-shaped springtime treat launched eight new flavors Feb. 15, three of which you'll have to guess.
Available only at Walmart, plain white Peeps wrapped in colorful, question-mark-stamped packages will have surprising new tastes. Whether you discover a zesty zing or something sweet, you can share your guess @PEEPSBrand on Facebook, Twitter, and Instagram using the hashtag #mysterypeeps. While the mystery Peeps guessing game is just for fun, it looks like the Oreo mystery contest, which resulted in a very Fruity Pebbles cereal-tasting cookie, may have some confectionery competition.
Peeps will announce the truth behind Mystery #1 of 3, Mystery #2, and Mystery #3 at an unspecified date closer to Easter, Apr. 1, 2018. Thus far, there has been quite a lot of speculation as to what they may be. On Twitter, some guessed #1 was root beer, while others surmised it was bubblegum.
Mystery #3 got guesses ranging from sour watermelon, sour green apple, and Tide pods (please don't try Tide pods to confirm, Peeps fans).
Among the new flavors is sour cherry, available in 10-count packs at most U.S. grocery stores, which promises to make you "pucker up." (Could have been good for Valentine's Day, no?)
And if you have a hankering for breakfast-flavored candy, visit a Kroger to try the 10-count Pancakes & Syrup Peeps.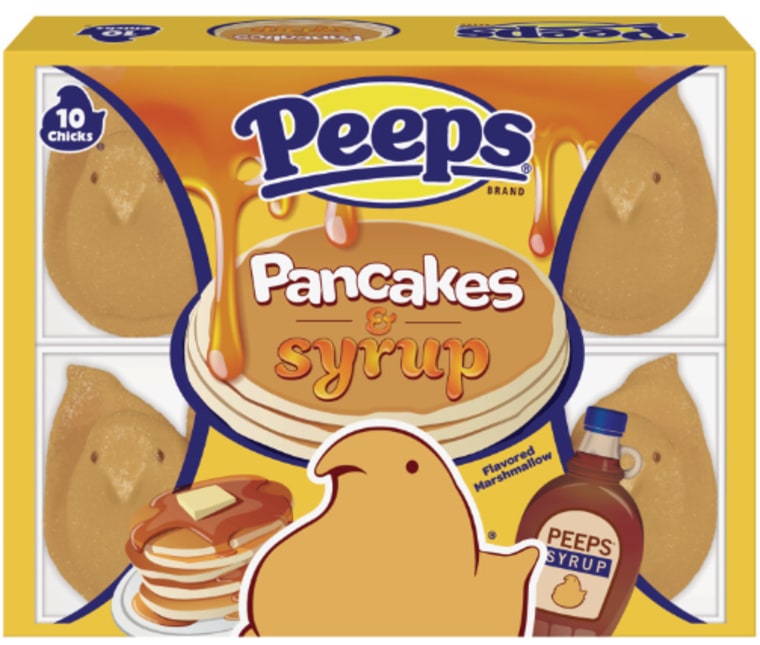 The other three new chicks, available at Target, are joining the Peeps Filled Delights line. These include a Neapolitan chick with chocolate and strawberry filling, as well as lemon sherbet and orange sherbet, both of which are dipped in fudge.