Supermarkets are building flourishing businesses around the idea that peeling and prepping fruits and vegetables is the bane of many home cooks, but sometimes they go too far.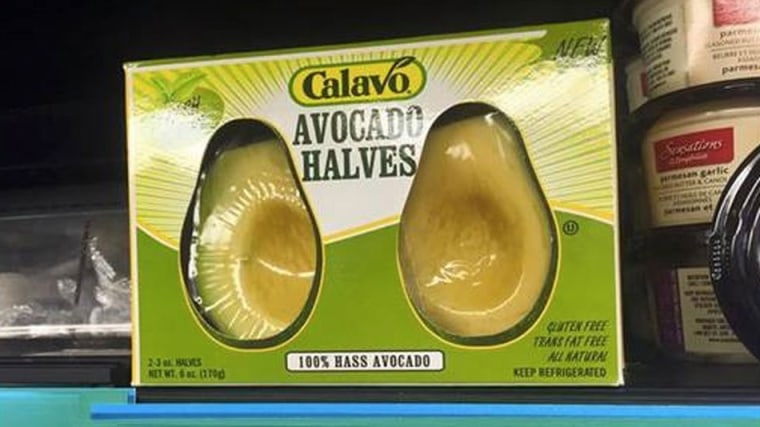 Earlier this month, TODAY reported that a Whole Foods in California was selling overpriced whole peeled oranges in plastic containers. Now Sobeys, a Canadian grocery store, is under fire for offering Calavo's halved and peeled avocados in plastic and cardboard packaging.
RELATED: Hey, guac lovers: Here's the best way to pit and cut up an avocado
Last week, Christine Kizik, a friend of a shopper who spotted the pre-cut avocados, contacted Sobeys on Facebook to express her disappointment with the wasteful packaging of the pre-cut avocados and the post went viral soon after.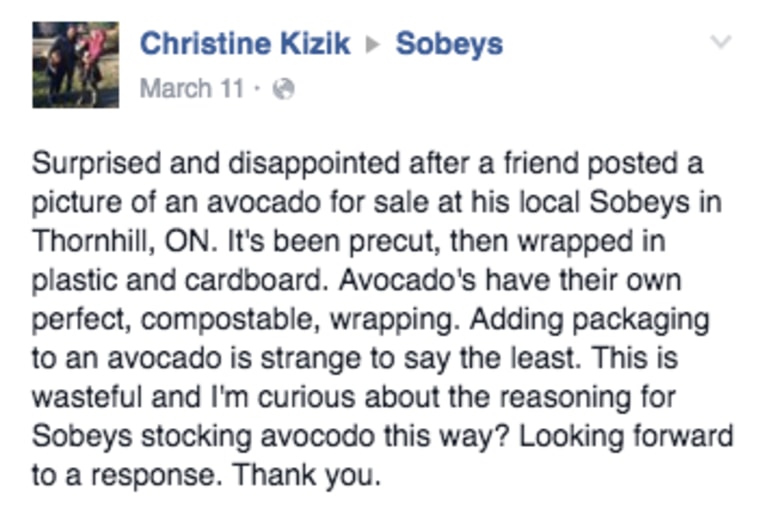 Her post wracked up comments and shares and sparked a discussion about unnecessary packaging.
Unlike Whole Foods, which decided to pull the peeled oranges from its shelves and apologized to consumers almost immediately, Sobey responded to the criticism three days later and justified its decision to sell the product.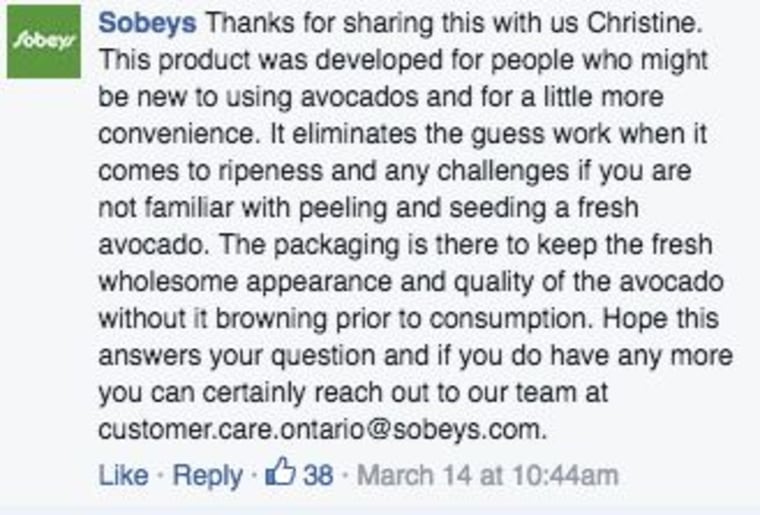 Even thought Sobey is catching a majority of the flack for the avocados, the store wouldn't be able to offer this product if it wasn't made by California produce giant Calavo Growers. TODAY reached out to Calavo for comment but did not receive a response at press time.
TODAY also reached out to Kizik for her take on Sobeys' response:
"We are really trying to cut down on our waste, and we can always do better. It's not just Sobeys [or Calavo], it's a problem everywhere, and [my family and I] are not perfect but we're working to minimize our waste both at home and in our business. It's important to us to stand up for what we think is important, and important to teach our [daughters] to speak out when they see something they think isn't right as well. It's quite amazing how one little comment and question really got people thinking about the issue of over-priced and over-packaged avocados!"
What's your take? Do you think the convenience of peeled and pitted avocados is worth the extra packaging?