Ketchup on hot dogs is considered a crime by some (ahem, we're looking at your Chicagoans). So if you're one of those people, you might want to just stop reading now: peanut butter–topped hot dogs are now trending.
Of course, we've seen our fair share of unusual viral foods — from SpaghettiO Jell-O molds to wine glasses made entirely out of cheese — but this hot dog combo is definitely another head-scratcher.
The dish, if you can call it that, isn't totally brand new (it's been around for at least a decade), and we're not sure if it's National Peanut Butter Day or something else that has people craving this dish en masse — but it's been all over Twitter lately. Even DJ Khaled expressed his support of the cult craving:
Of course, there are plenty of people in the "absolutely not" camp, too:
Clearly, we had to try it.
One of the most popular spins out there appears to be adding bacon, shallots and cheese along with the peanut butter. I followed this recipe from the blog Country Cleaver, just omitting the mayo to get the full effect of the peanut butter.
It called for a grilled hot dog, so I griddled mine to get a similar effect — plus, a boiled hot dog with peanut butter just seems extra-wrong.
Admittedly, I struggled to keep an open mind: "I'll just try this to verify it's gross," I thought.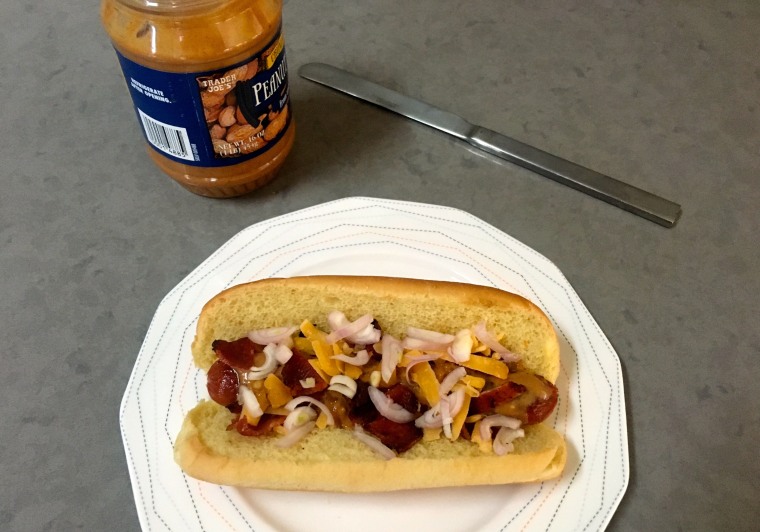 Strangely, the combo — with the peanut butter, bacon, shallot and shredded cheddar — was actually pretty good, with a great savory crunch from the bacon and shallots. But is that just because all the other delicious toppings masked the peanut butter taste?
Partially, yes. The nutty, roasted, salty flavors all come through, which complement the meat, and the spread adds a smoothness and cohesiveness to the whole creation.
If I had instead used mustard, my normal go-to condiment, it probably would have overpowered the other ingredients — the peanut butter, on the other hand, acted as a smooth-yet-understated binder to hold it all together. The sticky texture of the peanut butter is a little unusual, but as you start chewing, it's actually pretty similar to that of any other spoonable condiment.
Now, how did the peanut butter alone on the hot dog fare? Not as well: First off, it's quite unappetizing-looking, as you can see, below. Second, it just came off as bland. Here, the peanut butter didn't bring much to the table, literally, and basically tasted like a slightly nut-flavored sausage. All alone, the hot dog seems to overpower the peanut butter more, with the peanut butter fading into the background — it was strange, more moist than just eating a hot dog on a dry bun, yet it was kind of hard to swallow at the same time because the stickiness was more noticeable.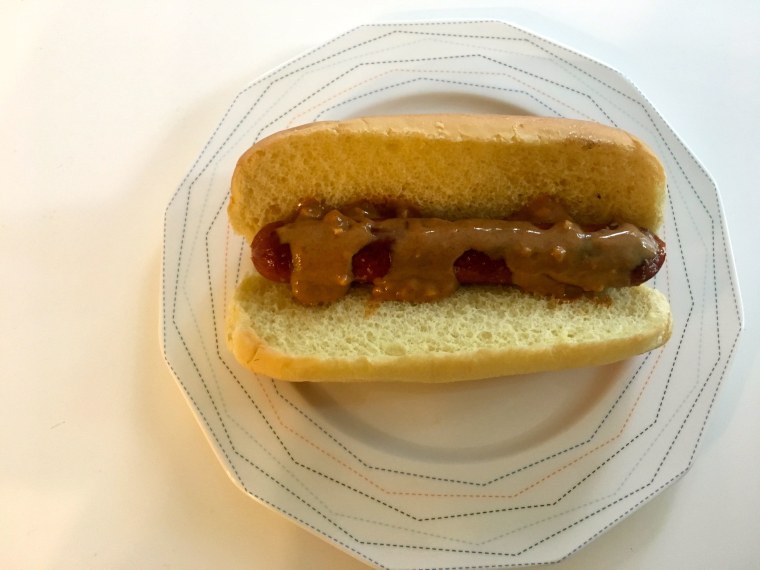 Hot dog lovers are divided on the issue, though, but there is actually some real consumer demand out there for the odd combo.
A meat market in DuBois, Pennsylvania called Palumbo's started making peanut butter-flavored hot dogs about 10 years ago after a local 7-year-old inspired the idea. After the initial surge, interest tapered in the product, though the shop still carries it, a staffer told TODAY Food: "We still make them, because people do ask for them, but it's not like it was, when it was the new thing."