At the height of summer, there's nothing quite like biting into a sweet and juicy peach. Here's what you need to know about shopping for, prepping and storing this popular stone fruit.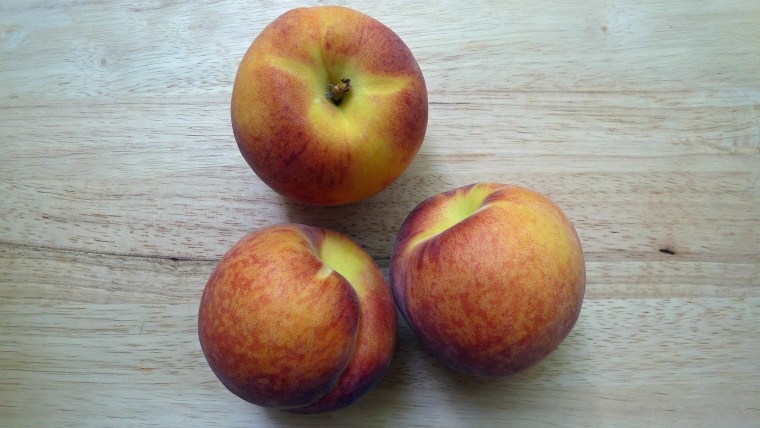 Shopping for peaches:
Peaches can be brightly hued, but don't shy away from paler fruit. Sometimes peaches don't develop that much color because their leaves create a lot of shade while they're growing. Avoid peaches with green skin, which is a sign that they were picked too soon.
Seek out peaches that are heavy for their size, as that's usually a good indicator that the fruit will be juicy.
Press peaches gently at the top near where the stem was—if the flesh yields slightly, the fruit is ripe and ready to eat. Harder peaches can be ripened at home, but you'll want to skip any that are rock hard, as those were picked too soon. Really soft peaches are over-ripe but they're still good for baking. Avoid peaches with bruises, scratches or soft spot.
How to store peaches:
Ripen peaches at room temperature. You can pile peaches in a bowl, but they'll ripen better on their stem side and in a single layer. To speed up the ripening process, place the fruit in a paper bag and leave it on the countertop. If peaches ripen too quickly, store them in the refrigerator for a few days, but keep a close eye—wrinkled skin means the fruit is starting to dry out.
How to prep peaches:
To halve peaches, use a chef's knife to make a deep horizontal cut all the way around the fruit. Twist the two sides to separate them then remove the pit with your fingers.
If your peaches are ripe, it's easy to remove the skin: Plunge peaches into boiling hot water for about 30 seconds, followed by ice water. The skin should slip right off and if it doesn't, the peaches probably aren't ripe enough and you'll need to use a paring knife instead.
Peach ideas and recipes:
Peach and prosciutto salad: On a serving platter, layer thinly sliced peaches and prosciutto. Top the salad with chunks of burrata (or fresh mozzarella). Drizzle with extra-virgin olive oil and balsamic vinegar, season to taste with salt and pepper and garnish with thinly sliced basil.
Simple skillet dessert: Try this peach blueberry cobbler