Paula Deen returned to TODAY Tuesday, more than one year after a racism scandal brought her multi-million dollar culinary empire tumbling down.
"Words are so powerful. They can hurt. They can make people happy. Well, my words hurt people," Deen told Matt Lauer when asked about the lessons she's learned over the past months. "They disappointed people and frankly, I disappointed myself. And for that, I'm so sorry, I'm so sorry for the hurt that I caused people because it went deep."
The sit-down marks Deen's return to TODAY following her tearful conversation with Matt in June 2013. "I didn't recognize that woman. That was a woman in trauma, I would say in shock, trying to understand what had happened," Deen told Matt, referring to their 2013 conversation. "I probably should not have been here. I probably should have been at home, maybe even under the care of a doctor." Watch the 2013 interview below.
The celebrity cook and restaurateur lost a number of business partners following her admission in a court deposition that she had used racial slurs in the past. A federal judge eventually threw out the lawsuit, but by then, the damage had been done. Deen said she was disappointed that the final ruling "got almost no attention."
But Deen said she has learned to move on. She recently started a new subscription-based online channel, "The Paula Deen Network," that will air her old cooking shows — she purchased their rights from The Food Network — as well as offer new content.

Deen's son, Jamie Deen, who appeared on TODAY next to his mother, along with brother, Bobby Deen, said the new network has developed 100 new shows so far and has been filming content for the past year.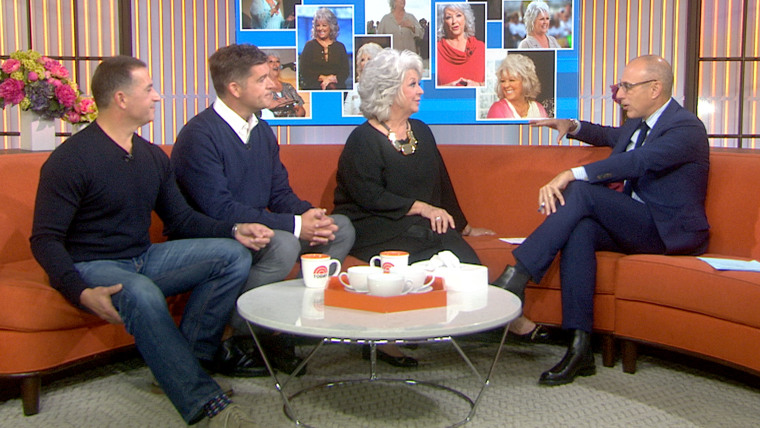 Paula Deen also said plans are in the works to air a documentary on the new network. "I've learned so much over the year. I really feel like it's going to require another book, but we are working on a documentary because I feel like everybody needs to know the whole entire story," she said. 
Deen said the last year has been filled with deep reflection as she tried to understand why the corporate world shunned her.
"I absolutely understood it, but I had to go home, sit on my sofa and get off the merry-go-round. I had to remove myself and sit quietly, so I could think and see things from all angles," Deen said.
But Deen admitted the past year has left her more guarded.

"I've always been very, very naïve," she said. "Unless you do something that I can see you're trying to hurt me, in my heart, you're good. That's childlike and it's naïve, and I'm trying to be more guarded. I don't ever want to get to the point where I'm cynical because I believe there are more good people than bad."
Follow TODAY.com writer Eun Kyung Kim on Google+ or on Twitter.