Talk about chutzpah! Coolhaus, which is known for its wild ice cream sandwiches, plans to roll out three Jewish deli-themed ice cream and cookie flavors at the end of August. You can mix and match to create your own deli-inspired ice cream sandwiches (that may sound very strange, but these are the same people who brought you ice cream flavors like Netflix (featuring white cheddar popcorn and Doritos), Foie Gras PB&J, Fried Chicken and Waffles and Cuban Cigar.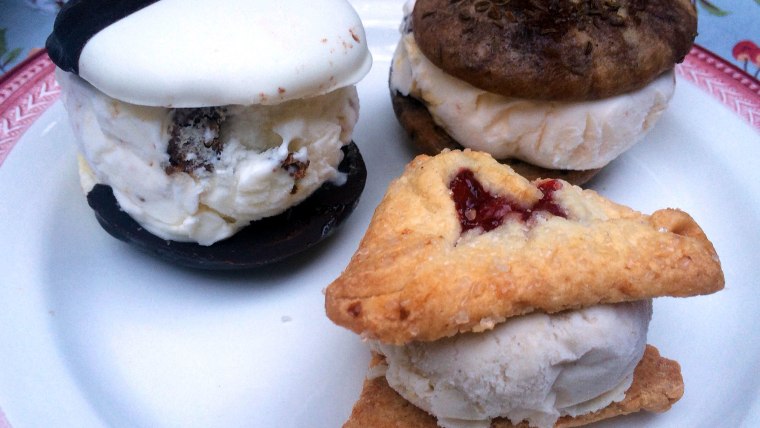 The cookie flavors are:
Black & White: An homage to the classic "Seinfeld" episode, this is a sponge-cakey shortbread cookie dipped in dark chocolate and vanilla frosting.
Hamentash: Named after Coolhaus CEO Natasha "Tash" Case, it's Coolhaus' take on a traditional hamentashen cookie -- shortbread with cherry filling.
Marbled rye: A chocolate and vanilla whoopie pie-style cookie covered with rye and caraway seeds.
Drumroll please, for the new ice creams…
Potato Latke and Apple Sauce: Baked apple ice cream crafted with cinnamon, nutmeg, brown sugar, cloves and vanilla, with salty shoestring french fries mixed in.
Pastrami: A "special sauce" base mixed with 'Haus-made caramelized (beef) pastrami. (Coolhaus recommends pairing the pastrami ice cream with the marbled rye cookie to make a "reuben" ice cream sandwich. Hold the sauerkraut, however.)
Cream Cheese & Rye: A cream cheese and mascarpone base with a nutty harvest rye cracker swirl.
"The Jewish deli-themed menu is a millennial twist on the decades-old staple of comfort food," Case explains. "Our generation is creating new takes on the deli concept, and since we are a pioneering dessert brand, we wanted to do the same with sweet and savory plays on deli classics."
But Case, who is Jewish, says she wasn't just going for the gimmick factor. "I had most of the team in disbelief that these flavors wouldn't just cause intrigue, but actually be good," she says. "I mean, cream cheese and rye, latke ... pastrami ice cream!? But when we all tasted them, they worked."
There was one deli-style flavor she tested that did not work, however: pickle. "The interns actually screamed when they saw it," she recalls. The flavor turned out to be about as appealing as the visual. Sorry, pregnant women everywhere.
New flavors usually take about a month to develop from concept to production, Case says.
The new deli flavors will only be available at two Coolhaus locations in Los Angeles -- Culver City and Pasadena. The company doesn't have an exact release date yet, but promises to announce it on social media when they do (check @coolhaus).
TODAY managed to get its hands on a few of these ice cream concoctions. Do you really think we'd let the innocent consumer dive into pastrami ice cream without trying it for you first? Deep breath; here we go.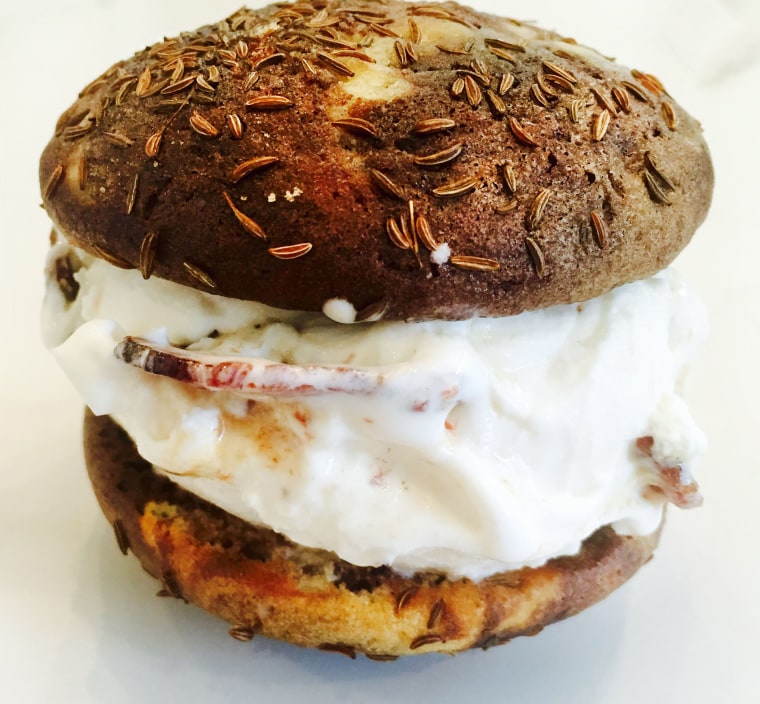 First on the menu: Pastrami ice cream on marbled rye cookie. Although clearly the novelty of the bunch, this flavor was not as alarming as feared. The dominant tastes were the crunchy caraway seeds and the vanilla in the ice cream. The small, sparse bits of peppery pastrami jibed nicely rather than clashed with the creamy vanilla, sort of like deli meat rolled with cream cheese. The whoopie pie-style cookie felt soft and bunlike. If you are the type who enjoys a mix of savory and sweet, and you kind of feel like a pastrami sandwich and you kind of feel like an ice cream cone, this "reuben sammie" would be a good compromise.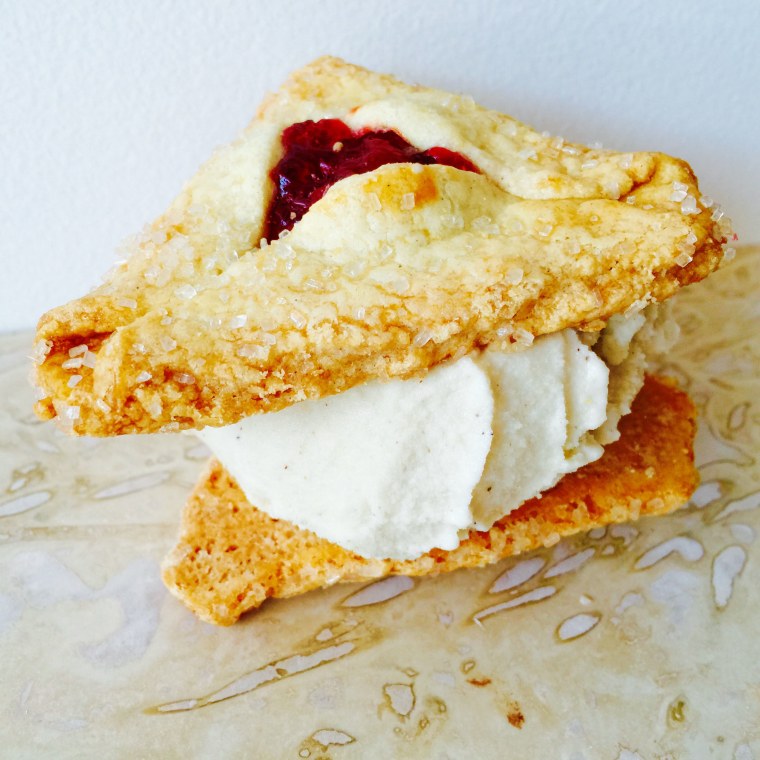 Next up: Potato Latke & Apple Sauce on Hammentash cookie. Very strong apple-cinnamon flavor; the potato was barely discernable other than a little salty shoestring bit now and then. The Hammentash was crisp and crumbly with a nice gooey cherry center. The overall impression we were left with was of a French apple pie, which is not a bad thing by any means.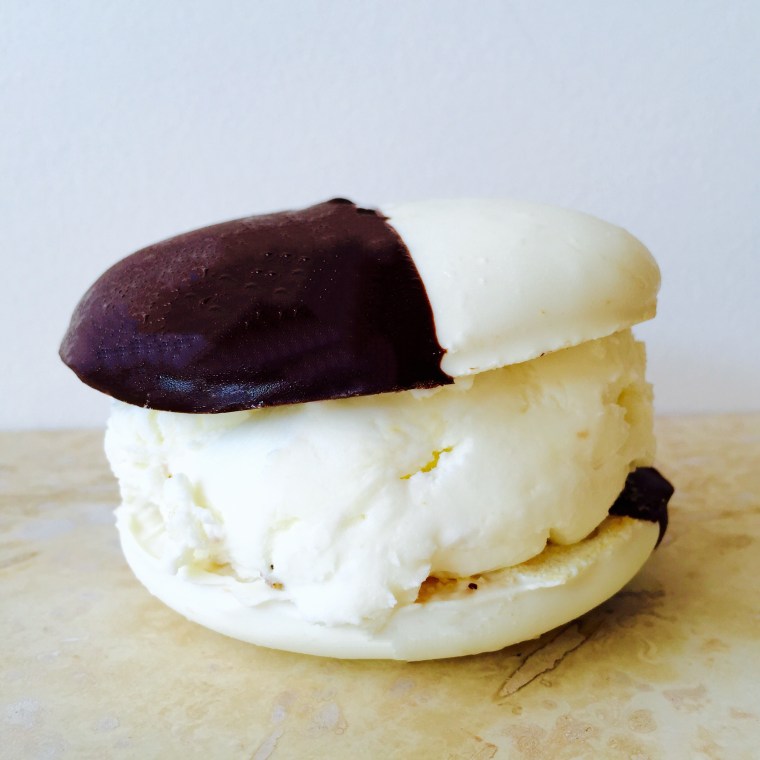 For dessert: Cream Cheese & Rye on a Black & White cookie. This option is the most like a traditional ice cream sandwich. The black & white cookie makes such a perfect ice cream sandwich cookie – hard chocolate shell on the outside, soft cakey interior. The cream cheese and mascarpone in the ice cream add a rich contrast to the sweet white and dark chocolate. The bits of rye cracker in the ice cream seemed out of place, but our dog happily ate them (although he was clearly hoping for the pastrami).
While we doubt that any of these new ice cream sandwiches will be more than "limited time" flavors, let's just be grateful that Coolhaus went the Jewish deli rather than the Italian deli route. Meatball Sub With Marinara is one ice cream flavor that the world does not ever need to experience. Don't get any ideas, Coolhaus.
Coolhaus operates 10 mobile ice cream trucks and carts (five in Southern California, two in NYC and five in Dallas). The company also has two Southern California-based storefronts in Culver City and Pasadena, and sells pre-packaged ice cream sandwiches, pints of ice cream and hand-dipped ice cream bars at markets ranging from Whole Foods to Kroger and Safeway nationwide.