This is an elegant pasta dish for a special occasion. The sauce is light and broth-like, and the mushrooms add a meaty taste and texture.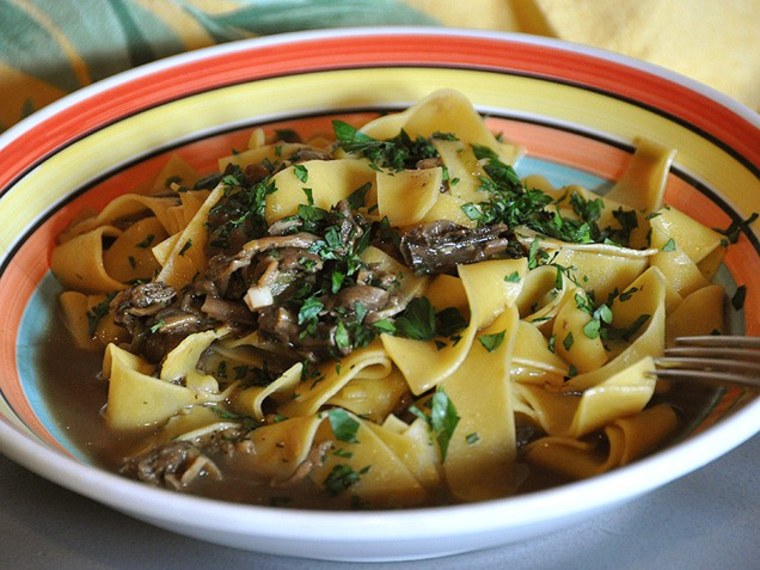 Ingredients:
1 cup dried porcini mushrooms

1/2 teaspoon kosher salt

2 tablespoons extra-virgin olive oil

1/2 cup grated parmesan cheese

4 scallions, chopped

1 tablespoon butter

1 tablespoon fresh thyme leaves, or 1/4 teaspoon dried

Pepper to taste

3 cloves garlic, minced

8 ounces pappardelle, or another long, flat egg-based pasta

1 cup white wine

2 tablespoons chopped parsley for garnish (optional)

2 cups chicken broth

Yield: 3 servings
Directions:
Place the porcini mushrooms in a medium bowl. Pour two cups of water over the mushrooms and let them soak for 15 minutes. Drain the mushrooms, reserving the soaking water.
Heat the olive oil in a large saute pan over medium heat. Add the scallions and porcini mushrooms. Cook until the scallions are soft, but not browned, about five minutes. Add the thyme and garlic. Cook for about two minutes.
Add the white wine to the saute pan and increase the heat until the mixture begins to boil. Simmer until the wine is mostly evaporated, about 5-10 minutes.
Add the two cups of chicken broth, reserved porcini mushroom liquid, and salt. Simmer briskly until the mixture is reduced by at least half, about 30 minutes.
In the meantime, bring a pot of salted water to a boil. When the sauce is finished cooking, boil the pappardelle until al dente, according to package directions.
To finish the sauce, add the parmesan cheese and butter. Season to taste with salt and pepper.
Combine the pasta and sauce. Place on individual serving plates and garnish with the chopped parsley and additional parmesan cheese, if desired.
This recipe originally appeared on iVillage.