"Game of Thrones" is one of the hottest dramas on television (in addition to being a popular book series), so it's no surprise that dedicated fans want to delve deep into the world of Westeros even when it comes to food.

From Winterfell to King's Landing, the world of "Game of Thrones" is rich and vibrant enough to inspire fans like Chelsea Monroe-Cassel to take their passion for the series to the next level when it comes to recipes and party planning.
Monroe-Cassel, co-author of "A Feast of Ice and Fire: The Official Game of Thrones Companion Cookbook," started creating recipes based around food from the series in 2011 for a blog she co-founded called The Inn at the Crossroads. When "Game of Thrones" author George R.R. Martin found out about the blog, he asked Monroe-Cassel and her fellow founder, Sariann Lehrer, to write the official cookbook.
Now Monroe-Cassel has released an e-book called "Party Like a Lannister" with tips on how you can throw the ultimate "Game of Thrones"-themed party and transport your guests to Westeros before they even arrive at the door.
"I always try to make the [party] experience feel immersive and invitations are a great way to start that immersion process," Monroe-Cassel told TODAY.com.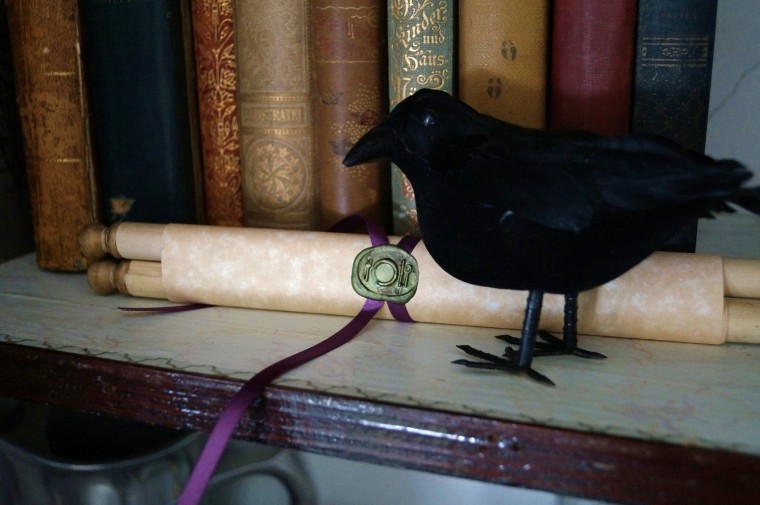 To invite guests to your soiree, the 28-year-old suggests sending paper instead of electronic invites and even adding a bit of medieval spirit with a seal or a few black feathers, as if it was delivered by raven.

Set the mood in your home by using candles to soften the lighting and "fade out any glaringly modern things, apart from the TV if you're having a viewing party," she says. Music is also a great way to make your guests feel like they've been transported to the Seven Kingdoms, so play the "Game of Thrones" soundtrack or other medieval tunes.
As for decorations, Monroe-Cassel recommends draping fabric around doorframes and hanging banners in your rooms. You can even match your decorations to the colors of one of the nine great houses of Westeros.
There are limitless ways to set the tone of your party, but the most important aspect is the food. Serving whimsical "Game of Thrones"-themed cupcakes will set a different tone for the night than greeting your guests with giant platters of meat.
For a more authentic affair, choose from over 80 recipes on Monroe-Cassel's blog based on food mentioned in the novels. Most recipes offer both a medieval and modern version, and range from side dishes to desserts.
"I take into account things like location and where the recipe is set in the culture and geography of the fictional world when creating each recipe," Monroe-Cassel said.
Fans have already used Monroe-Cassel's recipes for many different types of celebrations, from premiere parties to "sweet sixteen" celebrations. The possibilities for your event are as vast as the North and from what Monroe-Cassel's seen, people's creativity knows no bounds. So what are you waiting for? Send your ravens and try these tasty dishes.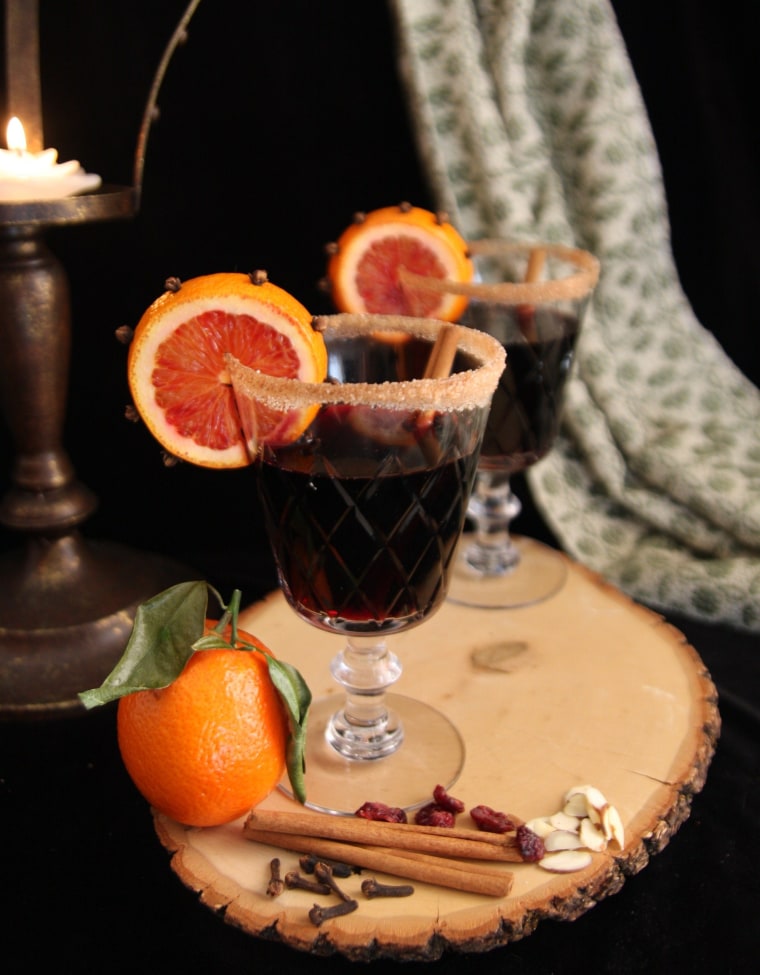 The Old Bear's hot spiced wine

"The Old Bear was particular about his hot spiced wine. So much cinnamon and so much nutmeg and so much honey, not a drop more. Raisins and nuts and dried berries, but no lemon, that was the rankest sort of southron heresy…" - "A Clash of Kings"
1 bottle of an inexpensive red wine (sweet works better than dry — cabernet is good.)
1/2 cup honey
1 tablespoon each of ginger, cinnamon, cardamom, clove, nutmeg
Handful each of dried cherries, raisins, and almonds (slivered or sliced is best)

Bring the wine and honey to a simmer. Taste for sweetness and add honey as necessary. Remove from heat, stir in spices, and continue to stir occasionally. After sitting, the spices will create a thick residue which will settle to the bottom. Using a ladle, serve into individual mugs or other heat-safe vessels. Consider putting the cloves in a mesh tea ball, or cheese cloth, to avoid picking cloves out of your goblet.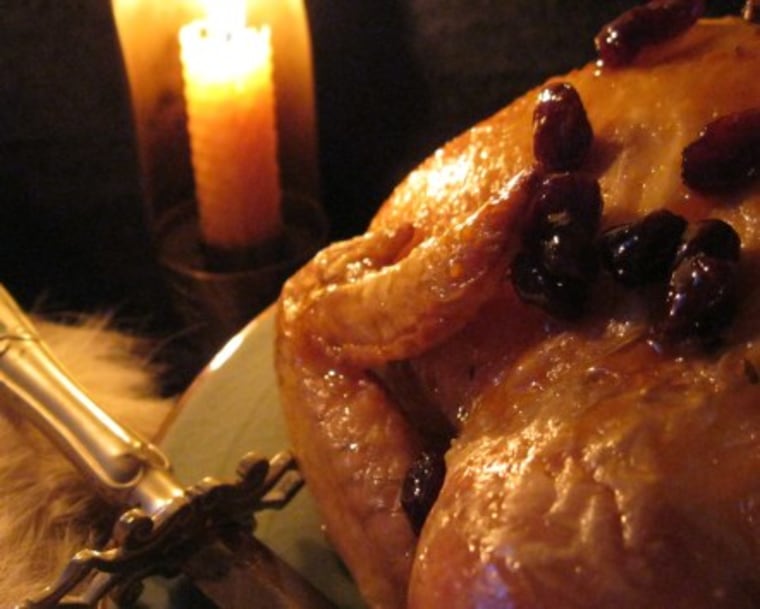 Honeyed chicken
"'Hungry again?' he asked. There was still half a honeyed chicken in the center of the table. Jon reached out to tear off a leg, then had a better idea. He knifed the bird whole and let the carcass slide to the floor between his legs. Ghost ripped into it in savage silence." - "A Game of Thrones"

1 whole chicken for roasting
Olive oil/butter (~1 tablespoon)
Salt

For the sauce:
1/2 cup apple cider vinegar
1/3 cup honey
Dash of mint, dried or fresh (about 1 teaspoon)
Small handful of raisins
1 tabelspoon butter

Rub the chicken down with olive oil/butter and salt. This makes the skin crispy and delicious. Cook in an oven at 450 degrees F for approximately an hour, or until the juices run clear, and the thick meat of the breast is no longer pink.
While your chicken is roasting away in the oven, combine all ingredients in saucepan and allow to simmer until the raisins plump and the sauce reduces slightly. Remove from heat, and when the chicken is done, spread the sauce and raisins over the bird.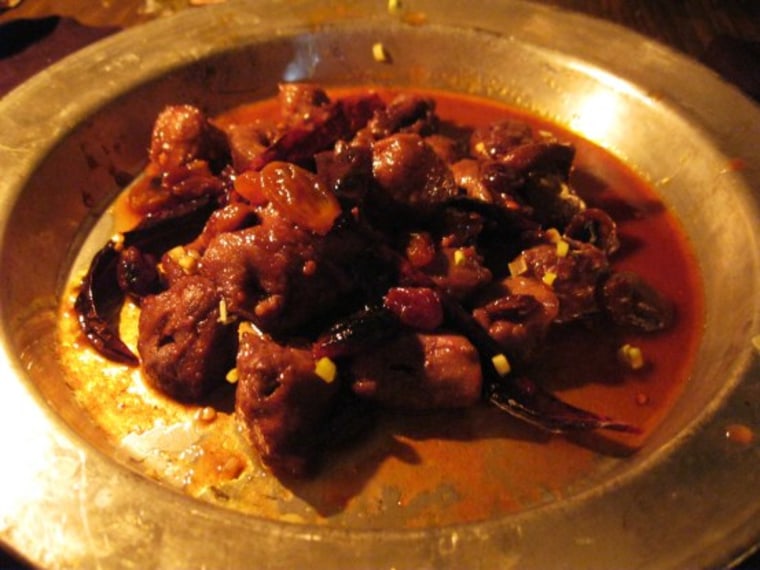 Goat with sweetgrass, firepods, and honey
"She brought back a haunch of goat and a basket of fruits and vegetables. Jhiqui roasted the meat with sweetgrass and firepods, basting it with honey as it cooked…" - "A Storm of Swords"

1 pound goat meat, cubed
2 tablespoons olive oil
4 dried pepper pods, medium heat,
1/4 cup tart cherry juice (available in the quirky foods/ethnic section of many stores)
1 tablespoon tomato paste
Small handful raisins
1 to 2 tablespoons honey
1 tablespoon chopped lemongrass stalk

Heat oil on stovetop. Add the cherry juice, tomato paste, raisins and the pepper pods, then stir gently. The peppers will start to soften and release their seeds, and the sauce will start to reduce slightly. Stir in the honey, and remove from heat. Give the marinade a taste at this point, and add more pepper if desired. Marinate the goat meat at least an hour (keep the peppers) then thread onto skewers. Grill or roast accordingly, then garnish with the chopped lemon grass and peppers before serving.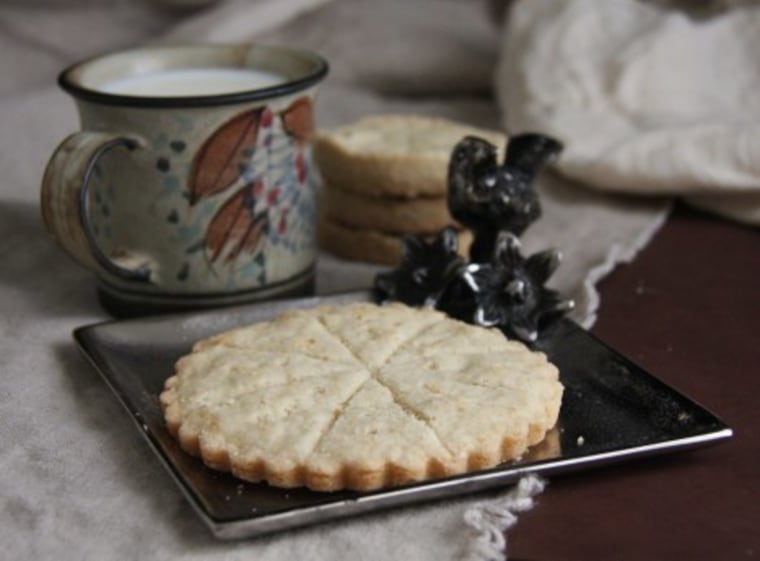 Sweet biscuits
"[Sansa] drank a glass of buttermilk and nibbled at some sweet biscuits as she waited, to settle her stomach." - "Game of Thrones"

3 cups flour
4 1/2 sticks cold butter, cut into cubes
1 heaped cup sugar

Sift the flour into a bowl and rub in the butter. Once the mix resembles bread crumbs, rub in the sugar to form a paste. It will be short and crumbly, but gather it and form a disc. Wrap in cling film and chill for 30 minutes.
Preheat oven to 325 degrees F. Line a baking sheet with parchment paper. Roll out the dough to 1/3″ and cut into shape. Lay on the baking sheet and bake for 10 to 15 minutes. Be sure to not burn the biscuits; their color should remain very pale. Remove from oven and rest for one minute before moving to a wire rack to cool.
Recipes courtesy of Inn at the Crossroads