Whether you're rooting for the Giants or Patriots this Super Bowl weekend (or maybe you simply want to catch the ads and halftime show), food will be a big part of the festivities.
The day is about gathering in front of the television where everyone goes for the chili, chips and cookies. No one really wants to be munching on kale chips or spooning fat-free soy ice cream.
But this doesn't mean you have to go overboard. We've gathered five great recipes for Super Bowl snacks that won't pack on the pounds.
Three Bean Chili (makes 4 servings)
This chili recipe from Chef Daniel Angerer, the executive chef of Dig Inn, contains no meat, but is still full of flavor and protein. The five locations of Dig Inn serve this quick and healthful option.
1 red onion
1 red pepper
1 jalapeno pepper
3 cloves garlic, peeled
6 cups canned pinto beans, red chili beans, black beans
1 cup corn kernels
1 tablespoon vegetable oil such as canola
4 cups canned, peeled tomatoes
½  teaspoon sea salt
1 teaspoon cumin powder
1 teaspoon paprika powder
1 teaspoon coriander powder
10 black pepper mill grindings
3 tablespoon apple cider vinegar
1 teaspoon fresh oregano leafs
Peel onion and garlic, core pepper and jalapeno and discard seeds. Cut vegetables into 1/8-inch cubes.
Drain beans and rinse with water.
On medium heat setting, heat vegetable oil in a 1-gallon sized pot and add cut onion, garlic, pepper, jalapeno and corn. Cook vegetables for 20 minutes, stir with a wooden spoon every five minutes then add beans and tomatoes. Add salt cumin, coriander, paprika, black pepper and vinegar. Cook mixture for 45 minutes on low heat setting.
Combine fresh oregano leafs with chili. Chef Angerer recommends adding some fresh chopped cilantro to this recipe to brighten up all the combined flavors.
Parmigiano chips (makes 4 servings)
Parmigiano cheese isn't just for your pasta dishes. David Rocco, whose new series "David Rocco's Amalfi Getaway" soon returns to The Cooking Channel, shares an easy recipe for chips that doesn't even need oil. A connoisseur of Italian cuisine, he also recommends pairing Ruffino's Lumina Pinot Grigio with this popular snack
3 cups parmigiano cheese, finely and coarsely grated
Evenly sprinkle a cup of parmigiano over a hot pan, filling in any gaps. Cook until parmigiano becomes golden. Loosen with a spatula and transfer to a plate. Let cool until the parmigiano solidifies; then break into little chips and serve.
Roasted red pepper hummus
Dips are a must at any Super Bowl party. Chef Hugo Trinquier of Nanooshadds some hot sauce to give this roasted red pepper hummus a kick. 
¾ pound raw organic chickpeas
1/3 pound tahini
½ cup roasted red pepper
¼ cup lemon juice
½ cup water
Touch of hot sauce
Salt
Soak the chickpeas in water a day ahead. Cook the chickpeas in boiling water for approximately two hours. Strain and chill the chickpeas.
Place the chickpeas in a food processer and mix with tahini, roasted red peppers, lemon juice, a dash of hot sauce, salt and water. Process until smooth. Adjust the flavor to your liking by adding lemon juice, water, salt or more hot sauce.
Greek-style nachos
If you were actually watching the Super Bowl in person at Lucas Oil Stadium, chances are you'd be ordering a side of nachos — with gooey processed cheese and fatty sour cream. Why not give this classic a fun twist with this recipe from Dannon  Oikos Greek Yogurt? Use plain nonfat Greek yogurt for this version of nachos, which takes only about 15 minutes to prepare and 20 minutes to cook.
4 pita pockets, white or whole wheat, cut into wedges and split
1 Tbsp. olive oil
Salt and pepper
1/2 pound ground lamb
1 cup 0% plain Greek yogurt
1/2 cup crumbled feta cheese
1/2 cup chopped parsley
1 small onion, chopped (about 1/2 cup)
1 tablespoon ground cumin
2 teaspoon dried oregano
2 plum tomatoes, chopped
1/2 cup thinly sliced scallions
1/2 cup kalamata olives, pitted and coarsely chopped
Arrange pita wedges in one layer on baking sheets and brush with olive oil. Sprinkle with salt and pepper. Bake just until they start to brown lightly, about 10 minutes. Turn off oven and put chips back in to keep warm.
Combine yogurt, feta, and parsley and set aside.
Place lamb and onion in a skillet and cook until lamb is cooked through and onions are tender. Drain off fat. Sprinkle with cumin, oregano, salt and pepper, and cook for an additional 5 minutes.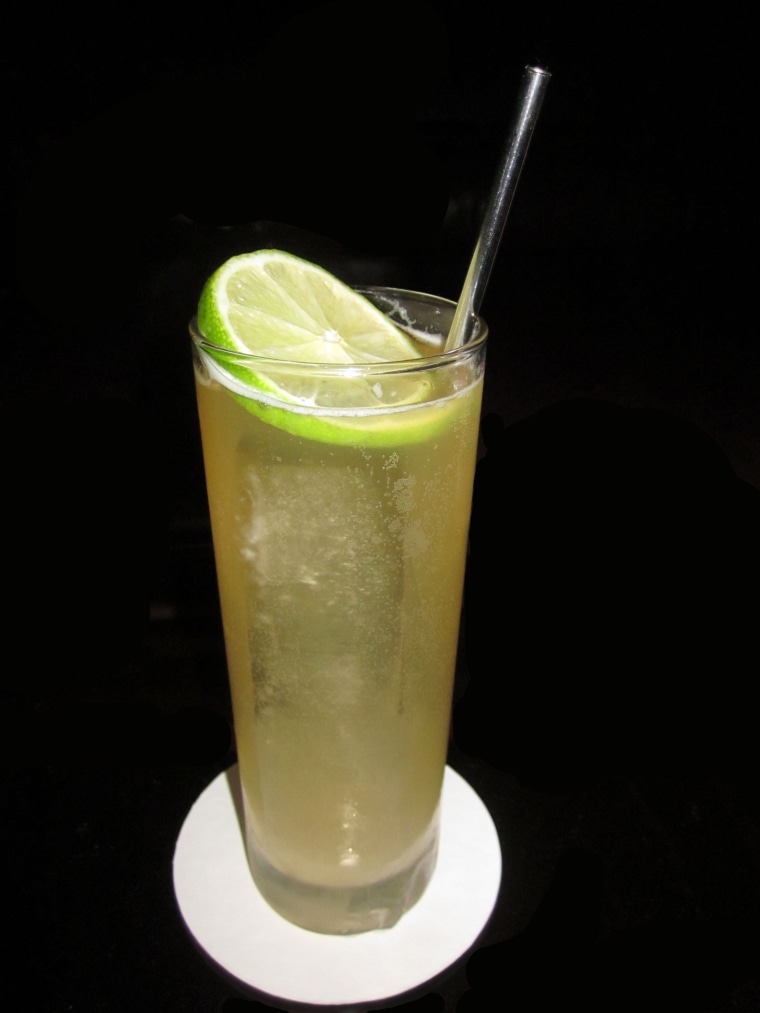 Put chips on a serving plate and top with lamb, sauce, tomatoes, scallions and olives. Serve immediately.
Dutch Air Mail beer cocktail
Beer reigns supreme when it comes to football games. Mixologist Marshall Altier, the author of "How to Booze" who also developed cocktails for the newly opened JBird in New York, has a cocktail recipe that keeps the beer in the mix with some fun liquor to keep things fresh.
2 oz. Denizen Rum
½ oz. honey syrup*
½ oz. lime juice
Dutch lager beer (such as Heineken or similar)
Splash of pink grapefruit juice
 * Cut 2 tablespoons of honey with 1 tablespoon hot water and stir or shake until consistent.
Pour all ingredients, except beer, into mixing tin. Add ice and shake. Strain into a tall glass. Top with Dutch lager beer. Garnish with a grapefruit peel.
More from Bites:
Bao Ong is a freelance journalist based in New York. He's also an avid tennis player (mostly because it enables him to eat and drink freely). Follow him on Twitter: @baohaus.