"Papa John" will no longer be the face of Papa John's pizza.
Founder John Schnatter, who's long appeared as a Papa John's spokesperson in commercials and whose likeness is featured in the company logo, resigned as chairman last week after admitting he used a racial slur during a company conference call.
Now, Papa John's revealed, Schnatter and his face are being wiped completely from the company's marketing efforts, including its boxes. But, the news comes amid Schattner's claims that it was a "mistake" for him to have stepped down.
According to a report by the Associated Press, Papa John's began pulling Schattner's image from its marketing last Friday, and the company has pledged to re-examine its diversity practices in response to Schattner's use of the N-word during a May telephone conference with media consulting firm Laundry Service.
CEO Steve Ritchie said in a statement last week that the company intends to hire an outside expert to review its diversity and inclusion practices. He also said the company's senior managers plan to hold "listening sessions" with employees.
"Papa John's is not an individual. Papa John's is a pizza company with 120,000 corporate and franchise team members around the world," Ritchie said in the statement.
After Forbes broke the story of his use of the slur, Schattner apologized — calling it "inappropriate and hurtful." But he also told an interviewer his comments were taken out of context.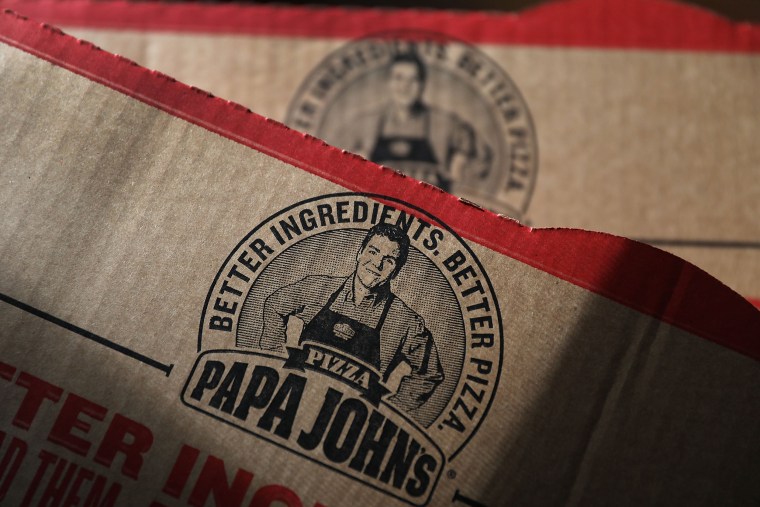 CNBC reported that Schattner repeated that claim in a letter he sent to the Papa John's board over the weekend, explaining that he was provoked into using the slur after Laundry Service execs suggested the Papa John's ask rapper Kanye West to be the company's co-spokesman.
According to Schnatter, he said he wouldn't want to work with West because "he uses the 'N' word in his lyrics." Schnatter admitted that later on the call, he used the actual word himself when the execs asked him if he was a racist.
"I then said something on the order of, Colonel Sanders used the word 'N,' (I actually used the word,) that I would never use that word and Papa John's doesn't use that word," Schnatter wrote to the board. "Let me be very clear: I never used the 'N' word in that meeting as a racial epithet, nor would I ever."
Schnatter also claims Laundry Service tried to blackmail Papa John's for $6 million to keep quiet about his use of the slur during the call.
"I will not allow either my good name or the good name of the company I founded and love to be unfairly tainted," he wrote to the board.
On Monday night, TODAY Food editors confirmed that some pizza and breadsticks were still being delivered in pizza boxes that have Schnatter's image. There is no exact date for when the boxes will be replaced.