If a company says a food is "whole grain," what does that really mean? Is it mostly whole grain? Does it have a few grains? What's the real deal?
Panera Bread wants its customers to know exactly what they're eating the next time they dig into one of its sandwiches, so the chain just made a big change to its menu to clarify the basics of bread.
The St. Louis-based company with more than 2,000 restaurants just became the only chain in the U.S. to display the exact amount of whole-grain content in its breads and bakery items.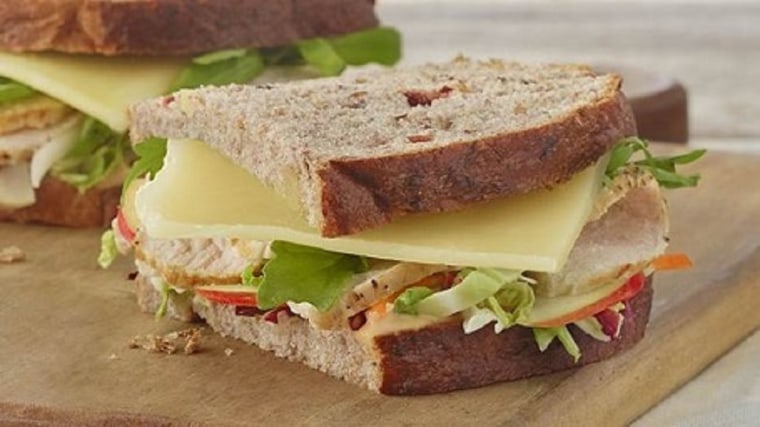 Now, the chain's menus display the percentage of whole grains in sliced bread, rolls or bagels made with more than 50 percent whole grains, which is how the Food and Drug Administration (FDA) classifies whole-grain foods. With all of the purported health benefits of multigrain and whole-grain foods, it's easy to get lost among the labels offering the real deal.
Panera's team believes that vague terms like "multigrain," "nine grain" or "made with whole grains" may confuse people by creating "an undue health halo for their bread offerings."
"People need to be aware that some labeling is misleading. You can call bread 'whole grain' if you put a small amount of the bran that's been removed back in," Jon Hammond of Weiser Family Farms explains in a new video for the chain promoting the menu announcement.
In recent years, the relative health of carb-rich grains have been challenged by trendy protein and fat-based diets, like ketogenic or paleo. However, the most recent USDA recommendations advise that most people should eat at least three ounces of whole grains daily.
Panera even unrolled a new type of bread called the Farmstyle XL Loaf, which is made with 55 percent whole grains and has 18 grams of carbs with 90 calories per two-ounce serving.
Over the past few years, the fast-casual sandwich chain has been putting a lot of effort into making its menu as transparent as it can be. In 2015, Panera rolled out its No No List, which featured more than 150 artificial ingredients and commonly used food additives that it banned from its recipes.