Nothing says true love quite like a steaming bowl of Panera Bread's broccoli cheddar soup ... right?
The popular bakery-cafe chain is hoping to spark a little romance among its customers on Valentine's Day by offering to cater five lucky couples' wedding receptions for free — if they get engaged at or in front of a Panera restaurant.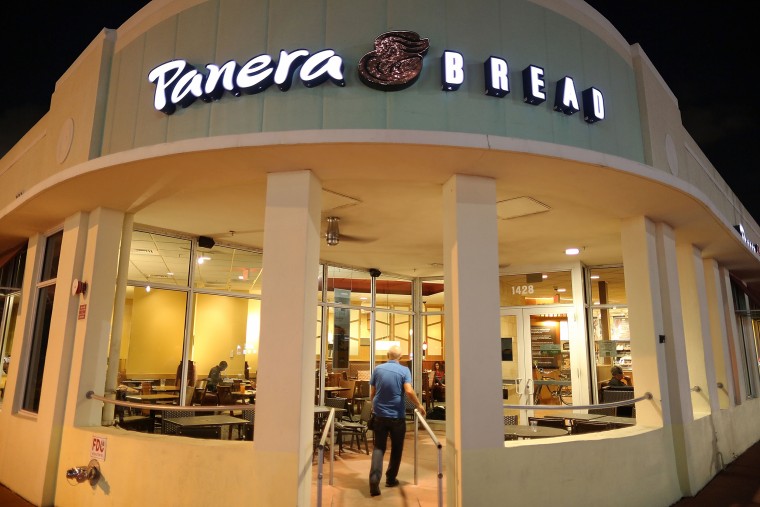 According to the company's website, the sweepstakes will take place this Wednesday, Feb. 14, between 9 a.m. and 11:59 p.m. EST.
The qualifications are simple: you must be over the age of 18, be a legal U.S. resident and have an active social media account (Twitter, Facebook, or Instagram) at the time of entry. But here's the kicker: you need to make sure that your wedding venue is located within 30 miles of a Panera Bread location to cash in on the prize. Also, triple check that you are not from Alaska, Hawaii, Montana, Utah or Wyoming, since these states prohibit the sweepstakes by law.
Good to go? Then all you need to do is muster up enough courage to bring your loved one to a Panera, propose and post a pic! Participants are being asked to use the hashtag "PaneraProposalSweeps" to enter, though "indecent, obscene, hateful, tortious, defamatory or libelous" entries will automatically be disqualified.
The five winners will be selected at random from all entries and be gifted a fully catered wedding reception valued at $2,000. However, if you and your honey don't make it down the aisle, you likely won't be able to enjoy separate feasts as the rules state, "If [a] winner cancels the wedding for any reason, the prize may be forfeited and no alternate winner will be selected."
In a tweet from its official account, Panera Bread seemed just as surprised by the generous offer as its many fans and followers:
One thing to note, however, is that the reception does need to take place before Dec. 31, 2019, meaning that long engagements are discouraged from this particular contest.