The paleo diet — whose adherents aim to mimic the eating style of our paleolithic ancestors by cutting out processed foods, grains and legumes and focusing instead on fresh vegetables, fruit, grass-fed meats and wild seafood — has been getting hotter and hotter over the past few years. But even ardent paleo devotees admit that the diet can be expensive and complicated to follow. 
Here to help is Pete Evans, Australian TV host and author of several cookbooks, including the new "The Paleo Chef." Below, he shares shares his top three tips for saving money on food without sacrificing the quality of your meals, plus three economical recipes from "The Paleo Chef": Chicken schnitzel, root vegetable slaw and cauliflower fried rice with chicken.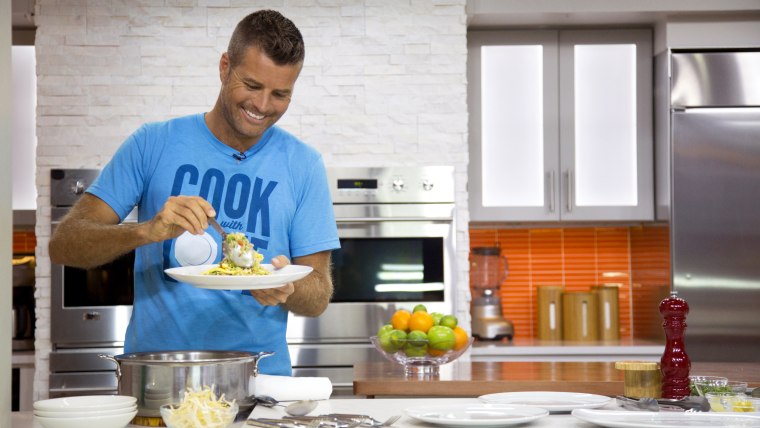 TIPS
1. Cook at home! That's the best way to save money on meals without sacrificing quality.
2. And when you do cook at home, buy whole instead of pre-cut ingredients such as veggies. You'll easily get double the amount of food (good, REAL food) for the same price.
3. The paleo method of cooking and eating is about veggies with a small amount of meat. Meat is typically the most expensive ingredient on the list. But cutting the meat portion, you're cutting cost.
RECIPES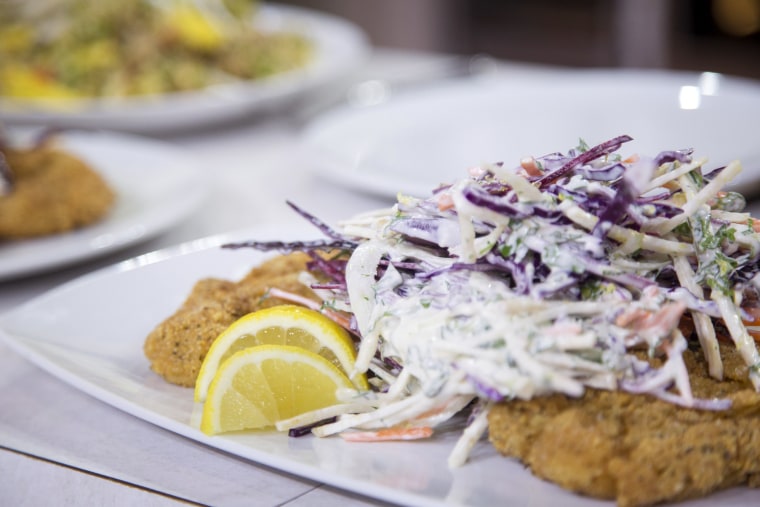 Chicken schnitzel with slaw
Courtesy of "The Paleo Chef"

Serves 2

The first word that springs to my mind whenever I hear the word schnitzel is "yum." I have loved schnitzel ever since I was young boy, and I reckon I will love it until I am old. Originally from Austria, schnitzel is thinly sliced meat, most classically veal, tenderized until it is flat and uniform in thickness. It is then dusted in seasoned flour, dipped in egg, dredged in bread crumbs, and pan-fried until golden and crispy. This Paleo version is equally tasty. I've chosen to make it with chicken; tapioca flour is used to lightly dust the meat, which is then dredged through eggs and coated in seasoned almond meal.

Ingredients

2 boneless, skinless chicken thighs or breasts or 14 chicken livers, sinew and veins removed (about 12 oz/340 g) ($1.99/lb, recipe calls for 12 ounces): $1.49
10 oz (300 g) almond meal, plus more if needed: $4.62
2 tsp garlic powder: All spices $.50
2 tsp onion powder 
1 tsp chile powder, such as ancho
2 tsp dried parsley

1⁄3 cup (60 g) tapioca flour: $0.43
3 eggs: $0.80
1⁄3 cup (80 ml) coconut milk: $0.39
About 2 cups (500 ml) coconut oil, for shallow frying: $3.99
Root Vegetable Slaw with Chervil Mayonnaise (recipe below)
Lemon wedges, to serve: $0.70
TOTAL including slaw: $19.63 for 2 servings
Per serving: $9.82

Between two sheets of waxed paper, bash your chicken until it's about 1⁄4 inch (5 mm) thick.
Combine the almond meal with the garlic powder, onion powder, chile powder, and dried parsley in a bowl and mix well. Season with sea salt and freshly cracked black pepper and set aside.
Dust the chicken with the tapioca flour, shake off any excess, and set aside.
Whisk the eggs and coconut milk in another bowl until well combined.
Drop the chicken (one at a time) in the egg mixture and turn so it is completely coated. Then place the chicken in the almond meal mixture and turn to coat evenly on both sides.
Heat a frying pan over a medium-high heat with the coconut oil; it should come to a depth of about 11⁄2 inches (4 cm). When the oil reaches 325°F (160°C), add the chicken and fry on both sides until golden and cooked through, 3 to 5 minutes. Remove from the pan and place on paper towels to soak up the excess oil. Season with salt and pepper.
Serve the chicken schnitzels with the slaw and lemon wedges.
Root vegetable slaw with chervil mayonnaise
Courtesy of "The Paleo Chef"

Serves 4 to 6

The raw food movement has really taken off, and research shows that adopting an all plant-based diet can be beneficial for a period of time to cleanse the body. I like to eat a portion of my food raw — including vegetables, meat, and seafood — as I find it makes me feel great. This raw, crunchy salad is an excellent dish to add to your repertoire alongside pretty much any meal featured in this book. It's a great way of getting some beneficial micronutrients into your body.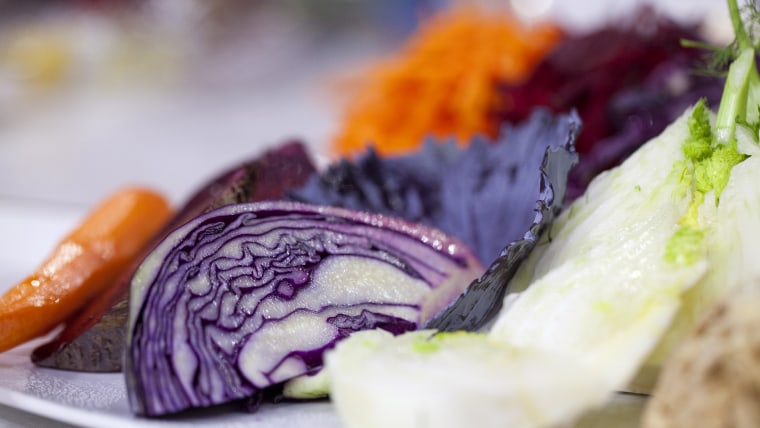 Ingredients
2 beets, peeled: $1.24
2 carrots, peeled: $0.99
1⁄2 celery root, peeled: $1.25
1 kohlrabi bulb, peeled: $1.25
1⁄4 head red cabbage, cored and shredded: $0.24
1 large handful of thinly sliced fennel bulb: $0.99
1⁄2 cup (120 ml) aïoli (mayonnaise): $.50
Juice of 1 lemon
: $0.70
3 tbsp chopped fresh chervil: $0.25
2 large handfuls of fresh mint leaves, shredded: $0.25
2 handfuls of fresh flat-leaf parsley leaves, coarsely chopped: $0.25
1⁄2 tbsp finely grated lemon zest (Cost included in lemon)

Slice the beets, carrots, celery root, and kohlrabi paper thin. Stack a few slices at a time on top of each other and cut them into matchstick strips. Alternatively, use a mandoline or a food processor with the appropriate attachment. Combine all the strips, the cabbage, and fennel in a large bowl and cover with cold water. Set aside.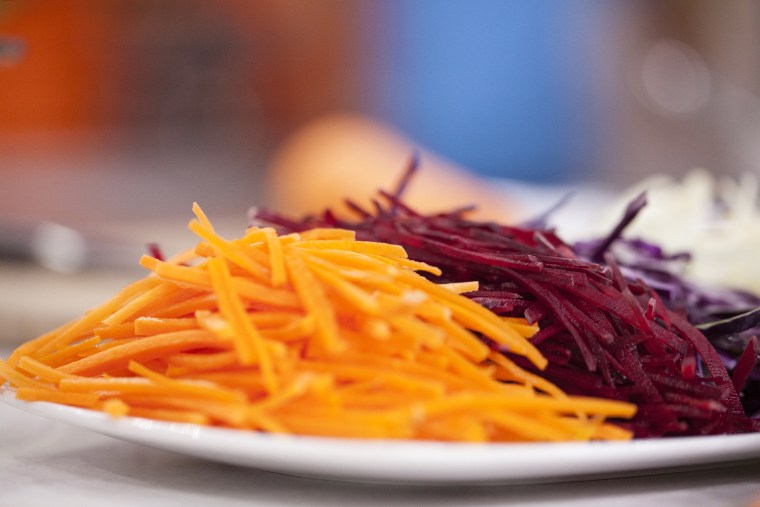 To make the chervil mayonnaise, combine the aïoli, lemon juice, and chervil and mix well.
Drain the vegetables and dry well with paper towels. Dry the bowl and return the vegetables to the bowl.When you are ready to serve, add the mint, parsley, lemon zest, 1 tsp freshly cracked black pepper, and chervil mayonnaise. Toss well, taste, and add sea salt if needed. Serve at once.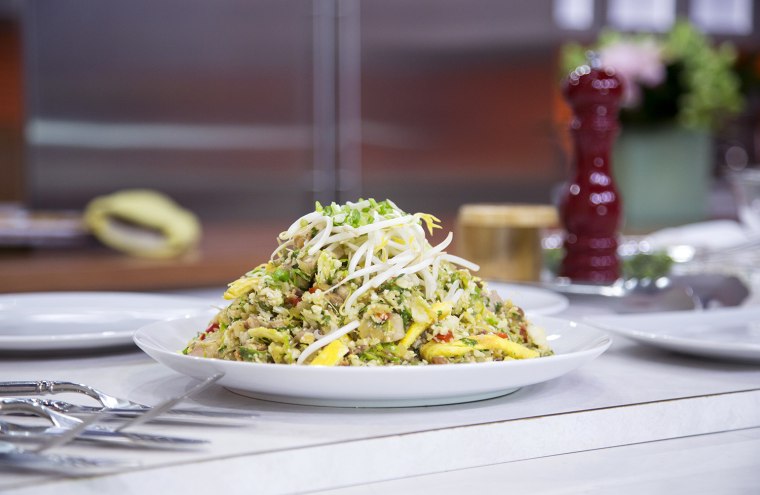 Cauliflower fried rice with chicken
Courtesy of "The Paleo Chef"

Serves 4
The more I make this recipe, the more I love it; actually, the more I eat this recipe, the more I love cooking it! Cauliflower fried rice is seriously delicious and it takes less than ten minutes to get a load of it on the table. I love playing around with ingredients in this recipe by adding different spices and herbs; proteins like shrimp, crab, turkey, ham, or nitrate-free bacon; and an assortment of veggies to create a deliciously balanced meal. If it's hot outside and you want to make a cool, refreshing dish, just let it cool down or chill it in the fridge and add it to any salad.
Ingredients

1 head cauliflower, separated into florets: $4.99
2 tbsp coconut oil: $0.25
4 slices bacon or ham, finely diced: $1.50
1 lb (450 g) boneless, skinless chicken thighs, cut into 1-inch (2.5 cm) pieces: $1.99
4 eggs, whisked with a splash of fish sauce to season: $1.07
1 yellow onion, finely chopped: $0.89
2 cloves garlic, minced: $0.12
1/2 red bell pepper, seeded and diced: $0.33
1-inch (2.5 cm) piece fresh ginger, peeled and grated: $0.12
1 cup (100 g) sliced okra: $1.49 
1¼ cups (100 g) sliced Brussels sprouts: $0.87
3 tbsp wheat-free tamari or coconut aminos: $1.20
2 green onions, thinly sliced: $0.32
2 tbsp chopped fresh cilantro leaves: $0.20
2 tbsp chopped fresh flat-leaf parsley leaves: $0.20
1/2 cup (50 g) bean sprouts: $0.30
Fish sauce, to serve: $0.10

TOTAL: $15.94 for 4 servings
Per serving: $3.99

Pulse the cauliflower in a food processor until its texture resembles rice.
In a large wok or frying pan, heat a little of the coconut oil over high heat. Add the bacon and fry until crispy, 2 to 3 minutes, then remove and set aside. Wipe out the wok and add
a little more coconut oil. Add the chicken and sauté over high heat until golden and cooked through, about 3 minutes. Remove from the pan and set aside.
Wipe the wok clean again, turn down the heat to medium, and add a little more coconut oil. Pour the eggs into the pan and cook, tilting the wok to let the uncooked eggs slide underneath the set eggs. Flip the omelet and cook until slightly golden, about 2 minutes. Remove, slice into thin strips, and set aside.
Heat a little of the coconut oil in the wok over high heat, add the onion and garlic and cook until softened, about 3 minutes. Stir in the bell pepper and ginger and cook until softened, 3 to 5 minutes. Add the okra and Brussels sprouts and cook for 1 minute, then add the cauliflower and cook until tender, 2 to 3 minutes. Add the tamari, green onions, cilantro, parsley, bean sprouts, the reserved bacon, chicken, egg strips, and sea salt and ground white pepper to taste, and stir-fry for 1 minute until well combined. Season with a splash of fish sauce, transfer to a serving bowl, and serve.