Help your kids enjoy those brown-bagged lunches by packing them a meal that is nutritious, flavorful and fun. Here, Reed Alexander, author of "Kewl Bites" shares his simple and delicious recipes for pasta fagioli salad and goldmine cereal crunch bar with dried fruit and nuts. 
Pasta fagioli salad
Yields: 8 servings
1 pound whole-wheat rotini or fusilli pasta

1 tablespoon olive oil

2 small zucchini, halved lengthwise sliced into 1/8" half-moons

1 clove garlic, peeled and minced
10 ounces cleaned baby spinach leaves, washed well

2 cups assorted canned and drained beans (such as red kidney, white cannellini, garbanzo, and/or cranberry beans)

1 cup halved cherry or grape tomatoes

1/4 cup minced flat-leaf Italian parsley

1/4 cup thinly sliced basil leaves

8 ounces part-skin mozzarella cheese, sliced into 1/4" cubes

Salt and ground black pepper, to taste

For dressing
1 teaspoon Dijon mustard

2 tablespoons Balsamic vinegar

1/4 cup olive oil
Salt and ground black pepper, to taste
1. Bring a large pot of water to a boil and add a generous handful of salt. Add pasta and cook until al dente (follow package directions depending on your pasta).
2. Prepare dressing: In a medium bowl, whisk together mustard and vinegar. Whisking constantly, slowly drizzle in the oil until completely combined. Season with salt and pepper to taste.
3. When pasta is ready, drain and toss with half of the dressing in a large mixing bowl. Set aside.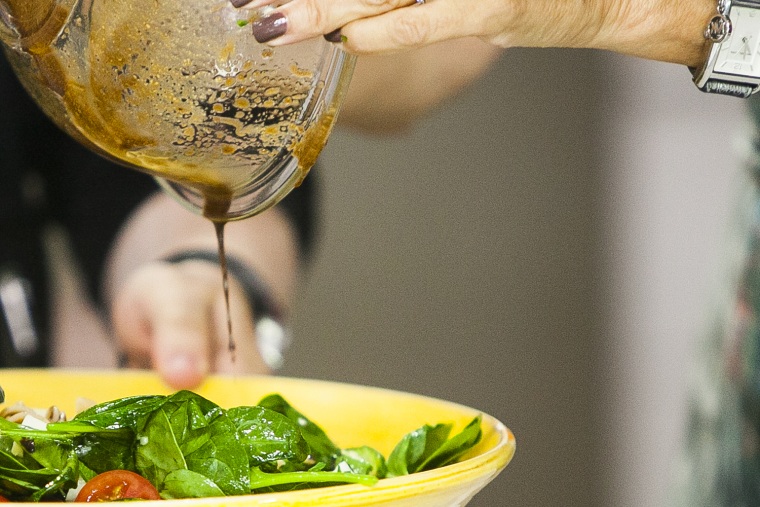 4. In a large sauté pan set over medium heat, add olive oil and zucchini, and sauté for 2 to 3 minutes, until slightly softened. Add garlic and spinach, and season with salt and pepper. Continue cooking until spinach is fully wilted.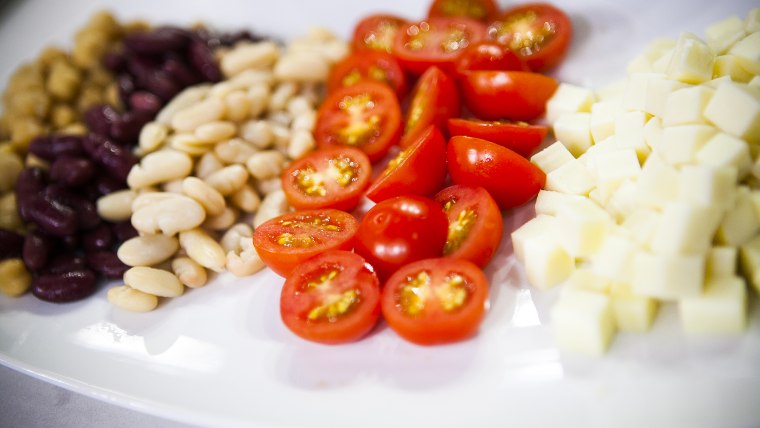 5. To the pasta, add sautéed vegetables, beans, tomatoes, parsley, basil, mozzarella, and remaining dressing. Toss well. Adjust seasoning if necessary. Serve warm, room temperature, or chilled.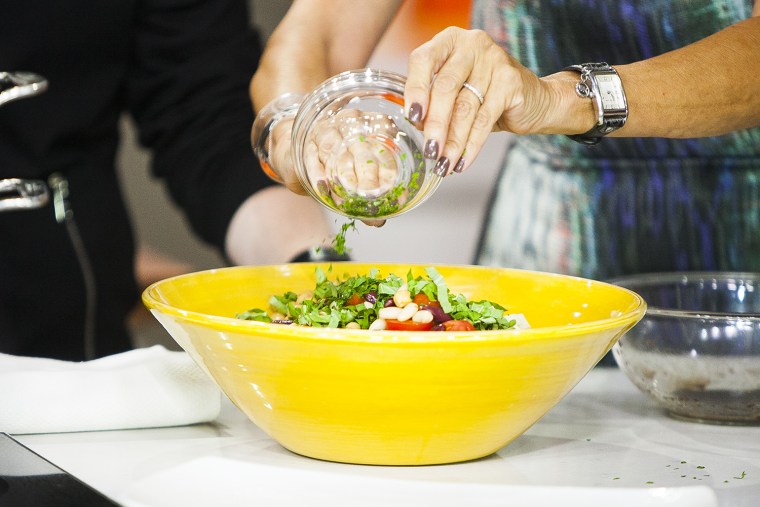 Goldmine cereal crunch bars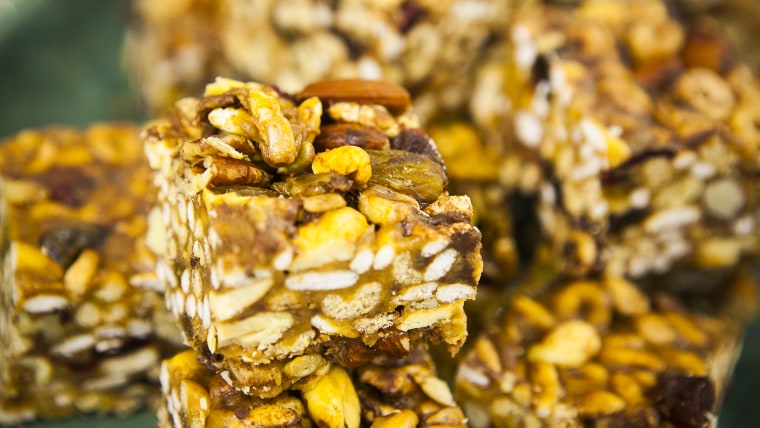 1 cup circular O-shaped cereal (multigrain or regular)

1 cup puffed rice

1 cup roasted, salted mixed nuts (for example, hazelnuts and/or peanuts)
1/4 cup roasted, salted sunflower seeds
1 cup mixed dried fruit (for example, dried cherries, golden raisins, and/or figs; roughly chop larger fruits)
1/4 cup dark chocolate chips
1/2 cup honey
1/2 cup raw sugar
1/2 cup creamy peanut butter
1. Preheat oven to 350 degrees Fahrenheit.
2. In a large mixing bowl, combine the first six ingredients. Toss to mix well and set aside.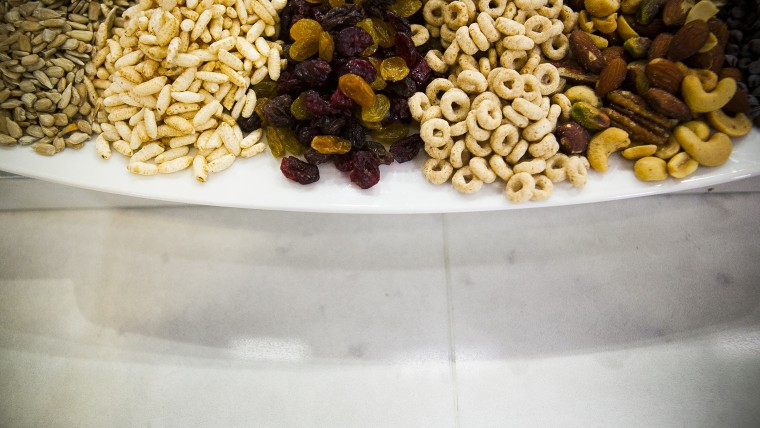 3. In a small metal saucepan, combine the honey and sugar and set over medium heat. Stir to combine and continue stirring until the sugar is dissolved and the mixture is smooth. Stir in the peanut butter and warm until evenly distributed, but do not overcook or bring to a boil.
4. Pour the sweetened peanut butter mixture over the dry mixture in the large bowl and stir to fully combine with a heat-resistant spatula or large spoon. Be careful as the mixture is very hot.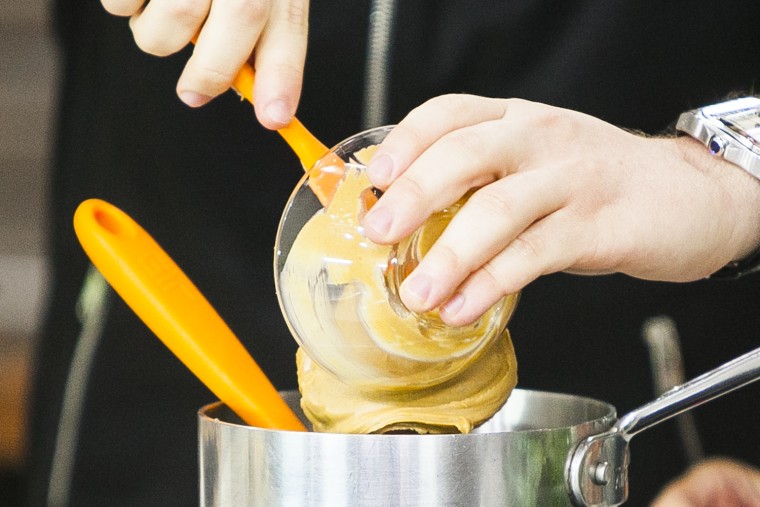 5. Transfer the mixture to a 8x8" square baking pan lined with parchment paper, and press into the pan until the mixture is spread in a dense, even layer. Use the bottom of a metal measuring cup or similar object with a flat surface to aid in this process.
6. Bake 15 minutes. Remove and allow to cool completely before lifting baked mixture from the pan using parchment. Transfer to a flat cutting surface and slice into 2x2" squares.