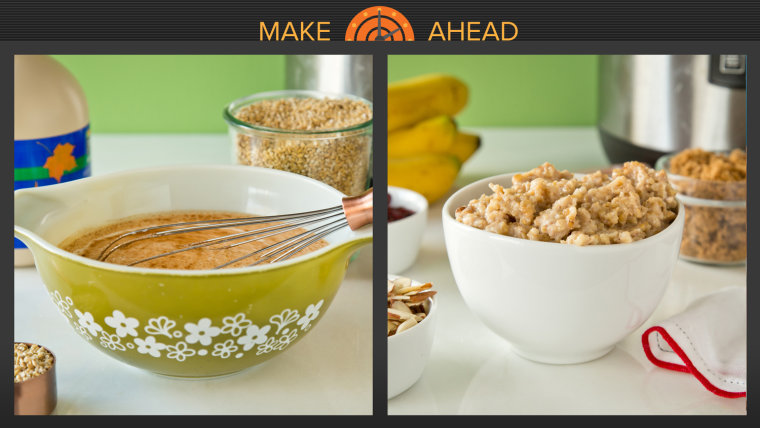 If you still haven't tried making oatmeal in your slow cooker, you're in for a real treat. This make-ahead oatmeal serves a whole houseful of relatives and couldn't be easier to prepare the night before, so it's perfect for Christmas morning. With just a stir and a push of a button, you can throw on your kerchief or cap and settle in for a long winter's nap while your breakfast cooks itself.
And with a serve-yourself toppings bar the next morning, you don't have to worry about who's an oatmeal purist and who likes to load it up with all the fruit, nuts and chocolate chips (hey, it's the holidays!) they can handle. Everyone gets the sweet breakfast gift they've always wanted.
Note: If you'll be sleeping (or away from the house) for more than eight hours, the oatmeal can sit in the slow cooker for up to an hour using your slow cooker's automatic warming or shut-off function. However, it will continue to thicken and congeal as it sits, so you'll end up with a denser consistency.
Make-ahead slow-cooker maple oatmeal
Active time: 10 minutes
Total time: 8 hours
Makes 8 servings

For the oatmeal:

4 cups (1 quart) milk of your choice — whole milk, nonfat milk and nut milks will all work for this recipe

3/4 cup maple syrup

1 teaspoon cinnamon

1/4 teaspoon salt

Nonstick baking spray

1 1/2 cups steel-cut oats

Toppings bar suggestions:

Dried fruit like cranberries, apricots or cherries

Chopped nuts like almonds, pistachios or hazelnuts

Candied walnuts or pecans

Diced pears, apples or bananas

Toasted coconut

Chocolate chips

Brown sugar, maple sugar or additional maple syrup

Additional milk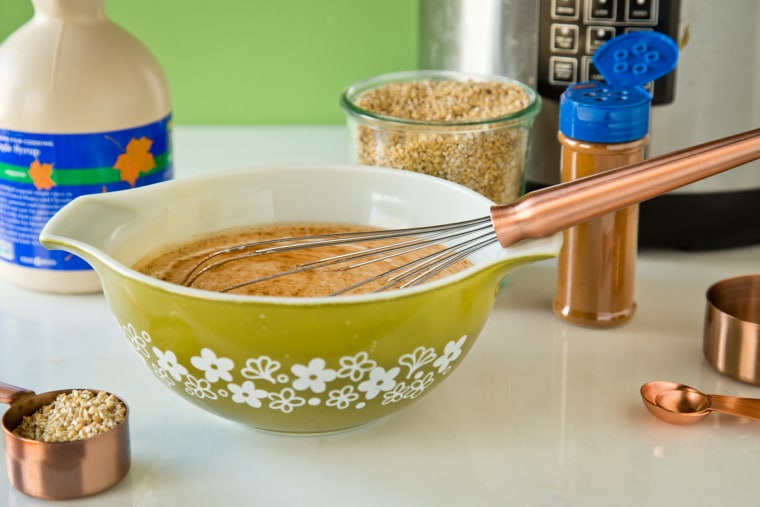 The night before: Set it and forget it
1. Whisk the milk, maple syrup, cinnamon and salt together in a large mixing bowl.

2. Spray the inside of your slow cooker generously and evenly with nonstick baking spray. 
3. Pour the oats in an even layer across the bottom of the slow cooker, then pour in the liquid.
4. Set the slow cooker to cook on low for 7 to 8 hours. If you know your slow cooker runs fast, err on the earlier side of cooking time.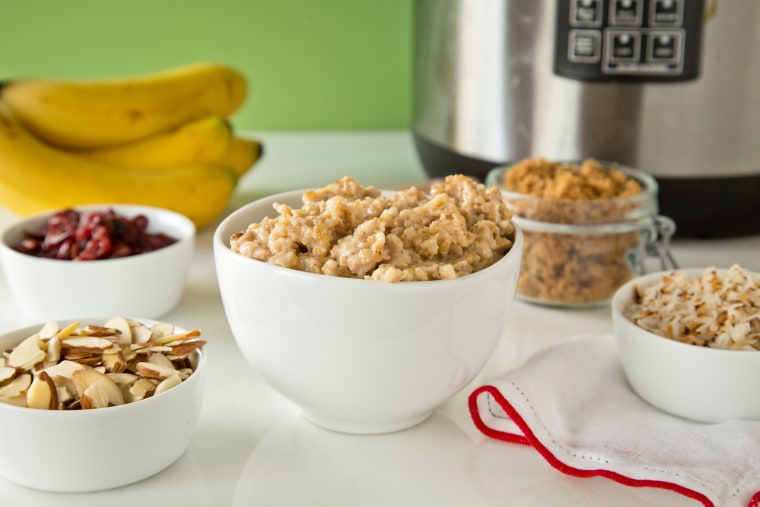 The next morning: Stir and serve
1. Set out the toppings bar for your hungry, sleepy family. 

2. Give the oatmeal a good stir in the slow cooker — it will be very thick. Loosen it up with additional milk as desired before serving.
3. Let everyone serve themselves, adding as few or as many of their favorite toppings as they want!