When it comes to white wine, there is nothing quite like superb Riesling. The gold standard, of course, is Germany, with many of its top vineyards perfectly situated on steep, sun-drenched slopes along the Rhine River and its tributaries. Storied areas such as Mosel-Saar-Ruwer and the Rhinegau can produce fruit of such incomparable beauty and concentration that other regions can only aspire to such heights — and do.
California is certainly among the strivers, with more than 10,000 acres dedicated to Riesling, and one very good example I tasted recently is from Jekel Vineyards in Monterey County.  Given its quality, the price of Jekel's 2003 Monterey Riesling, just $9 or so, is both surprising and welcome. With excellent fruit and complexity, I think it could serve as a model for American Riesling in this price range.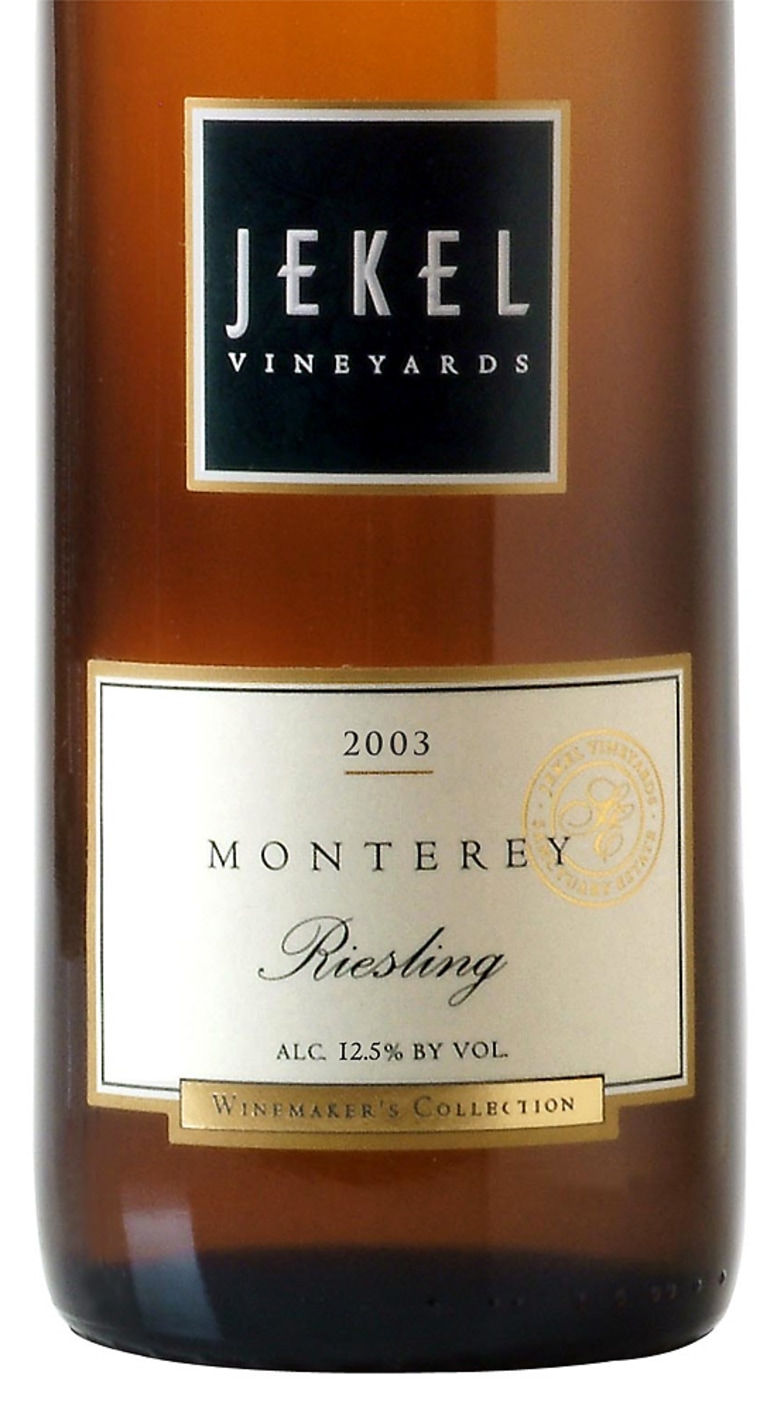 This is textbook off-dry Riesling. You'll find just a hint of sweetness, reflecting a bit of residual sugar, as it makes its way through the mouth, while the long finish is crisply acidic and dry.  Let me emphasize that this is not a "sweet" wine. Unfortunately, some people still equate all Riesling with sweetness, which is simply not the case, although some of the world's greatest Rieslings are among the sweetest ones.
Jekel's Riesling shows clean, white peach aromas that are followed by a nice mix of tastes, including apricot, green apple and hints of fennel and licorice. The wine is at once delicate and rich. This would be a wonderful (and different) wine to serve as an aperitif and would hold up well with highly seasoned foods such as Asian or Indian. It would also fit well with roast pork.
On its Web site, Jekel notes that it was founded in 1972 as a pioneer in Monterey County. Since 1991 it has been owned by Brown-Forman, the big wine and spirits coompany whose brands include Jack Daniels, Southern Comfort, Fetzer and Sonoma-Cutrer, to name just a few.  Some 30,000 cases of Jekel's '03 Riesling were made, so it is going to be widely available. While this is not a small-production wine, it has the feel of one.
Next week, we'll take a look at a delicious and unusual red made in a monastery in the northernmost reaches of Italy.
Edward Deitch's wine column appears Thursdays. Write to him at @hotmail.com.