Let's face it: No one goes to Outback Steakhouse for diet food. Somehow, though, the chain still manages shock us with creations like its outrageous new 3-Point Bloomin' Onion.
A mashup of the restaurant's original Bloomin' Onion (a fried onion), Aussie cheese fries and Center-Cut Sirloin Steak, the name is both a play on the number of dishes crammed into one, as well as the basketball term.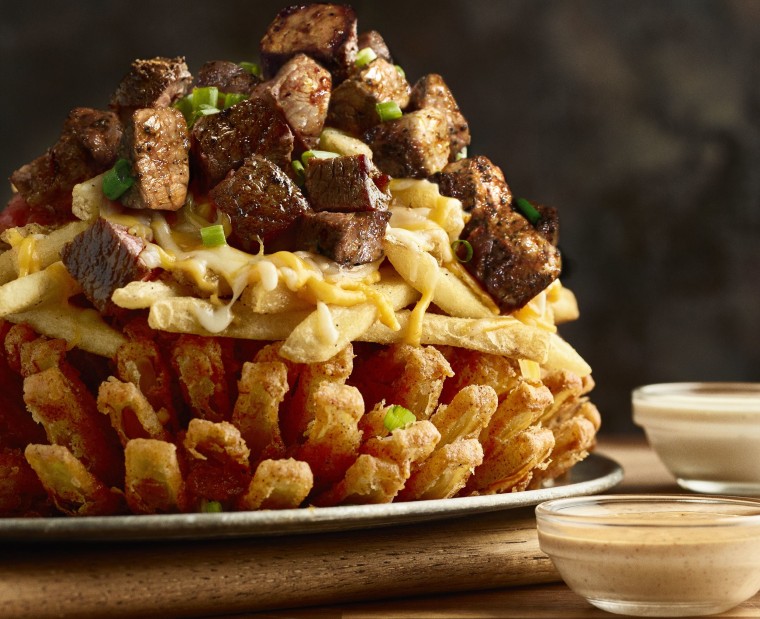 "We combined them to create a '3-pointer' of a dish, a perfect match for the excitement and madness of the basketball tournament," an Outback spokesperson told TODAY, adding that it will only be available March 15 through April 4.
The appetizer clocks in at 3,080 calories, goes for $12.99, and is meant to be shared by six, according the spokesperson, who acknowledged it is an "indulgent" dish.
Last summer, Outback introduced a limited-time "Loaded Bloom," a Bloomin' Onion topped with cheese fries, which makes sense, we guess, since most Outback diners always seem torn between which of these two appetizers to order.
RELATED: Ginger Shandy March Madness Cocktail
Infamous in health circles, the Bloomin' Onion, which has 1,954 calories, makes frequent appearances on lists like Eat This, Not That's "Worst Foods in America."
As someone who is married to an Outback fan, I have to say, the 1,911-calorie Aussie Cheese Fries —which come topped with bacon and have ranch sauce on the side — are pretty addictive, though I advocate ordering the "small" portion that's available, at, ahem, 1,156 calories. Expert tip: I've even ordered a "side" of fries (319 calories) and asked them to add just a tiny bit of cheese.
Yet, if your mouth is watering for this new creation, and you're really trying to be good, consider this hack: Make your own mashup of TODAY's baked onion rings and some better-for-you cheese fries, then top with Al Roker's cast-iron steak.
Or just say, don't worry about it, it's March Madness.