It's time to ask that age-old question: Where's the beef? 
The answer: Not on everyone's tables.

Due to reduced cattle population, beef prices are higher than ever. And with nearly 9 million pounds of meat products from California being recalled, finding the meat itself can be difficult for some. So what's a red-blooded, steak-eating American to do? Why, turn to bison, of course. 
This red meat, the darling of the trendy caveman-based paleo diet and many heartland cooks, is prized for its minimal fat content and mild, beef-like flavor. Though bison has traditionally been more expensive than beef, due to recent changes in the market, the two are drawing closer in price as this lean and protein-packed alternative becomes more common in refrigerated aisles nationwide, including Costco.
Food bloggers have long touted bison as an alternative to beef, and they're now dishing out these recipes to help others see the light. You will be singing bison's praises till (and maybe long after!) the cows come home. 
Boar and bison chili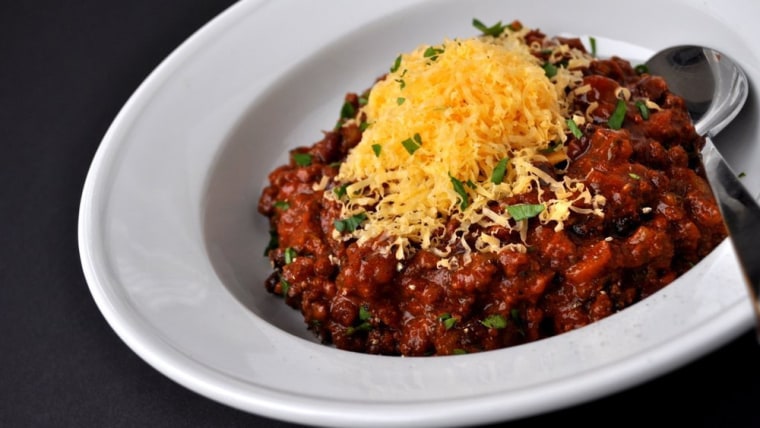 Lisa Bolton of the popular food blog Sixtyone45 suggests enhancing bison's earthy notes by cooking it with other game meat, like wild boar. Her mixed-meat chili recipe is hearty and tastes decadent when heaped with melted cheddar cheese and sour cream, but it's a surprisingly healthy dish, with less calories and more protein that traditional beef and pork chili. 

Ingredients:
3 slices of thick-cut double-smoked bacon
1 cup chopped onions
3 garlic cloves, minced
1 pound ground bison
2 wild boar sausages, casing removed
1 cup diced carrots
1 cup diced celery
3 cups fresh spinach, roughly chopped
1 pint stewed tomatoes
1½ cups of water or stock
¼ cup tomato paste
1 large can of black beans, rinsed
1 tablespoon dark balsamic vinegar
1 tablespoon agave nectar (or brown sugar)
2 tablespoons chili powder
1 tablespoon smoked paprika
salt and pepper to taste
Instructions:
1. Heat a heavy pan to medium-high and add crossly chopped bacon. Saute for two to three minutes, then add onions and garlic and sauté until onions become translucent.
2. Add ground bison and sausage meat and sauté until cooked through.
3. While meat is cooking, add all remaining ingredients to slow cooker and stir until mixed thoroughly.
4. When meat is cooked, add to slow cooker and stir to combine.
5. Taste at this point and adjust seasoning as necessary. Set slow cooker to low and cook overnight, up to 8 hours, or simmer on stovetop for 90 minutes.
6. Enjoy!
Bison tacos with avocado and radish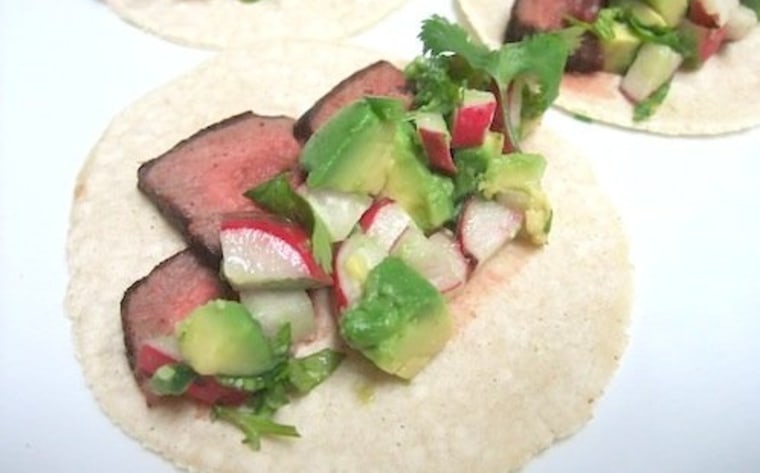 Bison can also been thrown onto a skillet and cooked like a steak, says Amy Sherman from the food blog Cooking with Amy. She uses spice-rubbed bison in her tacos, based on a Martha Stewart recipe, and the result is unexpectedly fresh and light. The most important concept here is to cook the bison quickly. The meat is very lean and though it is juicy and tender when rare, it turns leathery if overcooked.

Ingredients:

10 ounces bison strip loin steak

Vegetable oil

Chili powder

Ground cumin

1 avocado, pitted, peeled and diced

4 radishes, diced

2 green onions, sliced

2-3 tablespoons cilantro

1 jalapeno pepper, diced, more or less as desired

2 limes

Pinch of salt

6 small corn tortillas

Instructions:

Allow the bison to come to room temperature. Pat it dry with paper towels then rub it with a just enough vegetable oil so it is glossy, but not slick. Sprinkle all sides with chili powder and ground cumin. Heat a cast iron skillet. Sear the meat 3 minutes on the top and bottom and then another 2-3 minutes on the other two sides (loin is almost square shaped). Allow to cool 10 minutes then slice thinly. 

Make salsa by combining the diced avocado, radishes, green onions, cilantro and jalapeno. Slice the limes in half and squeeze them over the salsa, sprinkle with a pinch of salt, gently mix then taste. Adjust seasoning as you see fit. Heat the tortillas, top with slices of steak and salsa. 

Bison burger with pinot noir onions and goat cheese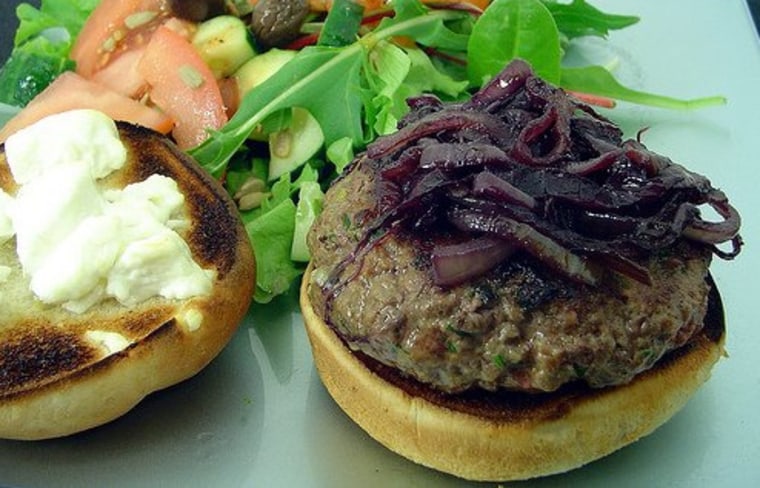 Up the ante on your favorite cheeseburger with a bison burger paired with goat cheese, as suggested by Elly Kafritsas-Wessels from the food site Elly Says Opa!. The grassy goat cheese compliments the bison's mild flavor, and caramelized onions stewed in pinot noir add a deep, savory taste. 

Ingredients:
1 large Vidalia onion, sliced

1 sprig thyme

1 tbsp. olive oil, plus additional for cooking burgers

2/3 cup pinot noir

1 lb. ground bison

1 tsp. Worcestershire sauce

2 tbsp. chopped parsley

2 cloves garlic, finely minced or pressed

Salt and pepper

1 small (4 oz) log of goat cheese

4 split hamburger buns

Instructions:
1. In a heavy bottomed skillet, heat the oil over medium heat. Add the onions and the thyme. Reduce the heat to medium low and cook with a pinch of salt until the onions are soft golden brown, about 25 minutes, stirring occasionally. Pluck out the thyme sprig and then increase the heat to medium-high. Add the wine and cook until it's almost completely absorbed, about 5-10 minutes.
2. Meanwhile, lightly mix together the bison, Worcestershire, parsley, garlic and salt and pepper. Form into four patties and pan fry for about 2 minutes per side for medium rare.
3. Broil or toast the buns with the goat cheese on them. Serve the burgers on the toasted buns with the onions.